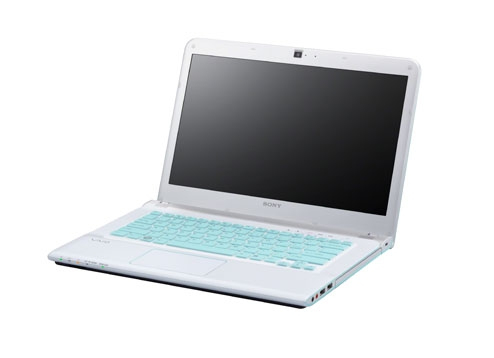 When it comes to global brands, very few names are more recognisable than Sony. They are one of the proverbial powerhouses in the world of home computing, and their notebook offerings are a fresh take on the traditional laptop. The model leading the charge for Sony in this department is the Sony VAIO 15 SVE14A15FGW.
Design
The look and design of the Sony VAIO 15 SVE14A15FGW is what makes it a notebook that stands out from the crowd. It features a unique wrap over design that emphasizes the notebook's sleek edges and rounded corners. Even though its casing is plastic, it's well constructed and stands up well to the impact of daily use. One of the key selling points of the Sony VAIO 15 range is the fact that they come in a variety of different colours, something that very few other netbook manufacturers offer. Building upon the selection of colours, Sony also offers matching accessories that only further the style of the SVE14A15FGW.
Specifications
The Sony VAIO 15 series looks stylish on the outside, but that doesn't mean that it lacks in performance power. The SVE14A15FGW comes complete with an Intel Core i5 processor, HD Graphics 3000, 4GB DDR3 1600MHz RAM and a 640GB HDD. These specifications mean that the Sony VAIO 15 SVE14A15FGW can stand side by side with some of the more powerful notebooks on the market.
Size
The Sony VAIO 15 SVE14A15FGW can be classed as a midsize laptop or a large netbook. It weighs in at 2.2kg and the battery time is approximately four hours. However the battery size can be increased from the 4000mAh option to either 5300mAh or 7200mAh should the user deem it necessary, and be willing to increase the weight of the machine. The unit measures 15'6" in width, 1.4 " in height and 9.9" in depth, meaning that it is small enough to be portable, while still having enough size to be a stationary home based machine.
Connectivity
Netbooks are meant for portability, meaning that connectivity to third-party devices is a day-to-day requirement. Sony has taken connectivity on board and has made sure that the Sony VAIO SVE14A15FGW comes loaded with ports. Shoppers can expect to find the following on the unit, should they choose to purchase one.
· USB 3.0
· 3 USB 2.0
· VGA Output
· HDMI Output
· Headphone Jack
· Microphone Jack
· Gigabit Ethernet Port
· Kensington Lock
· SD Card Slot
· Memory Stick ProDuo Card Slot (Sony Exclusive)
Security
Sony takes security very seriously and while upgrading the security platforms on their other devices, they have also chosen to do the same with the Sony VAIO 15 SVE14A15FGW. They have introduced TPM (Trusted Platform Module), a sensor that allows only authenticated users access to the netbooks core elements. This helps keep the BIOS, HDD, Windows Login, and general passwords protected from unrecognised third parties. TPM is integrated into the computers firmware so users won't have to worry about the process slowing down the CPU.
Audio and Video
Sony prides themselves on their audio and video technology, with their Bravia televisions being a worldwide best seller. They've brought what makes them so popular in the world of televised media to their VAIO range of laptops. The Sony VAIO 15 SVE14A15FGW utilises xCloud and Dolby Theater technology to ensure that the user gets a crystal clear watching and listening experience. The integrated graphics card can handle all forms of HD video, meaning that the 15.6" display and 1366 x 768 resolution is fully utilised.
Software
Sony has emerged as a high-end software developer, meaning that buyers get much more than just the device when purchasing from their product range. The Sony VAIO 15 SVE14A15FGW comes with full-unrestricted access to the following programs from the first boot.
· Arcsoft Webcam Suite
· Cyberlink Power DVD
· Sony ACID
· Sound Forge Audio Studio
· Sony Vegas Movie Studio HD Platinum 11
· VAIO Gate Launch
· VAIO Messenger
· VAIO Smart Network
Warranty
All laptops in the VAIO range come with a twelve-month warranty, meaning that shoppers can feel assured that they are covered should something go wrong with their machine. Warranty extensions are also available from Sony at an additional cost.
How to Buy a Sony VAIO 15 SVE14A15FGW on eBay
Laptops, notebooks and ultrabooks are a regular part of daily life for most people, so shoppers are sure to want an item that will last. The Sony VAIO 15 SVE14A15FGW is the perfect middle ground between style and performance, and finding one couldn't be simpler thanks to eBay. Start on the sites homepage and select the Computers and Tablets section andLaptops and Notebooks subsection. From there shoppers can identify the right Sony VAIO netbook by using the search modifiers.
Buying a netbook of any kind can be expensive, so shoppers need to be sure that they are protected in the event of an item not living up to its description. When putting through payment always choose PayPal, their buyer protection program is world-renowned and will cover the order should something untoward happen to it.
Conclusion
There is a wealth of notebooks currently available, but when choosing Sony, shoppers can feel safe in knowing that the brand that they've chosen will deliver quality. The Sony VAIO 15 SVE14A15FGW carries the same sense of style and performance that Sony is famously known for. When looking to acquire a Sony netbook, shoppers should stop by eBay in order to get the very best deal.