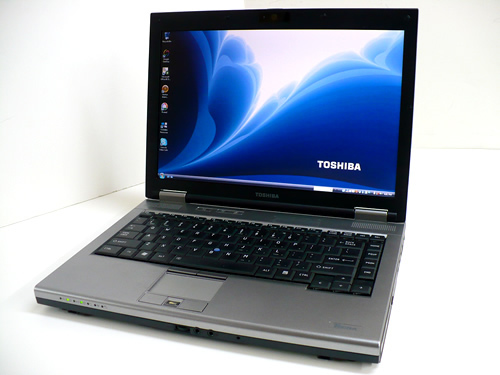 When it comes to buying a laptop there are many possibilities to choose from. It is important to have some technical understanding of the components and features that a laptop is made of. When it comes to finding the best laptops, eBay offers a wide selection of choices, including the Toshiba Tecra M10. This guide will demonstrate they key features of the laptop as well as how to purchase it on eBay.
Key Features of the Tecra M10
The Toshiba Tecra M10 is a sturdy unit that is an excellent choice for a corporate environment. It is powerful enough to use on the go with a battery life that won't disappoint. It is possible to purchase a unit that comes with the full Toshiba Techra Drivers, which is helpful if the user is planning on performing a reinstall or dual boot of the operating system.
The laptop is light but well built, although the size of the unit may make it unwieldy to some users. The absence of a lid clasp also means that a laptop bag that fits snugly will be required if taking the machine out and about. To demonstrate the specs of the laptop, each will be examined individually in turn:
Processor
The Tecra M10 comes kitted out with an Intel Core 2 Duo P8400 / 2.26 GHz. This is a dual-core processor, meaning that there are two individual processors on the one chip, giving a greater distribution of power and an advantage over single-core processors. The 2.26GHz speed gives plenty of power to the laptop, meaning that it should be able to perform all basic tasks with ease.
Memory
The laptop comes with a standard 2GB of DDR2 SDRAM, with the potential to expand up to 8GB. Although 2GB will be plenty for most basic users, many would find 4GB beneficial to make up for the fact that the RAM is the more cumbersome and power hungry DDR2 RAM (DDR3 uses less power and transfers more data). This supports the processor speed meaning that individual simple functions should work reasonably quickly.
Hard Drive
A 160GB, 5400 rpm Serial ATA hard drive comes as standard with the laptop, which is large enough for those only wanting to store basic documents and programs on, but those who want to store a lot of data and applications may find this quite a limited amount (with slow read/write times). If the user has enough technical knowledge then another hard drive can be fitted, with the option to include a much faster SSD, although this comes with a price.
Operating System
The machine has Windows Vista Business installed as standard, although newer users may find this a little outdated. As with all current laptops, the option is present to install a new OS, with Windows 7 being the obvious choice for users of this machine.
Optical Drive
The Tecra M10 comes with a DVD±RW (±R DL) / DVD-RAM – Fixed which means that DVDs and CDs can be read and written to. This gives the user a bit more freedom when it comes to storage space, as key files can be stored physically rather than on the machine. More advanced users may prefer a Blu-ray drive, but these are only present on the very cutting edge laptops available.
Other Features of the Tecra M10
· The unit weighs in at 5.3 lbs. and is 13.3 inches wide. It is reasonably light but the depth of 9.6 inches means it is by no means the slimmest machine on the market.
· It has a 14.1 inch screen displaying in 1440 x 900 widescreen resolution and an aspect ratio of 16:10. This gives it a pretty decent screen resolution and the matt finish helps it to stay clear in all light conditions.
· An inbuilt NVIDIA Quadro NVS 150M - 256.0 MB gives it enough graphical power to complete basic functions, but is not suitable for playing any of the latest games.
· It has Bluetooth and Wireless capabilities making it an excellent choice for working whilst on the move.
· A 6-cell lithium ion battery will give the user about 3 hours' worth of time away from a charger, which is enough for a short commute but not enough for extended periods away from a power source. Buying a Toshiba Tecra M10 on eBay
How to Buy on eBay
Once a model has been decided upon, finding it and buying it on eBay is made easy with the various site functions which are outlined below:
Search and Navigation
Laptops can be found under the Electronics section of the website. Once the category has been reached, a keyword search or the sites left-hand refine menu will allow the customer to see the relevant products.
Product Listing Page
Clicking on one of the remaining products will give the user a more detailed explanation of that listing – a description of the item as well as delivery charges, an option to contact the seller as well as other similar items. Images are also displayed on this page. Clicking on the seller name will bring up the seller's page which shows their details as well as the ratings other customers have given them.
Auction or Buy Now
There are two types of sales on eBay's site. Auctions work just as regular auctions do, with people bidding in a designated time limit. The highest bid wins, and a maximum bid can be placed and re-placed throughout the duration. The option is to buy it now, meaning that the item can be purchased directly.
Conclusion
The Toshiba Tecra M10 laptop is a sturdy unit that is suitable for most users who want to perform simple tasks whilst on the go. It is powerful enough and has enough storage to run basic applications. Buying one on eBay is made easy by the site's many features, and shoppers can feel secure thanks to the buyer protection programme.