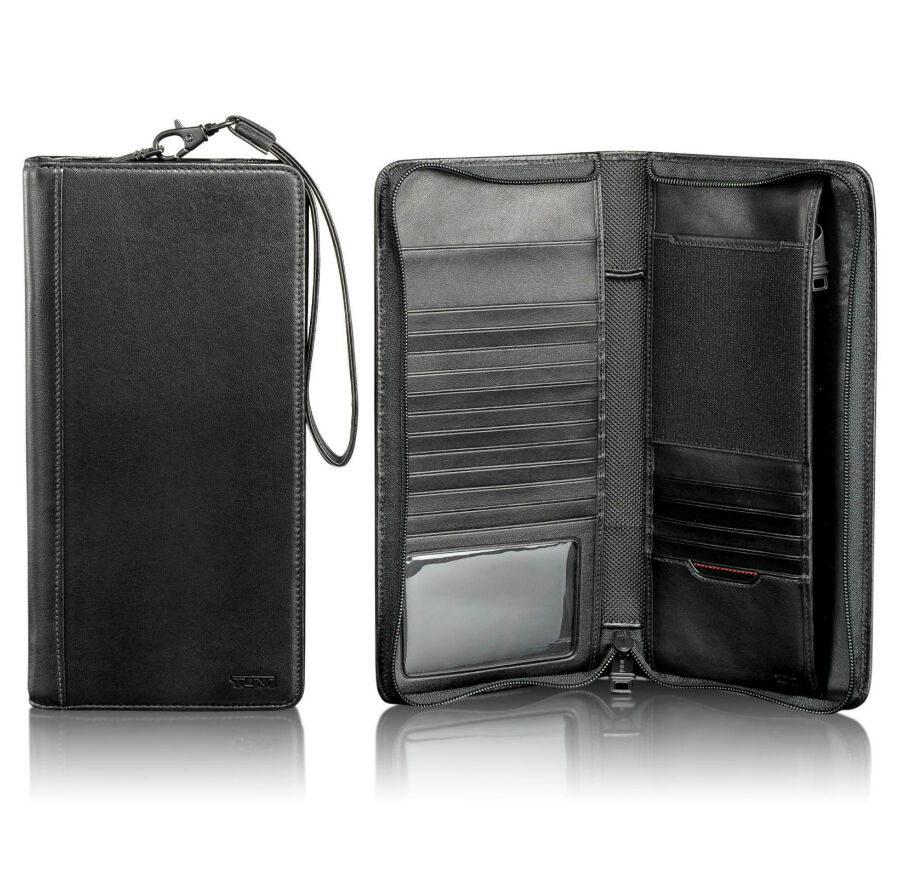 It is certain that at least once in a person's lifetime they will travel outside of the place in which they live. Whether it is for work or pleasure, most people will go to and experience different parts of the world. A practical way to look after all the travel documents and precious passports is by using a travel wallet.
Available in a variety of different sizes, materials, and aesthetics, and to suit different budgets, there is a large selection to choose from.
eBay offers a wide range of both new and used travel wallets for women. This guide will offer buying tips to assist with the purchase of a travel wallet.
What Is the Function of a Travel Wallet
The function of a travel wallet is to protect and keep together all of the documents required for travel. This can include: (but is not limited to) passports, boarding passes, travellers cheques, ID cards, credit, debit cards, money, and travel itineraries.
Different Types of Travel Wallets
There are many different designs and styles of travel wallets. Depending on the need of the buyer will depend on the product purchased. Below is an overview of the different types of travel wallets available on the market. Please note this list is a starting point only and not exhaustive.
Most travel wallets will fit into one of the two outlined broader categories below.
Travel Document Wallet

The travel document wallet is the largest of the travel wallets. It is designed to keep all of the required travel documents together at any given time. As a result, it has to accommodate for more items and larger items like hotel reservations printed on A4 paper. The aim of a travel wallet is for the user to know exactly where all their required items are located at all times.

Travel Money Security Wallet

Available in a variety of different styles and designs, the travel money wallet or travel pouch is designed to sit neatly in the front pockets or flat underneath t-shirts or trousers. The design is smaller than a travel document wallet and will accommodate for cards, money, and occasionally passports.

Given this is where the wallet is being kept, the wallet is generally flat with either loops to attach to a belt or a long handle to go around the waist or neck. Different designs include: hanging wallet, bum bag travel wallet, belt loop wallet, ankle travel wallet. These wallets are similar to travel money belts, but offer a slightly different design.
Materials Used to Make a Travel Wallet
A travel wallet can be made out of a number of different materials. Generally speaking the type of material the wallet is made out of will directly reflect where the wallet is designed to be kept. For example, a leather wallet worn underneath clothing would sweat where as a wallet made out of a more breathable material would not. The most common materials travel wallets are made out of are:
· Leather
· Fabrics
· Plastics
Buying Considerations for a Travel Wallet
Before making the purchase, there are a few points that one should take into consideration. These are:
· Research: Undertake adequate research to ensure that the correct design is chosen for one's individual needs. Take into consideration all points outlined in this section.
· Size: Be sure to check that the wallet is big enough to fit all of the items one wishes to keep secure.
· Comfort: Test to see if the wallet is comfortable to wear or carry. Given that most travel wallets sit concealed underneath clothing, this can cause friction, chafing or restrict air circulation. Before deciding upon the style of wallet wanted, be sure to assess how comfortable it will be.
· Brand: There are specific brands that specialise in creating ranges of products for travel. During one's research, be sure to assess the manufacturing company for suitability.
· Material: Take note of the material the travel wallet is made out of. This will assist in determining the quality and suitability of the product.
· Zips and additional features: If the wallet has zips, be sure to check the quality of the zip used. If a buyer requires additional features, like pockets, be sure to check that these are in the product being considered. Most travel wallets, particularly the larger ones, will contain a series of separate compartments designed to separate different types of travel documents. Some even come equipped with labelling to assist with quick and easy location of the desired document.
· Cost: Cost is likely to play a deciding factor. In most cases, travel wallets are affordable items. The only real factor in price is the material. Generally speaking a leather document wallet will be the most expensive available. However, it is possible to purchase second-hand or used leather document wallets. This will always offer a more affordable option.
· Additional Considerations: If a smaller wallet is what a buyer decides upon, they should be sure to consider where a they will be keeping the remainder of their other travel items, and how they will keep them safe during their journey. Always accompany a travel wallet with other safety precautions in the event that one's documents get lost or stolen.
How to Buy a Travel Wallet on eBay
eBay offers one of the most extensive ranges of both new and used travel wallets for women. Not only that, but the auction site is easy to use, secure and can be accessed from the comfort of a buyer's own home. The following points are designed to assist in navigating through the site.
· Search: It is possible to search via the keyword search function at the top of every page, women's accessories categories and using the advance search function. Each will lead to a cohesive and extensive list of all products matching the keyword available at that time on eBay.
· Checking the Product: Once a product has been found, it is important to check its suitability. Looking at the description and photograph provided by the seller can do this. Ask the seller for more information if needed.
· Exchange and Refund: All eBay sellers offer excellent customer service and want the buyer to be happy. However, it is advisable to check an individual seller's exchange and refund policies. In addition, it is possible to read reviews about the seller written by other buyers. eBay offer an extensive Buyers Protection Programme to keep all their users safe.
· Purchase: eBay have three ways of selling a product on their site: 'Bid', 'Buy It Now' and 'Best Offer'. The seller will set this selling option. Exchanging money for the goods can be done by credit card, debit card, or by using third party company PayPal.
· eBay Deals: Make sure to check eBay deals for any offers. There are excellent deals exclusive to this suit to be found, as well as free postage and packing.
Conclusion
Protecting for one's personal belongings whilst abroad is of utmost priority. The easiest way to do this is by using a travel wallet.
With the extensive range of travel wallets and accessories available on eBay, this has never been easier. Find the perfect travel wallet and have it sent directly to a shopper's home in time one's next trip.
Always remember, if one is having trouble on the site, additional information can found on the Buyer Tips page, so be sure to look here if any queries need addressing.