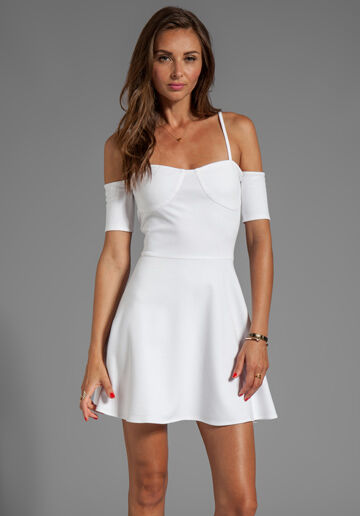 Most women own a variety of different clothing styles. Some pieces carry them through the work week, while others are more appropriate for weekends and casual occasions. Still others feature extra flair for a night out on the town or a formal event such as a fine dinner or concert. Whether women are looking for a casual dress, a formal dress, or something in between, they typically want a perfect fit, an affordable price, and a unique style. Before shopping, women should investigate some of the key steps in the process of buying a unique and affordable dress. From selections in local shops and on websites like eBay, women should be able to find a dress that suits both their personality and their budget.
Select Unique Colours
If buyers want to stand out in a room, they should opt for a dress in a bright, vivid hue. Red is bold and daring, with seductive overtones. It speaks of dominance and energy. Blue typically denotes authority and knowledge, while green is sometimes associated with affluence, health, and efficiency.Purple is a regal colour, while black is classy and elegant. Women can choose to express their unique personality through the colours they wear, or they may simply search for a dress in an unusual or unexpected shade.
Choose Interesting Patterns
Not all women enjoy patterned clothing. Patterns have their pitfalls, especially if they are too large or feature an unappealing floral or paisley design. However, floral, geometric, and one-of-a-kind prints have a place in the world of fashion and can be extremely attractive when chosen carefully. Women who are heavy or curvy should take care to select delicate or medium-sized patterns, since larger ones can make their figure seem wider. Petite women should avoid small patterns, since those have a diminutive effect. Dresses with patterns are often paired with solid-coloured pieces for contrast.
Look for Embellishments
If women normally wear simple, basic clothing, they should look for a dress that features extra embellishments.Lace, appliques,sheer sections,sequins, or ruffles can turn an ordinary dress into something truly unique. The key is to select dresses that incorporate such elements tastefully, without going over the top and looking tacky.
Shop Independent Designers
Some sellers shoppers find online may be independent or indie designers, selling their own unique creations. These sellers may be just venturing into the world of clothing design and work with buyers regarding price. They usually have a selection of one-of-a-kind dresses and other clothing pieces to wow the buyer's friends and acquaintances. Developing a solid buyer-seller relationship with a budding designer can yield excellent results for both the shopper and the creator.
Try Different Styles
Traditionally, women's body types are classified into a few basic categories. Women with long, straight shapes have a banana body type, while those with a round torso and wide waistline have an apple body type. Women with narrow shoulders and wide hips are in the pear category. Those who have a bust and hips of equal width, with a narrow waist, own the coveted hourglass figure.
Some style experts limit women to a few specific dress styles that help their figure appear to the best advantage. However, women who are tired of wearing the recommended styles for their shape should feel free to branch out and discover new shapes and cuts of dresses. They may find a new favourite style that flatters their body and draws compliments from all sides.Wrap dresses,sheath dresses,maxi dresses,sleeveless dresses,halter dresses, and one-shoulder dresses represent just a few of the available style options. Another unique style is the convertible dress, which comes in many varieties and allows wearers to alter its parts depending on their mood and the event they plan to attend.
Consider Used Dresses
Some women prefer to buy new dresses when they shop. However, embracing the idea of used dresses broadens the possibilities and helps a shopper's dollar stretch further. Online retailers, thrift stores, and consignment shops are excellent places to shop for lightly used, high-quality clothing. Many of the garments may have been worn just a couple of times, while others may have remained in the previous owner's closet without ever being worn at all. Sometimes, shoppers can find rare treasures such as a designer dress for a low price, or an uncommon style that is both fashion-forward and affordable.
Search for Vintage Dresses
Some buyers go further with the idea of used clothing. These women enjoy searching for and discovering vintage dresses that are still wearable. Some vintage pieces may require a little mending and cleaning, but with the right care and styling, they can shine. Women who walk into the office or into a party venue wearing a stunning vintage dress can expect to receive many compliments.
Vintage dresses often feature high-quality, durable materials. Some may have luxurious touches such as hand-sewn lace or embroidery. Others may be heirloom pieces that carry a special story. With society's returning fascination with all things vintage, owners of a beautiful vintage dress can place themselves at the cutting edge of fashion.
How to Buy
eBay has an entire area dedicated to women's dresses. Simply type the word "dress" into the search bar or add a brand name or descriptive word that denotes the type of dress you need, and within seconds you should see a long list of search results. If your shopping time is limited, use eBay's search filters to eliminate listings that do not meet your requirements for style size, price, condition, and other factors. Remember that you can distinguish eBay's Top-rated Plus sellers by the special seals that appear on all their listings. These sellers have strong feedback from buyers and often supply extra benefits, such as courteous customer service or free shipping. Check eBay Deals and eBay Stores for other dress styles and options.