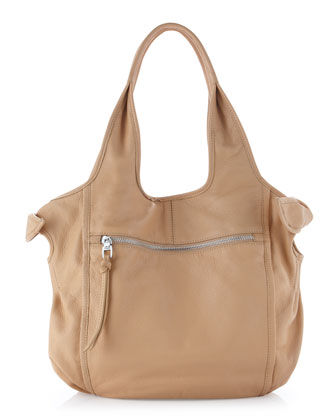 Every woman loves a good bag to use during the day when she is going to work, running errands, or shopping. A reliable shoulder bag can provide both form and function, giving a woman a stylish way to accessorise an outfit while also allowing her to carry the essentials she needs for everyday activities. Many women like to collect a range of shoulder bags to be paired with different outfits. This, however, can become an expensive habit. Fortunately, today's fashion marketplace has a wide array of used shoulder bags available for purchase.
Women who have never bought a used shoulder bag before may want to learn a few helpful hints and get to know the different styles that are available and how each type works with her own style. Also, since traditional resale vendors do not always carry a large catalogue of used shoulder bags, consumers can also benefit from learning how to shop for these items on online retail sites, including eBay.
Types of Shoulder Bags
Shoulder bags come in a variety of styles. Before perusing the used marketplace, women should take a moment to get to know these various styles in order to focus their searches.
Shoulder Strap Bag
Shoulder strap bags are by far the most ubiquitous style in the marketplace. These bags can have anything from a rounded to rectangular bag design with either one or two straps looping up from the bodies of the bags. A shoulder strap bag can work as a casual, day-to-day bag or even as a semi-formal bag if it is made from a dressy material. Popular materials include leather, suede, canvas, faux reptile skin, and vinyl.
Satchel Bag
The satchel bag is a loosely formed bag that hangs from one long strap. This adjustable strap is typically worn on one shoulder or across the torso diagonally. The satchel is designed to slouch at the hip or lower back. It is a very casual item, but it can add a touch of hipness to a woman's look. These bags are ideal options for students or for women who have small children and need to carry a large number of items around with them.
A cross body bag is worn in the same way as a satchel, but it has a more structured design. This bag might be a small rectangular purse attached to a long strap or a large, decorative bag. It typically has more internal structure than a satchel, including compartments, mobile phone pockets, and so on.
Hobo Bag
The hobo bag is shaped like a large half moon and is attached to a medium strap that is usually worn at one shoulder. A hobo is typically created with soft suedes, cottons, or burlaps. Decorative elements, such as embroidery or fringe, are often placed on the main body of the bag. The hobo has a 'hippie' aesthetic, but it can also work with outfits that are not hobo chic or hippy-ish. A close relation to the hobo bag is the jhola bag, which is a traditional bag from India made from soft cotton that is often covered in exotic prints and small mirrors.
Tote
A tote is a very casual shoulder bag typically used when shopping and running errands. The most popular material used in totes is canvas, making these bags sturdy and long lasting. Many women use these shoulder bags to carry their wallets and accessories when shopping and then use the bag to carry groceries and other items when they are finished. Totes can be plain in neutral canvas or brightly decorated and are often used as logo branding items for major brands. A cousin of the tote is the beach bag. A beach bag is usually larger and wider than a tote, and it allows women to carry everything from a change of clothes to a beach blanket on an outdoor trek.
Laptop Shoulder Bag or Tote
A laptop shoulder bag or tote combines all the best features of a traditional shoulder bag with the features needed to carry a laptop safely. With a laptop tote, women do not need to carry a purse and a laptop bag at the same time. A large inner compartment holds the computer or tablet, and other compartments feature the usual attributes of a shoulder bag, including lined pockets, mobile phone holders, and more.
Style Tips for Choosing the Right Used Shoulder Bag
Women who are looking for the latest styles in the used shoulder bag marketplace may have some questions about the style rules guiding shoulder bag selection. There are several tips they should keep in mind.
Dressing Up an Outfit
A designer shoulder bag made with high-end materials, such as leather, can be an excellent way to dress up a casual look. Women who like to wear jeans and tees can transform their outfits instantly by adding shoulder bags that are design conscious.
Working with Shoes
One old-fashioned rule states that shoulder bags and handbags should always match a woman's shoes. Those rules are largely ignored these days, but that does not mean that shoes do not need to be taken into consideration. Women may wish to highlight one element of a shoe by matching that element to a bag. For example, if a shoe has a small red stripe, a red shoulder bag might be a good choice. Shoulder bags and shoes also work well together in complementary colours.
Working with Prints
Animal prints and other vibrant prints are here to stay in the world of fashion. While women may love finding shoulder bags with bold prints, they should leverage these items carefully. A printed bag should be paired with a neutral, conservative outfit. Too many prints or bright colours together can make a woman look garish and overdone.
Caring for Shoulder Bags
Even though consumers may be investing in used shoulder bags, they still need to take care of them to ensure they last a long time. To extend the life of shoulder bags, consumers should store them properly. Leather bags, for example, should be stored in clothing bags and stuffed with newspaper so they retain their shapes. Other bags should be kept in wardrobes or drawers so they are not exposed to dust or excessive sunlight, which can lead to fading. If any staining occurs, consumers should first try using wet cloths. There are leather cleaners and conditioners on the market that can also factor into the maintenance program for a quality leather shoulder bag. Consumers may want to treat their suede bags with sealants that protect them from rain and moisture.
Matching Shoulder Bags to Body Types
As with clothing, it is a good idea for women to try to find shoulder bags that suit their body types. The following table illustrates some recommendations for each type of build.
Body Type

Recommendations

Broad Shoulders

Bags with shorter straps

Cross-body bags

A bag with volume and medium length (e.g., hobo)

Boxy Frame

Bags that fall at natural waist

Volume to make waist look small

Hourglass

All styles

Bags that are proportionate to a woman's frame

Apple-Shaped

Structured and wide bags

Rectangular

Petite

Not too large

Maintain proportion

Tall

Not too small

Maintain proportion
These general guidelines can help a woman search for an appropriate shoulder bag. Rules are never fast and hard when it comes to fashion, so women should feel comfortable thinking outside the box and experimenting with alternatives, as well.
Buying Used Shoulder Bags on eBay
As an aggregator of vendors, the online retailer eBay maintains one of the largest collections of used fashion accessories in the retail space. Individual and commercial sellers gather on the site to offer everything from totes to last season's most popular designer shoulder bags. To begin searching through this catalogue, find the search bar on any page on the site and enter a search term that accurately describes what you want to buy, or go to the eBay deals page for your next bag. You might use 'brown hobo bag' to find a specific shoulder bag or just run a search for 'shoulder bags' to get a feel for all your options.
Vetting Sellers on eBay
When buying used items, it can be valuable for consumers to take some time to vet any potential sellers. Visit a seller's page by clicking on the seller's highlighted name in the listing. From there, you can review feedback from other customers to determine whether or not that seller is likely to be reliable.
Conclusion
The ideal used shoulder bag can be a well-loved and highly useful accessory in a woman's life. With the wide range of fashion choices available for shoulder bags, including designer items and casual totes, any woman can find a bag that ideally complements her personal needs and sense of style. Given the diversity in this marketplace, women may want some guidance when it comes to figuring out what type of used shoulder bag to buy. Considerations such as style and even a woman's body type should all factor into this decision. By incorporating a few useful tips when searching, consumers can quickly find a bag that is the right fit.
By exploring the diverse marketplace of used fashion accessories that can be found eBay, women can avoid the challenge of searching for shops that sell used shoulder bags. This option does exist, however, if they do not enjoy shopping online.