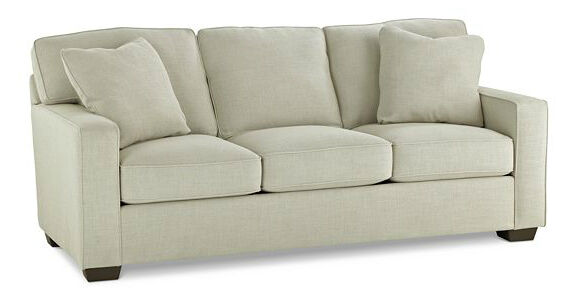 Turning a house into a home can be an enjoyable process. However decorating and furnishing a house often comes with high expenses, and reducing costs is a priority for many new residents and homeowners, with buying used furniture being a viable option for many. When buying, for example, a used sofa, there are several considerations to take into account to ensure a smart long-term investment – so the used sofa performs as well as a new one might. This guide will go through some of the things to consider when buying a used sofa, including how to buy used sofas on eBay.
What is a Sofa?
A sofa, also referred to as a couch, is a piece of furniture used as seating, often placed in a social place such as the family room, living room, sitting room or lounge. A sofa is usually big enough to seat two or more people, with sizes usually ranging from two-seaters up to seven-seaters. Whilst the general appearance of a sofa is that of a cushioned bench fitted with springs, they differ in terms of aesthetics, features, comfort and luxuriousness. Varieties include with or without armrests, partially or wholly upholstered, high backs or low to non-existing backs, static seating or reclining options.
Types of Sofas
The following is a list of some of the main types of sofas available on eBay:
· Two-/three-seater: the most common sofa types, two and three seater sofas are usually straight, plush sofas which allow for a person to lie comfortably across the length of the cushions. Some can usually accommodate more than three people, and fits well against a long wall. They can be decorative with ornate wooden frames, or have thick, plush cushions for increased comfort. For some three-seaters, the two seats at the edge can be reclined using a handle which activates an internal mechanism.
· Sleeper sofa: Also called pull-out sofas and hide-a-bed sofas, the seat cushions of a sleeper sofa can be removed, whilst the inner mechanisms of the sofa pulls out to reveal a mattress underneath. The extra weight of the bed makes the sofa heavier than regular sofas, but is useful as an extra guest bed in small homes.
· Loveseat: Smaller than a two-seater sofa, loveseat sofas are designed to comfortably fit two people seated side by side. It can accompany a two-seater or three-seater sofa to make a matching set and can also be used as a smaller seating option. Loveseats can also perform a decorative instead of practical function, meant to complete the look of a room instead of being a comfortable seating place.
· Sectional: There are a large variety of sectional sofas making them a highly customisable type of sofa. Their name refers to the couch frame which is made up of more than one section placed against each other. Variations include: rounded sofas that gently curve to fill the available space of the room without any cornered edges, squared sofas that form a sharp right-angled corner, an ottoman that extend out from an edge cushion forming a lounge seat. Moreover, whilst a specific number of pieces may be required to complete the look, multiple extra pieces can be added to make the sofa larger.
Upholstery Fabrics and Materials
Below is a table featuring the materials and fabrics used for sofa upholstery:
| | |
| --- | --- |
| Material/Fabric | Description |
| | Easy to clean, waterproof. Can stain if liquids are not cleared quickly. May fade slightly in direct sunlight. Pet's claws can cause punctures and small holes. |
| | May require special care when cleaning. Does not stick to bare skin like leather does. |
| Nylon | Does well with every day wear and tear, but may fade in direct sunlight. |
| | Soft, man-made tightly woven material that is dust-resistant and easy to clean. |
| | Easy dyed material, available in many colours and designs. Durable but prone to wrinkling and may fade in direct sunlight. |
| Polyester | Wrinkle and stain resistant but grease and oily substances can stain it. Durable and fade resistant. |
Buying Considerations
When buying used sofas, there are several things to consider to ensure the purchase made is fully tailored to the individual's needs:
Determine Measurements:
Before purchasing a sofa, measure the area where it is likely to go, to determine how big a sofa can fit the area. Also measure the size of each doorway it will have to pass through to get to the desired location, including stairways and hallways, to prevent any problems during transport after purchase. Have all the dimensions in mind when browsing for sofas, if in doubt eBay's Ask seller a question feature is a useful tool to use. When buying a larger sofa or sectional, ask for the dimensions of each individual piece as it can be easier to transport smaller pieces.
Be Decisive but Flexible:
Whilst it is important to have a general idea of the preferred style, size, colour and fabric of the used sofa to narrow down search results, it can be difficult to find a used sofa that exactly matches such specifications. Being flexible means there is a better chance to find the perfect used sofa easily on eBay. As these are used sofas, listings can vary greatly from what is available in stores, so decide on what the sofa must have on a non-negotiable basis and then have an open mind about other aspects.
Choose Quality Materials:
The most durable and long-lasting sofas are made from a solid hardwood frame such as oak, mahogany or maple, or made with durable materials such as steel, plastic and laminated boards. Avoid cedar and pine lumber frames which can disintegrate quickly, mesh supports and peanuts in cushions which can break and are lumpy and older pieces with sinuous springs which will wear down over time. Ensure the frames are tightly joined together with glue, screws or staples – asking the seller for a picture and close-ups of the frames can help when purchasing online.
Ask for Professional Cleaning:
Most reputable sellers will ensure the used sofa has been professionally cleaned, and will mention so in the product description. Whilst it can be a promising indication of the seller's level of concern for the furniture and interested buyers, some sellers may not have done the same. It is worth paying extra for a thoroughly cleaned used sofa, so if it has not been done already, request for it to be professionally cleaned before purchase.
Establish a Dialogue with the Seller:
When buying used furniture, it is useful to have a dialogue with the seller before making a final purchase. Ask specific questions to investigate the condition, quality and former life of the sofa. Possible questions include asking about how the sofa has been handled so far, whether it has been exposed to smoke, pets, flooding, odours or moths, when the sofa was first purchased, how the seller feels the sofa performs now. These questions are tailored to find out how well the sofa has been maintained, and how it will perform once bought.
Some sellers may also be willing to negotiate their prices, as used furniture cannot be sold as new. Determine whether they will negotiate and ask them what their timeframe is for the sale (they may be in a rush to sell their item). As long as they are willing to discuss lower prices, use this information to negotiate a lower price for the used sofa.
Inspection and Damage Control:
When buying used furniture, it is important to understand what can be fixed and what cannot be salvageable. Minor scuffs, scratches, pen marks, ripped cushions, slightly stained upholstery and wobbly legs can all be fixed or replaced at a relatively low cost, whilst large stains, holes and damage near the seams are more problematic. Another problem common with used furniture is the risk of bed bugs – inspect the sofa closely before bringing it into the house and fumigate in an enclosed space if needed to prevent bed bugs spreading throughout the house.
How to Buy a Used Sofa on eBay
When buying used sofas on eBay, there are a few simple steps to follow:
· Use the search bar at the top of the screen to type in 'used sofa' or 'used couch' for a general listing. If looking for a particular brand or material, type in the details along with the mentioned keywords.
· 'Shop by category' using the drop-down menu near the logo. Go to Home & Garden, then Furniture, then Sofas, Couches from the left hand side menus. From there, scroll down to the Condition sub-category and select 'Used'.
· Either browse the listings from here, or use the options on the left hand side to refine the search into Armchairs, Futons, Sofas, Sofa Beds, Suites and Other, all of which can yield suitable used sofa results. In either case, search results can be narrowed down by Format, Product Type, Material, Colour, Brand, Price and Item Location.
· Go to the Furniture section under the Home & Lifestyle category of eBay's recommended deals for more listings. Keep in mind that deals will vary according to available listings, and used sofas may rarely be available.
Conclusion
With eBay's wide range of used sofas and armed with an understanding of the varieties of sofas available, and how to confidently buy used sofas on eBay, it is a simpler process to decorate and furnish a home to the exact specifications of its residents. Having the perfect sofa in a central place of the household can go a long way into making a house a home, and buying a used sofa can be a fruitful, smart and long-term investment.