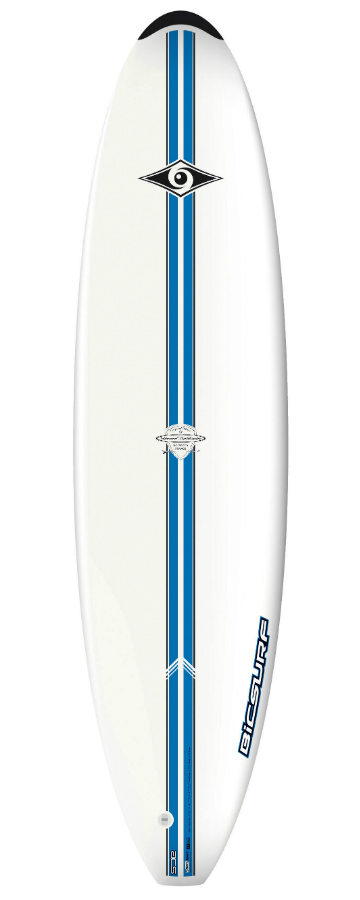 There are many reasons why surfers might choose to buy a used surfboard rather than a new one. Those new to surfing and just beginning to learn often buy a used surfboard until they are more proficient. This avoids an expensive new board becoming scratched and damaged whilst learning.
By shopping online on websites such as eBay, a huge range of surfboards both new and used can be found, from leading brands such as Channel Islands and Quiksilver. Whether you are looking for a shortboard, longboard or funboard, there are boards available to suit all requirements and budgets, and it is often possible to find a bargain compared to shopping at a specialist retailer.
Why Buy a Used Surfboard?
There are many reasons for buying a used surfboard rather than investing in a new board. Some of the most common reasons include:
Available budget – the buyer has minimal funds to spend or is looking for a branded board which would be too expensive to purchase in new condition
Learning to surf – beginners often purchase a used board until they are more proficient
Second or backup board – those with several boards often purchase a couple of boards in used condition to save money
One of the most common reasons for purchasing a used surfboard on websites such as eBay is brand. Some of the most popular brands design surfboards can cost hundreds or even thousands of dollars, so by purchasing a used board these can become affordable for everyone, no matter what their budget.
What Type of Board to Buy
There are many different types of surfboard to buy, and each has their own characteristics. The table below shows some of the most popular boards, together with their features:
| | |
| --- | --- |
| Type of Board | Features |
| | Normally between 5'6" and 6'4" long and 16 – 19" wide and usually have a rounded square tail. Commonly used for competitions and by advanced surfers. |
| | Sometimes called 'logs' these boards have a rounded nose and are generally longer than 8' or 9'. Easy to paddle and catch waves. |
| | These are designed for small to medium waves and similar to a shortboard, although they have a swallow tail, wider and rounder nose and wider mid-section. |
| Gun | Designed for big waves, these boards are narrow and long, ranging from 6' to more than 10' in length. They are easier to control with big waves than a shortboard or longboard. |
| | Designed to handle sharper turns with ease, the Malibu shares similarities with the longboard. |
| | A great choice for novice and intermediate surfers, the benefits of a longboard and shortboard are combined in a funboard. |
| | Also known as boogie boards, these are safe, affordable and ideal for small waves. They are rectangular shaped and designed for lying or kneeling on, rather than standing up. |
The type of board chosen will be a personal decision, and the length, width and depth of the board are all extremely important factors. If attending classes or lessons, the surfing instructor should be able to assist the individual with their choice of board. A good board for beginners is a funboard, whereas more advanced surfers can take their pick depending on their specific style. All of the above styles can be found on websites such as eBay, for an affordable price.
Should you Buy a Branded Surfboard?
Whether or not to buy a branded surfboard is up to the individual. Those taking part in competitions and contests often have expensive, customized branded boards, but it is also possible to find branded boards in used condition on eBay, for a far more reasonable price than a new board.
Brands such as Quiksilver and FCS invest a lot of money making the highest quality products and using the latest technology to improve performance and durability, so investing a bit more money in a branded surfboard is a wise move for anyone serious about the sport. Beginners should probably buy a more basic board to start with, as it will be knocked and bumped a lot during the first year of learning – after this they can invest in a branded board.
What Brands are Available?
There are many brands of surfboard to choose from, and the brand selected will depend upon the buyer's available budget and the type of board desired, as well as the products available to choose from. By shopping on websites such as eBay, it is easy to find most of the following brands in used condition at an affordable price:
Channel Islands
Bear
Webber
Whilst some brands feature funky, colorful designs, others are plainer and more functional. Design is more important to some people than others, and the latest surfboards from the hottest brands can often be found online on eBay for a greatly reduced price compared to buying at a specialist store.
Shopping for Surfing Accessories
When shopping on eBay, it is easy to purchase surfing accessories at the same time as a used surfboard. Here are some of the most popular accessories available to buy:
All of the above accessories and many more can be found online. eBay has a wide range to choose from, often at greatly discounted prices. Whilst some accessories such as surfboard wax and specialist clothing are essential, whether or not to purchase other accessories such as sunglasses are a personal choice.
How to Choose the Perfect Used Surfboard
When choosing the perfect used surfboard, there are a number of factors that need to be considered. Here are some things to think about when shopping for the perfect used surfboard:
Available budget
Desired brand
What type of colour and style is desired?
What size and type of surfboard is needed?
How much experience does the individual have?
Will this be the main surfboard or a second board?
Is this the first surfboard the buyer has purchased? If so they may wish to spend less until their surfing skills improve
What condition is the board in? It is important to read the product listing carefully to see if the board has any defects or dings.
Because there are so many different types, sizes and brands of surfboard to choose from, it is important to think about all the above when shopping for a used board.
How Buy a Used Surfboard on eBay
eBay is the perfect place to head when looking for a used surfboard. Go to the main eBay home page and click on the drop-down menu 'Shop by Category' at the top left of the page next to the main logo. A category list will open up. Click on Sports & Recreation to bring up a list of all the available categories. Scroll down to Sporting Goods and click on 'more'. From here select Surfing. From the left-hand menu, select Boards and then Surfboards. It is easy to select 'Used' under condition in the side menu to bring up a list of available used boards.
A search can be narrowed using a certain term, if looking for something specific. Just type the words related to the search, such as 'Channel Islands Semi Pro Board' into the search bar, and a list of available items will appear.
Conclusion
Surfing can quickly become an expensive hobby, and surfboards can set buyers back hundreds or even thousands of dollars. Buying a used surfboard is a great option for families whose children are taking surfing lessons, or for novice surfers who have just started to learn as it is important not to invest too much money in a first surfboard, which could quickly become damaged whilst learning.
eBay has a huge range of used boards available from many of the leading surfing brands such as Quiksilver, Roxy and FCS. It is possible to find the some great deals on used surfboards by browsing or using their search facility to hunt for a specific item.