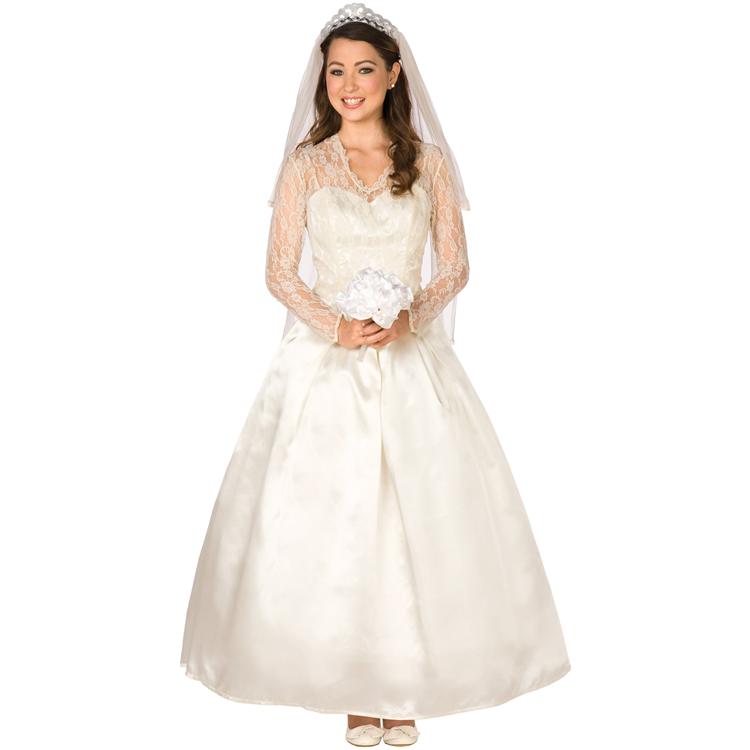 Brides often fantasise about a spring wedding, but more and more brides-to-be are deciding to hold their nuptials in the winter. Wintertime can provide a wedding with an entirely different feel by introducing a bit more intensity and drama and letting a bride add different elements to her ensemble and her bridal party that might not work as well for a warm weather wedding. Selecting a winter wedding dress can be a very different experience from selecting a dress for any other time of the year.
Brides in the market for bridal gowns for the winter may have some style questions as to how to choose wedding dresses for cold weather ceremonies. Once they have answered some of these style questions and focused on the styles of dresses and accessories they want, they can benefit from exploring their retail options beyond traditional bridal shops. This includes online vendors like eBay.
Style Choices When Shopping for a Winter Wedding Dress
Summer weddings dominate much of the bridal market. Because of this, brides-to-be may be familiar with the style trends that define that market, while still being in the dark about winter weddings. Brides can use the following tips to obtain the ideal bridal looks for winter ceremonies.
Introduce Colour
One of the great virtues of a winter wedding is that it gives a bride an opportunity to introduce colour into her dress. Many winter brides wear bridal gowns with Christmas-themed colours and accents. A red wedding dress, for example, is a very popular choice for winter brides. There are also gowns available that are mostly white but use colour accents in the skirt or bodice or at the waist via a sash. A silver wedding gown is another option a winter bride might consider. A winter wedding is a perfect opportunity to amp up the drama with a bit of colour, so take advantage of it if you want to sidestep the traditional white.
Look for Long-Sleeved Wedding Dresses
While many wedding dresses today are sleeveless, there are many long-sleeved gowns in the marketplace that can work ideally for a winter wedding. These dresses can incorporate anything from a full-lace sleeve to a satin sleeve. For brides who want to incorporate a bit of glamour into a look without covering up too much, there are backless, long-sleeved wedding dresses that can provide a balance between comfort and a dramatic look.
Accessorise for Winter
Having a winter wedding does not mean that you need to avoid a strapless dress. There are many bridal winter wraps and shrugs on the market that can transition you from the colder elements to the indoors elegantly. A faux fur shoulder shrug or wrap can be the perfect winter bride accessory. Other popular choices include fur hand warmers and full-length coats in white. Even a lace or satin bolero can add a level of comfort and warmth in the winter while still creating a lovely and feminine silhouette.
With regards to a bride's hair, accessorising with a bridal rhinestone headpiece set into an updo is a great way to incorporate a winter theme into a bridal look. These accessories bring out the ice and sparkle of winter and can perfectly offset a fur shrug or wrap.
Choosing a Silhouette
Whether a wedding takes place in the spring, summer, fall, or winter, it always benefits a bride to focus on styles that complement her body type. To begin, you should make sure that you are familiar with the various styles that are most prominent in the bridal marketplace.
Mermaid Wedding Dresses
Mermaid wedding dresses are characterised by a body-hugging design that runs over the entire body before transitioning into a flare skirt just below the knee. This style creates a very dramatic and sultry look. It is often paired with ruched satin in the body of the dress. The skirt elements can be satin ruffles or even stiff netting. Popular necklines in mermaid wedding dresses include sweetheart necklines, halter tops, and traditional necklines.
Ball Gown Wedding Dresses
Ball gown dresses are the ultimate bridal fantasy concoctions. These dresses have fitted bodices and very full and large skirts. They are often fitted with hoops underneath to keep the skirts at their fullest at all times. Chiffon and crepe are popular fabrics used in these wedding dresses.
A-Line and Princess Wedding Dresses
A-line and princess dresses are similar in the sense that they both have fitted waists or bodices and then flare out at the skirts. An A-line follows a straight, although typically looser, line, while a princess skirt is much like a smaller version of a ball gown dress. Waist elements on one of these dresses could be a basque waistline or a drop waist.
Shift Wedding Dresses
Shift dresses are slender columns of material that hang close against the body. These options are often made of silk or chiffon and create a very ethereal effect. Shift dresses often have spaghetti strap-style bodices or V-neck bodices.
Empire Waist Wedding Dresses
Empire waist dresses are fitted just below the bustline and then extend out a bit and down into full and loose skirts. Empire waist dresses are often paired with scoop necklines with thin straps or sweetheart strapless necklines.
Mini Wedding Dresses
More and more modern brides are leveraging mini dresses in their bridal ensembles. While not the most practical choice for a winter wedding, these short dresses can pair with a fur shrug to give a bride a very bold look for a winter ceremony.
Selecting the Right Silhouette for Your Body Type
With these silhouettes in mind, you can then start looking for the styles that best suit your body type and sense of style. The following table lists some of the do's and don'ts when it comes to fitting your body with the right silhouette.
Body Type

Do Wear

Don't Wear

Wide Shoulders

Halter neckline or strapless

Corseted waist or bodice dress

Cap sleeves

A shrug to hide shoulders

Pear-Shaped

A-line dresses

Drop-waisted ball gown

Sheath dresses

Mermaid dresses

Hourglass

Mermaid dresses

Trumpet dresses

Slim, bias cuts

Sheath dresses

Petite

Sheath dresses

A-line dresses

Ball gowns

Voluminous materials

Tall

A-line dresses

Sheath dresses

Empire waist dresses

Elaborate hair pieces

High necklines

Apple-shaped

Empire waist dresses

Basque waistlines

Sheath dresses

Drop-waisted dresses
These are general guidelines women can use to help them with the purchasing process. There are, however, always exceptions to the rules. If you find a dress that is especially appealing to you, you should consider various ways to make it work. Confidence and feeling great in a dress can matter more than the ideal silhouette.
Buying Winter Wedding Dresses on eBay
eBay has a wide range of wedding dresses for winter brides. The site creates this large catalogue by bringing together many different vendors into one consumer-friendly place. Searching for a wedding dress on eBay is a simple matter of entering a keyword term into the search bar that you can find on any page on the site. If you have decided on a silhouette, use a keyword term that describes that look, such as 'empire waist wedding dress'. If you want to get an idea of the overall options that are available, use a general term like 'winter bridal gown'. You can also find deals on dresses for any other day of the year.
Communicating with Sellers on eBay
When buying an item as important as a wedding dress, you want to be able to proceed with as much information as possible. Fortunately, eBay allows you to communicate with a seller directly via the seller's page. A seller's page can be accessed by clicking on the seller's name in a listing. Do not forget to also look at a seller's feedback, as well.
Conclusion
Finding the ideal wedding dress for a winter ceremony does not need to be an overwhelming process. While some of the style choices for this type of wedding may not be as familiar to brides-to-be as those for a summer wedding, it only takes a few tips and tricks to get a bride on the right track. Winter brides can experiment with some dramatic touches, such as fur shawls and incorporating colour into their dresses. They can also choose from almost any silhouette and pair it with cold weather accessories to fend off the winter chill.
Winter wedding dresses and all the accessories that can work with them are available in the large catalogue on the online retail site eBay. Learning how to shop for a dress on this site is a master stroke in the purchasing process for a winter wedding dress. With its search interface and user-friendly features, eBay gives brides a great way to find the perfect dresses for their winter wedding days.