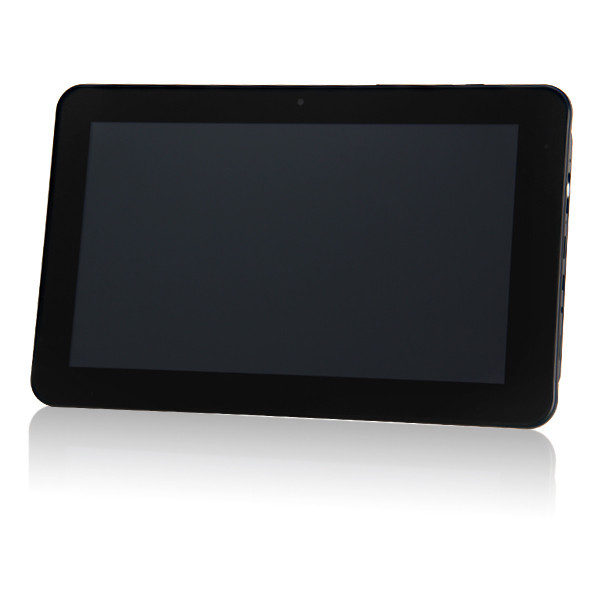 Zenthink are a well-established tablet manufacturer from China, who are currently developing a reputation for selling great value technology. The release of the Zenithink C94 40GB Tablet carries on their tradition of partnering power and value in one concise package. When looking to get the best deal on Zenithink products, eBay should be every shoppers premiere retail destination.
Display
Tablet displays have been a hot topic in the world of technology, with some companies over looking how important it is to the overall quality of a unit. Zenithink have clearly not subscribed to such a thought process, as the C94 comes equipped with a large 10.1" TFT display that can handle resolutions up to 1024 x 600. It is one of the largest tablet screens currently on the market, meaning that multi-touch gestures can be done with ease and HD video is displayed to its fullest ability.
The Zenithink C94 40GB Tablet comes in eitherblack or white, and qualifies as one of the lightest tablets on the market. Being only 11.9mm thick and weighing just 585g, the device is extremely mobile and the perfect option for those looking for a high spec yet light tablet.
Specification
Having a large high-quality display is for nothing unless the tablet has the power to back it up. Thankfully the Zenithink C94 40GB Tablet doesn't fall short, it uses an American Freescale quad-core processor that makes it more powerful than most Android models currently on the market. It also comes with a GC2000 embedded graphics card that scored an impressive 9581 during AnTuTu testing. The Zenithink C94 40GB Tablet has an array of specifications that mean it can handle everything from basic web browsing to high end video editing.
Connectivity
The Zenithink C94 40GB Tablet isn't short on functionality and has plenty of connectivity options too. It comes with a fully functional mini-HDMI port, meaning that with the right cable users can output the tablet's display to a HD television. It comes with two micro USB ports, meaning that users can attach everything from external storage (should the inbuilt 40GB not suffice) to a micro-keyboard for text input. Those who use the Zenithink C94 for photography can utilise the Micro SD card slot to easily transfer photos between devices. The Zenithink C94 40GB tablet also comes with Bluetooth connectivity, which means it can link wirelessly to other devices.
File Compatibility
The Android operating system is extremely versatile with regards to what file formats it can handle, and this is something that the Zenithink C94 takes full advantage of. The device can play a huge variety of video and audio file types, making it a true media friendly device. Expect the following files to play without issue.
Video

Audio

AVI

MP4

MKV

WMV

MOV

FLV

MPG

MPEG

H.264

3GP

RM

RMVB

PMP

MP2

MP3

WMA

OGG

AAC

3GP

WAV

M4A

MA4

FLAC

APE
These are the files types that the device can handle out of the box; with the right software in place it can actually play even more. When it comes to video, expect the device to play all the formats listed up to 1080p HD.
Camera
Zenithink have included a 2-megapixel camera on the C94. In quality it falls short of Apple and Windows offerings, but is more than adequate for casual photographers. It has all the features you would expect to see including "one touch" camera access and a "tap to focus" option, which makes taking pictures easy. The camera also comes into use when taking advantage of software such as Skype. Video calling is now a day-to-day task for many and in such regards the Zenithink C94 does not disappoint, as it allows users to easily stay connected to friends and family.
How to Buy a Zenithink C94 40GB Tablet on eBay
Those looking to buy a new tablet can't go wrong by choosing the Zenithink C94 40GB model, and when looking for the best deal, shoppers should be sure to stop by eBay. They stock a whole host of tablets, meaning that there is a great selection of deals to be found. To find tablets, start on eBay's homepage, and select the Computers and Tablets portal and iPad, Tablets and eReaders sub portal. Then using the search modifiers to the left it is possible to hone in on specific Zenithink products.
If shoppers are still having a hard time finding the right Zenithink product, they can try using the keyword search bar found at the top of every eBay page. Simply enter a relevant search term, hit search, and start browsing. After finding the right item, process payment via PayPal. This means that your money is protected should something happen to the order.
Conclusion
Tablet computing has come a long way since the introduction of the first iPad. There are now a variety of devices available that stand to replace laptops, and the Zenithink C94 40GB Tablet is one of them. It has powerful specifications, meaning it can be used as everything from a work device to a media hub. When looking to buy a new Zenthink device, there are few retailers who offer better value for money than eBay.