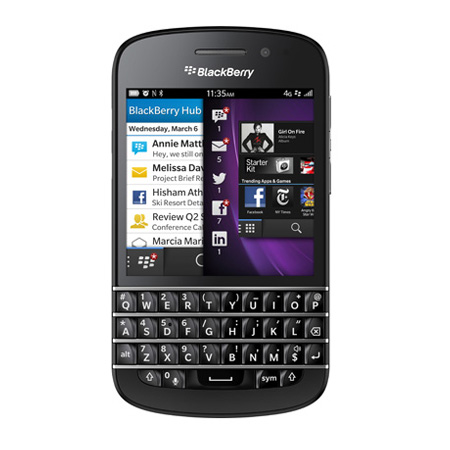 The Blackberry is one of the most popular wirele ss handheld devices sold today, and these products have been in use for over a decade. Blackberry's are available in different models offering users different features and functions. Buyers wishing to purchase a device may be concerned about the price and if it will fall within their budget. However, it is very easy to buy an affordable Blackberry and sites such as eBay offer excellent value for money.
Types of Blackberry
The first thing buyers should do is establish how much they can spend as this will influence which models are available to them. It's important to also factor in costs for a monthly contract or credit top up, as some of the newer models will have more expensive contracts. All buyers should spend some time researching into what the various network providers offer. When this is done, buyers can then start to consider which Blackberry model would be most suitable for them.
| | |
| --- | --- |
| Blackberry 10 | This is the latest model released by Blackberry, and is available in two options. The Z10 utilises a touch screen device while the Q10 uses a standard keypad. Blackberry are well known for using full alphabet keyboards; the devices are designed specifically for communication through instant email and messaging via the BBM Network. The Z10 model is available in black while the Q10 can be bought in both black and white. This is definitely the most expensive option on this list but Z10's and Q10's sold on eBay are considerably less costly than those sold in store. |
| Blackberry Bold 9900 | Probably the most popular Blackberry device sold to date, the Bold 9900 offers excellent web service and combines a sharp touch-screen with the traditional Blackberry alphabet keyboard. The Bold 9900 can be bought for prices as low as $30 and is easily the best value for money device on this list. The Blackberry Bold 9900 provides users with a digital camera, Internet browsing and HTML emails. It comes with a standard 8GB of memory, which can be increased to 32GB. Buyers also have the option of choosing the Bold 9790, which is smaller in size and lighter than the 9900 model. |
| Blackberry Torch | The Blackberry Torch is available in two styles; the Torch 9860 and the Torch 9810. The Torch 9860 is Blackberry's first completely touch-screen device, and comes equipped with a 3.7" screen. The Torch 9810 also uses a full touch-screen, but has an in-built sliding keyboard for those who prefer to use the standard Blackberry keypad. Although not as expensive as the Blackberry 10, the Torch models generally start at around $100 and are more appropriate for those with a little extra budget to spend on function. |
| Blackberry Curve | The Blackberry Curve line come in both touch-screen and keypad styles, and the prices for this line varies greatly. Prices for the 9380 touch-screen model are generally between $180 to $220, while older keypad models like the 8520 can be bought for under $100. Obviously the more expensive and newer the device is, the more features it will come equipped with. |
Unlocked Blackberry
It is very important to check if the Blackberry is locked or unlocked before purchasing, as this can end up costing the buyer additional money. If the phone is locked, then this means that only a specific pre-chosen network provider can be used with the device. If it is unlocked it can be used with any desired network. As a result it is advised that all buyers search for unlocked Blackberry's only, unless of course they find a locked model using their preferred network provider. An unlocked model may be slightly more expensive than one that is locked, but it will save the user time and hassle and allow them to use the device almost immediately upon receiving it.
Buying Used Blackberry's
Some buyers will find that their desired Blackberry is not within their budget. An easy way to solve this problem is by looking for a used version of the device. Used models will be considerably less expensive than those sold brand new, but buyers should examine photographs of the device for signs of physical damage and wear and tear. It's also a good idea to enquire about the battery life of the device, and specifically ask about the talk time. Talk time refers to how long the battery lasts when the device is in use, and a decent talk time will be between five to eight hours.
Buying an Affordable Blackberry on eBay
All buyers are advised to shop for Blackberry's on eBay, as the site has a large selection at very reasonable prices. First head to eBay.com.au, and click on the Mobile Phones & Accessories link found in the Electronics tab. On the following page click on Mobile Phones, and then the Blackberry filter found in Brand list in the Categories table. This will list devices made by Blackberry only. Type the name of the desired Blackberry into the search bar and press enter. Buyers interested in browsing through used models can do so by clicking the Used filter found under the Condition tab.
eBay Deals contains a large number of products for sale at reduced prices, and buyers are advised to check here for Blackberry's on special offer. Simply click on the Deals link found at the top of every page, followed by the Smartphones link found in the Electronics drop down menu.
Conclusion
The Blackberry is one of the most popular wireless devices used for communication available to buy today. Its popularity is a result of the excellent email and messaging services the devices provide. Although the newer models are quite expensive, it is very easy to find an affordable and suitable model through shopping on eBay. It is advised that all buyers search for an unlocked model, and if considering buying a used device then ensure that the device is in good working order and has a decent talk time battery life.