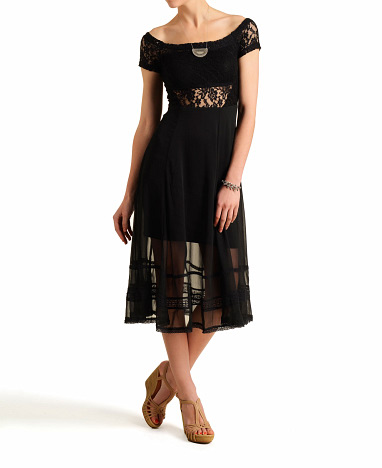 The modern woman often faces a week packed with numerous different activities and events. In order to be ready for the office, school, mall, bar, or concert hall, a woman needs plenty of versatile garments in her wardrobe.Blouses,tops,skirts, andpants are all useful, but most women like to have a few dresses as well. The ideal dress is not only affordable, but versatile. It can be dressed up or down, depending on the situation or setting. When women need an affordable dress for any occasion, they may begin by shopping at local clothing stores and department stores in their area. However, to score the best deals, they should broaden their search to include websites like eBay.
Choose a Flattering Style
Before you step out of the door or go online to shop, you need to understand your own body type. If you want a dress that truly works for any occasion, you need a style that flatters your shape perfectly. Women with an apple shape are fairly round with a broad waistline. For these women, a wrap dress with a defined waistline creates the illusion of the coveted hourglass figure. Pear-shaped women should select a dress that emphasises their bust and shoulders, drawing the eye upward and balancing the width of their hips. In such cases,off-the-shoulder dresses, empire waist dresses, or dresses with bust detailing can work well. Slim women with hourglass figures often look stunning in an elegant sheath dress that shows off their legs. Women with square or straight figures may opt for strategically placed seaming, extra waist definition, or bust detailing, all of which create curves. Once you have established your body type and discovered the dress style that plays to your strengths, you can move on to the next phase of the selection process.
Opt for Classic or Neutral Colour
A dress that works for the office, shopping, parent-teacher meetings, cocktail parties, or a concert is a rare and valuable find. One way to ensure a beautifully tailored dress suits many occasions is to choose a neutral colour. The classic wisdom of many wardrobe experts is that every woman needs a " little black dress," an attractive, elegant dress that can go anywhere, no matter what the occasion. However, a versatile dress need not always be black. Dresses in rich jewel tones such as ruby red, emerald green, sapphire blue, purple, and amber often boast similar flexibility. A white dress is a little less versatile and is more seasonally limited, but its simplicity allows owners to dress it up in any way they want.
Choosing the Right Accessories
Accessories are key to making a beautiful dress work for any occasion. Start with a flattering silhouette and choose a neutral colour or flattering hue that enhances your skin tone and eye colour. However, without the right accessories, you cannot wear the dress to every occasion. You need the rightjewellery,scarves,shoes,handbags, and belts to create different looks. For instance, pair a slimming sheath dress with a blazer,beads, and small earrings for work. After work, toss aside the blazer, slip into a higher pair of heels, and switch the plainstuds for glittering hoops. This makes the ensemble perfect for a night out. If the dress is black, accessorise it simply for the day and then add luxurious jewellery and a rich wrap to attend a formal event in the evening.
Buy a Dress with a Fixable Flaw
Sometimes, you can save money by purchasing a dress with a few minor problems or flaws and then repairing those flaws. The level of mending a dress needs should match your level of skill with a sewing machine or a needle and thread. For instance, a dress that is simply missing a button or needs part of the hem fixed works well for someone with limited sewing skills. For extensive alterations, such as replacing sleeves, changing the neckline, or dying the material, expertise is essential to achieve a satisfactory result. Women who need a variety of dresses for many different events may want to take a sewing class or get a few free lessons from a friend. Not only does this new skill free them to purchase a less-than-perfect dress, it also enables them to keep the dresses they currently own in excellent repair, ready for any occasion.
Select a Pre-Owned Dress
Consignment shops, thrift stores, and websites like eBay sell many different pre-owned gowns and used dresses. Some of these dresses may have been worn only once or twice, while others may have endured years of service. When online sellers are involved, take your time to read all the product details and ask plenty of questions to ensure the quality and condition of the dress. Ask for a number of clear digital photos showing various angles and key parts of the dress, including fastenings, cuffs, hems, rear, and bust. In person, check for worn spots, frayed edges, loosening seams, sagging hems, or dysfunctional fasteners. You may want to smell the dress to ensure there is no lingering odour. Stains may also be a problem. Unless you know for certain that you can get the stains or spots out of the dress, move on to another option.
How to Buy
Sellers on eBay frequently supply free shipping as an extra buyer incentive. Some of them bundle multiple items together or create a package deal with a dress and a few accessories. Occasionally, sellers distinguish themselves because of their superb customer service and high-quality products. If these sellers receive high feedback scores from an overwhelming majority of their customers, they often receive Top-rated Plus seller status, along with a special seal to display on all their listings. Keep in mind that you can search other areas of eBay's website such as eBay Deals or eBay Stores if you cannot find the right dress on eBay's main website.