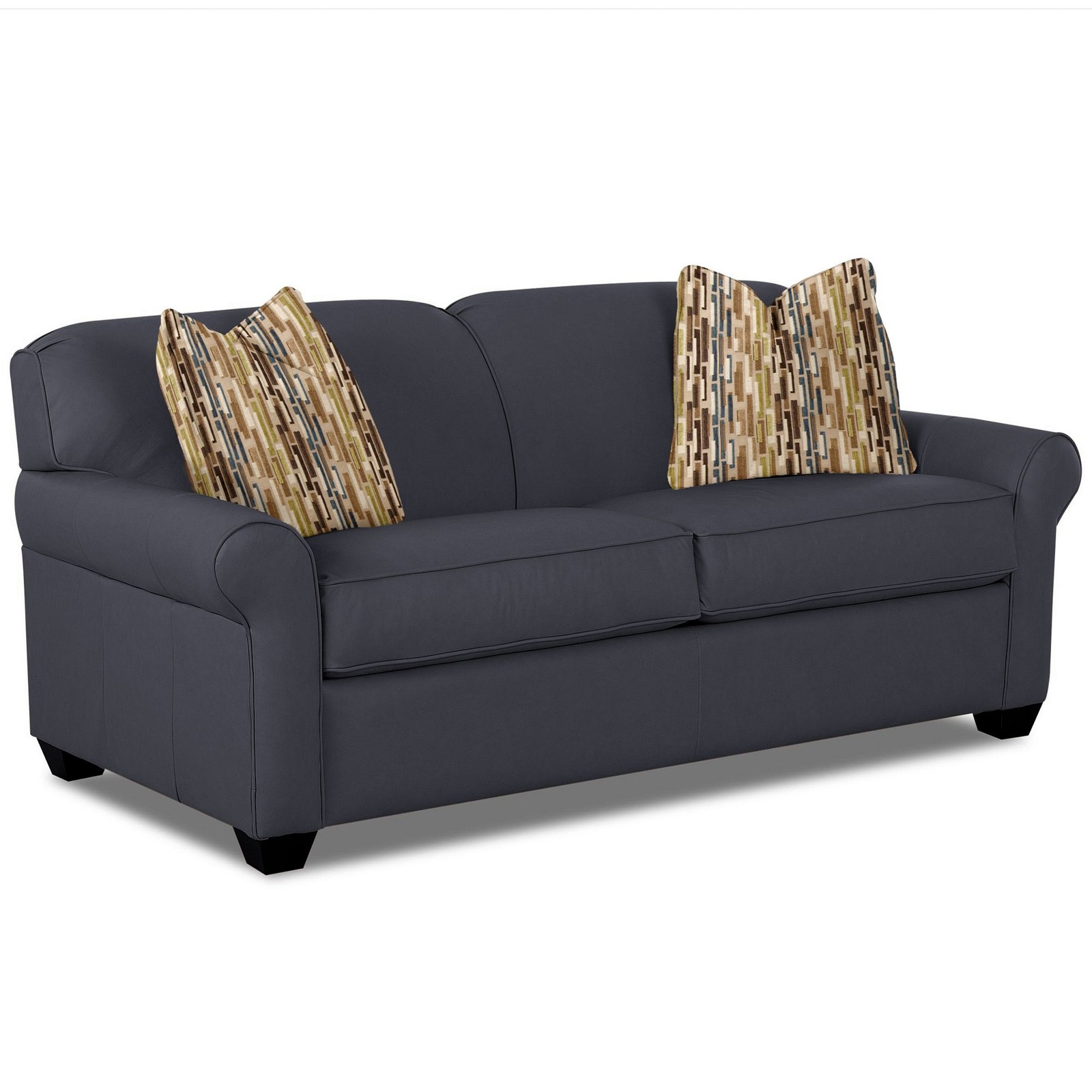 While there are many pieces of furniture that make a home feel more complete, perhaps none is so central to enjoyment of a space than a sofa. A stylish and comfortable sofa acts as a focal point for a room or even an entire flat. The look and feel of a leather sofa is decidedly luxurious and timeless. However, leather sofas can also be costly. This is why seeking out an affordable leather sofa, either from a furniture retailer, or online fromeBay, is well worth the effort. Professional and amateur decorators alike should compare types of sofas as well as types of leather in order to find a sofa that fits into the home and the lifestyle of the home's occupants.
Sofa Sizes
Sofas of every material come in a variety of sizes. Before shopping for a leather sofa, it is a good idea to determine the appropriate size. The right size depends largely on the purpose of the sofa. As a central sofa for guests and family alike, two-person loveseat is limiting, while the same sofa may be perfect for an office environment. Two of the most popular styles of leather sofas for the home are leather suites and leather chesterfields.
Leather Suite
A leather suite, also referred to as a leather sectional in some parts of the world, consists of different pieces that fit together to form a larger seating area. Many leather suites have a recliner or a chaise, and even an ottoman in addition to a regular sofa. Leather suites are highly suitable for those people who have a lot of space to fill and many people in one household that all need a place to sit.
Leather Chesterfield
A Chesterfield is a specific type of sofa with buttoned tufts, arms, and back that are the same height. A leather Chesterfield is a very classic piece of furniture to add to any room, as it is quite timeless in style. Be advised that Chesterfields are on the pricier side, and so, may not be the first place to turn when seeking out the best deals on home furnishings.
Types of Leather
When selecting a leather sofa, it is essential to consider the type of leather used. Different types of leather vary widely in the way they look, feel, and last. Top grain leather sofas, made from the outermost layer of an animal's hide, are the most durable. This type of leather generally carries with it a bigger price tag because of its durability and its unique marks. Split grain leather comes from the layer underneath the outer hide. This type of leather is not as durable, but is much more affordable. Those looking to save money on a sofa should consider a split grain leather sofa.
Types of Leather Treatments
In addition to comparing the types of leather, it is also important to consider how the leather is treated. This can have a significant impact on how the sofa looks, how long it lasts, and of course, how much it costs. The following chart outlines the most common types of leather treatments as well as how they stack up against one another.
Type of Leather

Description

Advantages

Disadvantages

Treated only with soluble dyes

No protective coating

Largely natural colour

Aesthetically beautiful

Typically very soft

Not resistant to stains

Quite costly

Semi-Aniline

Surface treated with pigments

More resistant to stains

More uniform look

Fewer unique markings

Not as soft

Pigmented

Surface is coated with a polymer

Resists stains, scuffing, and fading

Affordable and easy to find

Not as soft or luxurious
While the look of the sofa is certainly important, most people also want to consider how durable and practical a leather sofa is. An aniline sofa may be a beautiful choice, for example, but a family with small children may not be the best candidate for a sofa that is both costly and easily stained. Be sure to determine the type of leather used before deciding upon a sofa to purchase.
Faux Leather Sofas
Even the most affordable leather sofas may be out of price range for some decorators. For those who love the look of leather, but not the cost or the potential for damage, a faux leather sofa is certainly worth considering. A faux leather sofa uses various plastic materials, usually polyurethane or polyvinyl chloride (PVC), to mimic the look of leather. These sofas are extremely affordable and look very similar to real leather.
Used Leather Sofas
For those seeking an affordable real leather sofa, it is certainly worth considering a used leather sofa. High-quality leather furniture lasts a very long time, meaning even an older piece may have a lot of life left. Shopping for used leather sofas is a very reasonable way to drive down the cost while still getting a beautiful piece. When purchasing a used leather sofa, be sure to closely examine the sofa or any available images in order to determine any damage that may require repairs, as they add to the ultimate cost of the sofa.
How to Buy an Affordable Leather Sofa on eBay
Shopping on eBay is an ideal way to find an affordable leather sofa to add to your home. Simply search for "leather sofa" or " leather suite" using the search box located on every page of the site. When using the eBay filters to narrow down your results, consider also using the geographic search feature. This allows you to find sofas for sale near you and avoid the expense of shipping a sofa a long distance.
While leather couches may not be appropriate for every home, they can add a sophisticated and even practical element to many different styles of decor. If a leather sofa adds that certain touch to your home, there is no time like the present to find an affordable leather sofa.