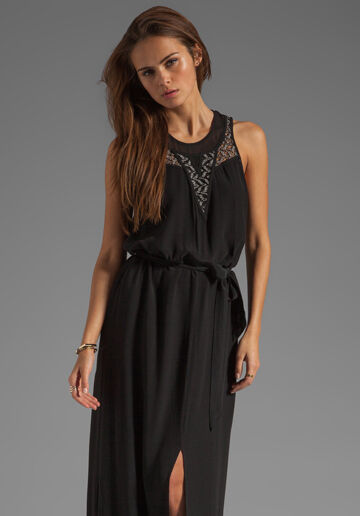 Most fashion trends come and go, only to be worn a handful of times before they are deemed 'out of style'. However, the maxi dress is one particular look that has stayed around for years. With its longer length, a woman can wear it during any season, and with the multitude of prints and colours available, a woman is sure to be able to find a dress that appeals. Maxi dresses are available at any number of department stores and on online sites like eBay. By following a few simple suggestions, such as keeping an occasion in mind and buying for one's body type, any shopper can find a great deal on a maxi dress.
Buying for a Particular Occasion
When it comes to maxi dresses, affordability is usually easy to achieve. Some dresses are more expensive than others, but women can usually find plenty of choices to fit their particular budgets. Generally speaking, most dresses' price tags correlate with the quality and style or, in some cases, the brand name.
One of the easiest ways to save money when buying a maxi dress is to keep some sort of occasion in mind. This does not mean a buyer should only buy a maxi dress for a one-time, special occasion, such as a party or a wedding. It means she should have an idea of the key purpose of the dress. Ideally, the purpose includes frequent wear rather than a very dressy occasion that could end with the dress never leaving the closet again. A maxi dress for everyday wear presents the buyer with the greatest opportunity to get her money's worth out of the dress, and it also allows her to save money by not indulging in luxury features and materials that are not practical for daily wear.
Many shoppers indulge in impulse buying. Having a clear idea about the style of dress needed helps keep impulse buys to a minimum. As an example, spontaneously purchasing a formal maxi dress because it looks amazing is a poor financial choice if the dress only collects dust in a woman's closet. Making a purchase with an 'I'll find somewhere to wear it' mindset rarely turns out well.
Deciding on a Fabric Type
Considering fabric types for a maxi dress is the next logical step. One of the great aspects of maxi dresses is they come in numerous fabrics. The fabric of the dress also usually plays a key role in the price.
Choosing Fabrics for Different Weather
Certain fabrics for maxi dresses are better suited for certain events and weather than others, and the buyer should keep in mind the season and weather when buying a maxi dress. Buying a linen maxi dress for use in a typically cold area could certainly be a waste of money, for example. The following chart describes the most common types of fabrics used to make maxi dresses and their characteristics.
Fabric Type

Characteristics

Common fabric type

Available in a variety of weights, from light to heavy

Appropriate for wear for any type of weather or event

Often considered slightly dressy compared to many other maxi dresses

Light and airy feel

Great for wear in the spring, summer, and even warm fall days

Range in heaviness of weight

Perfect to wear with boots and a sweater in colder winter months

Great for spring, summer, and fall wear, as well

Incredibly lightweight and comfortable

Perfect for hot summer days

Not so ideal for chilly winter months
Although a wide selection of fabric choices are available for maxi dresses, simply understanding which fabrics work best for particular seasons and climates makes searching through the options quick and easy. When a primary goal is affordability, a beautiful dress that hangs in the closet because of an inappropriate fabric choice is a waste of money. Also, maxi dresses come in at a wide range of price points, and a buyer should not feel limited to one particular fabric.
Buying for a Woman's Body Type
Buying dresses that do not suit their body types is one of the most common ways women waste money on maxi dresses. Although it may be fun to wear trendy, current styles, when it comes to maxi dresses, a woman should never buy this type of dress without considering if it works with her body type. For example, a woman who wants to conceal her midsection should avoid tight-fitting maxi dresses and horizontally striped dresses. A woman trying to hide her upper arms or a woman hoping to balance out a bottom-heavy body should gravitate toward a long-sleeved maxi dress. Essentially, buyers should always think of what suits their body types before impulsively buying a particular maxi dress for its trendiness.
How to Buy a Maxi Dress on eBay
Maxi dresses are beloved by women of all ages and body types. Although some maxi dresses may come with hefty price tags, many of these dresses are very affordable. Shopping on eBay for maxi dresses is simple, and it allows women to price compare to get the best prices. Additionally, a special section of the site focuses specifically on great deals on women's clothing. For regular searches, use the search bar on any page to enter keywords. Narrow the results by choosing various size, colour, price, and category filters. A woman does not have to overspend on a maxi dress. By keeping the purpose, fabric, and body type in mind, she can wisely spend her money on a suitable choice.