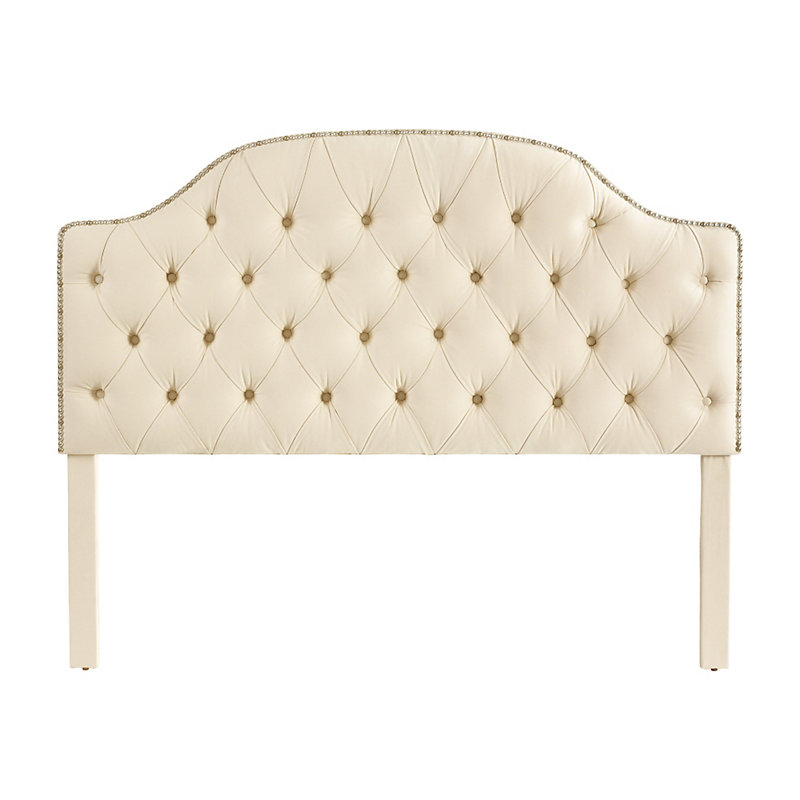 The bed is the focal point of the bedroom. An attractive padded headboard speaks volumes about the personality and taste of the user. Affordable padded headboards are available on eBay in all shapes, sizes, and styles. While it is possible to find great deals on new padded headboards on eBay, to make even greater savings you can choose a used or nearly new model. If you want to flex your creative and practical muscles while saving money and personalising your bedroom, consider refurbishing a heavily used headboard or making one from scratch. All the tools, fabrics, and accessories are available on eBay at affordable prices.
Considerations When Choosing
When choosing an affordable padded headboard there are a number of different factors to take into account. The size of the headboard is of vital importance. While you can make an over-sized headboard work well, a headboard that is too small looks odd and out of place. When looking for an affordable headboard it is worth looking at both new and used models. Decide on a wall-mounted or bed-mounted headboard or whether you want to attempt refurbishing a used headboard or creating one from scratch.
Buying New or Used
You can opt for a brand new padded headboard in a variety of fabrics and styles. However, when shopping on a budget, choices can be limited. If you want a higher quality headboard or cannot find a brand new headboard in a style you like, consider a used headboard in good or nearly-new condition.
Wall-Mounted or Bed-Mounted Headboards
A crucial decisions regarding purchasing a headboard is whether it is to be mounted on the wall or mounted on the top end of the bed. Attaching a headboard to the bed allows you to easily move the bed around. It also negates the need for drilling into the wall to install mounting fixtures. However, when a headboard is attached to the wall it is generally more sturdy than those mounted to the bed.
Choosing a Style
Buyers can opt for traditional rectangular headboards, plain models, ones with printed fabrics,tufted headboards, and studded headboards. For a different aesthetic consider a large, square, oversized headboard or a more traditional shape such as a Grosvenor, Cavendish, or Regency headboard. Affordable padded headboards are available in almost any size and style with a range of fabrics from leather to faux leather and brocaded silk.
Choosing a Fabric
Whether shoppers buy a new or used headboard or plan to refurbish or build their own, the type of fabric is of vital consideration. While the fabric must be aesthetically pleasing, it also needs to be of high quality and appropriate weight for upholstering. Durability is another important factor. Fabrics, such as leather and velvet offer a luxurious finish and look stunning, but require regular maintenance and have a shorter lifespan than other fabric types. Upholstery-weight linen is a popular choice because it offers clean lines and durability with a long lifespan. Brocade, whether linen, silk, or another fabric base is a strong, heavily patterned woven fabric and usually incorporates metallic threads. This heavy duty fabric provides an opulent, sumptuous look and feel and is hard wearing. Other options include chenille, crushed velvet, cotton, silk, and hemp. Some durable synthetic options include rayon, nylon, and microfibre. For a long-lasting and different look consider using a vinyl covering.
Refurbishing
Refurbishing an old padded headboard is a great way of getting a headboard in the perfect style. A shabby headboard in need of care and repair is inexpensive. When refurbishing a padded headboard, buyers are free to personalise their piece and choose whether they want to add tufting or padding. Only a few simple tools are required for this task, including a staple gun, upholstery needles, a sharp craft knife, cable ties, and strong upholstery thread.
Making your own
Making a padded headboard requires only a little practical skill and allows the user to get creative, by honing their skills and revitalising their bedroom on a tight budget. To make a headboard from scratch a piece of MDF or pegboard is needed. If a buyer gives the measurements and style requirements, some sellers can cut the board to the requested size and shape before delivery. Alternatively the board is easy to cut at home with a jigsaw or hacksaw. Padding is applied using an adhesive spray to effectively adhere it to the backing board. If tufting needs to be added, holes are strategically placed in the desired configuration, and cut out with a sharp knife. The fabric is layered over the padding. For a plain headboard with no tufting or studding, the fabric is immediately secured at the back of the headboard with a staple gun and the excess cut neatly away. If adding tufting or studs, start at the top of the headboard, add in rows of studs or tufts and secure at the back of the board. After studding or tufting secure the fabric at the back of the board with staples. To give the back of the headboard a professional finish use adhesive spray to add a layer of felt or leather-effect fabric to hide the staples and tufting fixtures.
How to Buy
Buying an affordable padded headboard on eBay is simple and straightforward. Using the search bar located on every page you can easily identify the perfect padded headboard. When shopping on a budget, simply use the price range filter to refine the search to only include those within your budget. Additionally, shop eBay deals for some of the best offers. Many sellers, including some of those with top-rated status offer free delivery as an added bonus. Even when shopping on a budget, eBay provides an array of affordable padded headboards in a variety of styles, shapes, sizes, and fabrics. eBay sellers also supply all the necessary supplies and tools needed to refurbish or make your own padded headboard.