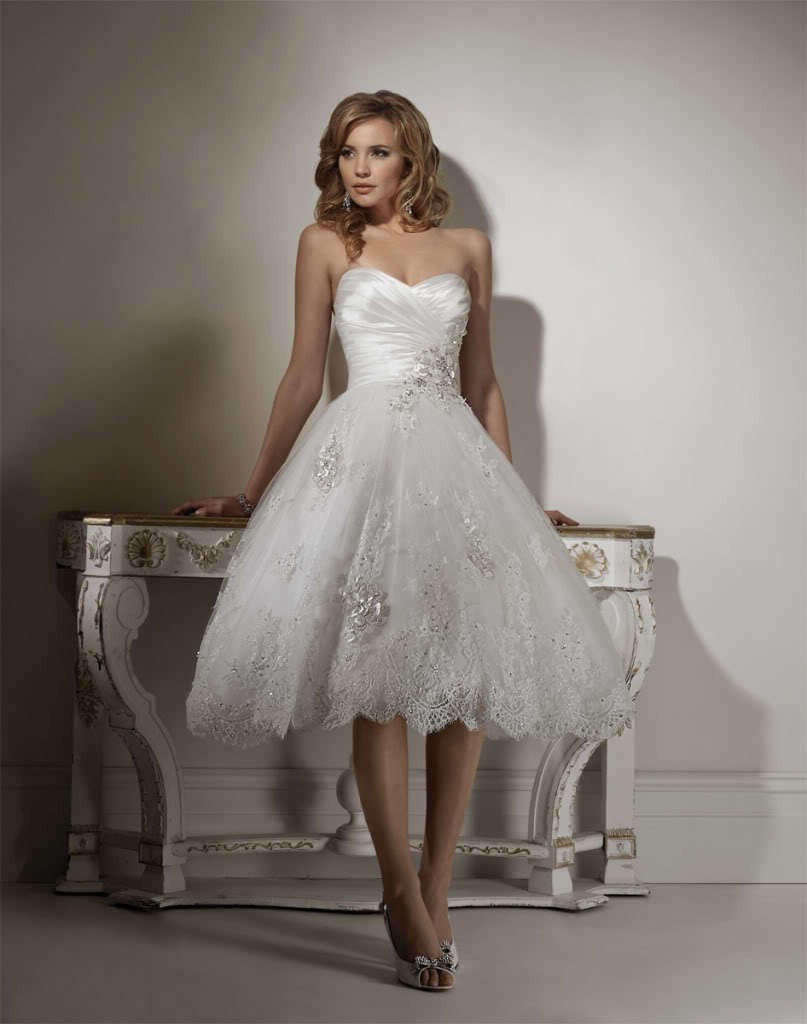 For many women, their wedding is one of the most important days in their lives. The couple want everything to be perfect, from the invitations, to the table settings, to the food. The clothing of the wedding party is central to the overall appearance and theme of the wedding. The couple, and the bride in particular, are the center of attention and the wedding dress should reflect this. For a summer wedding, the dress should be lightweight, short, and have shorter sleeves to ensure comfort as well as style. Most couples have a limited budget for their big day and buying an affordable wedding dress from eBay offers substantial savings. Consider all of your options to find that perfect dress for less on eBay.
Finding an Affordable Summer Wedding Dress
Finding an affordable wedding dress for the summer is not a complicated affair. Consumers just need to shop smart and explore all of their options to find that perfect summer wedding dress without breaking the bank. Set a firm budget and stick to it. When setting the budget remember to take into account accessories, delivery, and alteration costs.
Plan Ahead
When possible, buy your wedding dress well in advance. If you have the time, shop a whole year ahead. So, at the end of the summer season, when the summer wedding dresses go on sale to make way for the autumn and winter stock, buy your dress ready for the following summer. Many of the end of season wedding dresses are offered at a significantly reduced price tag, offering great savings.
Sale and Clearance Dresses
Shopping in the sales and looking at clearance lines provides the opportunity for big savings. Don't just blindly follow the latest fashion. Instead consider classic, timeless styles or the styles from last season. As new styles and lines are introduced, older models are sold at greatly reduced prices, offering big savings and fantastic deals.
Buy Used
Many shoppers make big savings and purchase an exquisite, high quality summer wedding dress by buying used models. Generally a wedding dress is worn only once, so it should have plenty of wear left in it and look like new. Be sure to avoid dresses with unsightly stains or tears, only purchasing a used dress in excellent or like-new condition. Buying a used wedding dress provides a huge selection of summer wedding dresses to choose from and allows you to get more dress for your money, with even designer wedding dresses being very affordable when is used condition.
Ex-Display and Factory Seconds
Ex-display wedding dresses are still brand new but are those that have been previously used as display items. Factory seconds are those dresses that have minor flaws, errors, or inconsistencies, such as missing stitching and detailing, plucking, pilling, or a partially fallen hem line. Former display dresses and factory seconds cost significantly less than a pristine example of an identical dress. With factory seconds the flaws are generally not noticeable unless you know where to look or, if they are noticeable, they are easy to fix or conceal. Therefore these wedding dresses are a very affordable option when it comes to buying a new, high quality summer wedding dress on a budget.
Buy a Wedding Dress to Alter
Buying a wedding dress to alter vastly increases the number of dresses you can choose from. If you have a little skill with a sewing machine, or want to take your dress to a professional seamstress, you can have a beautiful wedding dress, tailored to your body and your taste. Having a dress altered allows you to choose from a huge selection of dresses, considering models that are one or two sizes too large. Choose a dress with a beautiful bodice with a skirt that is too long and have it shortened. Purchase a plain, simple dress and embellish it with embroidery,rhinestones, floral embellishments, beads, or anything that suits your taste to create a stunning, unique wedding dress that reflects your personality and the theme of your big day.
Choosing a Summer Wedding Dress That Flatters Your Body
When buying an affordable summer wedding dress shoppers must make sure it flatters their body type. Not all dress styles work well on all body types. Taking the time to consider your body shape enables you to shop for a dress style that helps you look stunning on your special day. Some body types, such as hourglass figures, can wear almost any wedding dress style while others are more restricted when trying to achieve a beautiful,balanced appearance.
Body Type

Description

Most Flattering Dress Styles

Hourglass

Natural curves

Balanced shape

Same size his and bust

Any style

Dresses that draw attention to the waist

Bodycon-style

Sheath

Ball gown

Princess

Mermaid

Apple

Rounded body

No waist definition

Slim legs

Full-figured from shoulders to hips

Empire

Ball gown

Pear

Smaller bust

Narrow shoulders

Larger bottom, hips, and thighs

Empire

Ball gown

Princess

Heart

Voluptuous bust

Wide shoulders

Narrow hips

Princess

Ball gown

Rectangle

No waist definition

No curves

Small bust and hips

Empire

Mermaid

Sheath
Using the chart above you can find the perfect dress to suit your body shape. When choosing a dress style, aim to balance your body, accentuating and flattering the shape of your body by creating a balanced shape. If you have a pear shape, for example, with narrow shoulders and wide hips, aim to choose a dress that adds volume to your upper body and draws attention away from your hips, such as a princess dress.
How to Buy an Affordable Wedding Dress on eBay
Buying an affordable summer wedding dress on eBay is easy, helping to reduce the stress associated with organising a wedding. Simply search from any page on the site to find great deals on beautiful, affordable summer wedding dresses in every size and style. Use the filters for price and item condition to help narrow your search. Whether you choose a brand newball gown or a lightly used empire wedding dress, eBay sellers offer a stunning range, catering to every taste and budget. Shop smart and look at dresses in the sale or those classed as seconds. If you or someone you know is a dab hand with a sewing machine you can purchase a dress on offer at a bargain price that may require some alteration or personalisation.