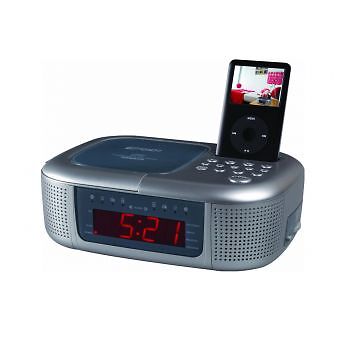 Alarm clocks are essential devices that are responsible for waking people up, so that they can get to work or any other appointments on time. Alarm clocks come in many different types, shapes and sizes to suit everyone's individual preferences and tastes. Whilst many of us rely on our mobile phones to wake us, the alarm clock is still an incredibly popular and reliable time-keeping tool.
Many modern alarm clocks currently on the market also have additional features incorporated into them, such as an iPod dock, a DAB (Digital Audio Broadcasting) radio or a weather station.
The purpose of this guide is to inform the reader all about alarm clocks that feature an iPod dock and to explain how to purchase them from renowned auction-based website, eBay.
Alarm Clocks
An alarm clock is a clock that is specifically designed to wake a person at a certain time. They are usually used to get people up from their night of sleep at a time they have decided upon the night before.
Alarm clocks vary greatly; some use sound, some use light and some top of the range models may use sensors to identify when a person is in a light stage of sleep, which avoids waking the person when they're in a deep sleep, as is known to cause tiredness, regardless of the amount of sleep the person may have had.
Simply by pressing a button or handle one can stop the light or sound on most conventional alarm clocks, although some models may stop automatically if left for a long period.
Digital alarm clocks can also make a host of noises besides the typical loud buzzing sound that all alarm clocks produce. Some alarm clocks have radios incorporated into them, meaning that the alarm can be set to trigger the radio instead of a buzzer at the designated time. These types of alarm clocks are known as 'clock radios'.
Many modern alarm clocks currently on the market also feature multiple alarms that can be set at different times, so to accommodate for people who share a bedroom but need to be up at separate, different times.
A Brief History of the Alarm Clock
The first example of an alarm clock in human history was owned by the ancient Greek philosopher, Plato. He was said to possess a large water clock with an undetermined alarm signal to the sound of a water organ. This alarm device was used at nighttime, and it is suggested that it was used to signal the start of his dawn time lectures.
However, it was not until the 15th century that the first user-defined mechanical alarm clocks would appear. These original alarm clocks, typically from Europe, had a ring of holes in the clocks dial and could be set by simply placing a pin in the appropriate hole.
Alarm Clocks with iPod Docks
Some modern alarm clocks feature an in-built iPod dock. These alarm clocks are multi-functional and offer a variety of alarm features; you can choose music from an iPhone or iPod to wake you up with some of your favourite music or just music you find relaxing after waking up. You can also wake up to the sound of your favourite radio station or simply be awoken by a buzzer.
Another great feature of these alarm clocks is that the docking station charges the connected devices when it is plugged into the dock.
Alarm clocks with iPod and iPhone docks save space, time and money by combining a clock, alarm clock, radio and iPod/iPhone charger all into one device.
The typical features of an alarm clock with an iPod dock include:
· Clock
· Radio
· Radio alarm
· 12 or 24 hour display
· Programmable snooze
· Sleep function
· Line-in jack (for connecting mobile phones and other mp3 devices)
· EQ settings
· (Some models may also come with a remote for quick, easy and convenient use)
Most alarm clocks with iPod docks are compatible with all Apple products, (such as the iPod Classic, the iPod Nano and the iPod Touch) although it is strongly advisable to check the alarm clock's compatibility options prior to buying, so to ensure a completely successful purchase.
Besides using the iPod/iPhone dock to play music, many of these multi-functional alarm clocks can also be used in a similar fashion to that of stereos or hi-fi's where music can be played using the line-in jack and connecting an auxiliary cable to a music source such as an MP3 player.
How to Buy an Alarm Clock with iPod Dock on eBay
The choices of alarm clocks online greatly outnumber those that can be found on the high street and numerous amounts can be reviewed and analysed alongside each other aligned with the buyer's individual preferences. In this sense, eBay is fantastic at presenting a quick and easy route into searching for alarm clocks with an iPod dock on the Internet.
For the most successful purchase, use the following advice for efficient and safe shopping on eBay:
Search: In order to start a search on the website, enter 'alarm clock' into the search toolbar. Then, using the menu on the left-hand side of the screen, select 'Electronics', followed by 'MP3 player accessories'.
Brand: Some people may have a favourite manufacturer or brand when it comes to electronics. Should this be the case, eBay stocks an extensive range of alarm clocks with an iPod dock that are produced by highly reputable electronics manufacturers, such as Laser, Bush, Logitech, Philips, J & L, TDK.
Shop Safely: For the most successful purchase, always read the product description thoroughly (so you know exactly what is being purchased), review the postage details and payment options prior to purchase.
And remember; you can always contact the seller if you are unsure about any part of the transaction. This function can also be used if you would like to ask the seller a question about the item or you would simply like more information about the product.
eBay Deals: Don't forget to check out the latest deals on alarm clocks with an iPod dock by looking in the 'Electronics' section. Many great discounts can be found here, along with free postage costs.
Use PayPal: PayPal is the safest way to pay for goods online. PayPal allows buyers to send payments quickly and safely online, using a credit card, debit card or bank account. Although eBay accepts a range of payment methods, PayPal is generally considered the easiest and safest method of payment. For more information about how eBay and PayPal work together to keep you safe whilst shopping online, please visit the 'About PayPal' section on the website.
Conclusion
There are many issues to consider and factors to take into account when purchasing an alarm clock with an iPod dock. However with the important information and crucial considerations outlined within this guide, coupled with eBay's highly detailed and user friendly website, buying an alarm clock with an iPod dock is quick and easy.
Buying on eBay should be considered not only due to the potential of finding a good deal, but due to the extensive choice of alarm clocks that the website offers.
Remember to keep your personal information and banking details safe and secure by using payment authority, PayPal, so to complete transactions between yourself and the seller.