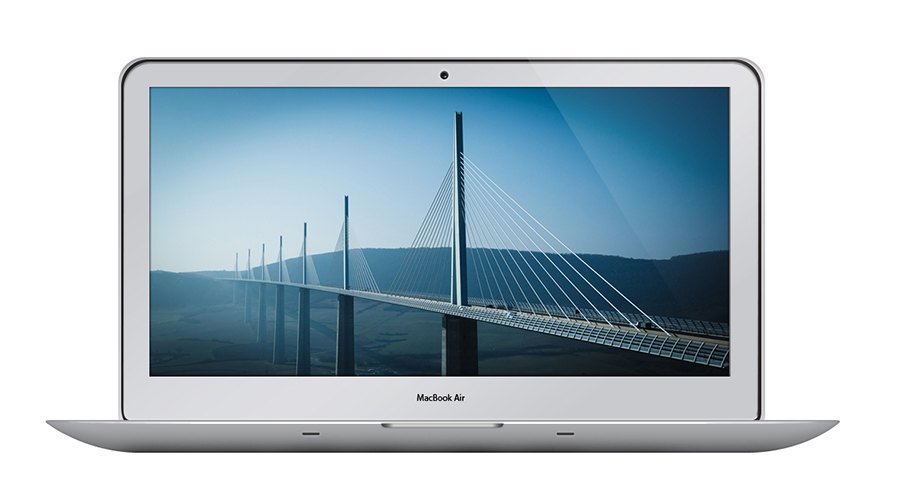 Apple created the MacBook Air in 2008 in order to provide an ultraportable alternative to their pre-established line of MacBook laptops. It is considered the middle ground in terms of portability and functionality, due to its thin shape and slim line casing. The model that currently leads the product line is the Apple MacBook Air MD231LL/A .
Dimensions
The entire purpose of the MacBook Air was to produce a fully capable laptop that is at the height of portability. With the MD231LL/A, Apple has achieved just that; weighing in at 2.96 pounds and measuring just .68" thick, it is highly portable.
In some instances the sacrifice in weight can lead to a loss in screen quality. The MacBook Air has negated this often-maligned trait by producing the MD231LL/A with a 13.3" LED backlit widescreen display, which can handle resolutions up to 1440 x 900.
Build
All MacBook Air models are constructed out of solid aluminium, in the form of a unibody case. This solid design ensures that the MD231LL/A remains sturdy at all times, while also offering increased durability. This means that in spite of its light size the MacBook Air MD231LL/A is built to last and can stand up to sustained heavy use.
Specifications
The MacBook Air MD213LL/A comes with 128GB of internal storage. This means that users can store approximately 57,000 photos, 18,500 songs, 85 SD films and 32 HD films without the need for external storage. Every MD231LL/A runs off 4GB1600mhz RAM, meaning it can handle everything from basic web browsing to video and photo editing.
The battery in such models can withstand up to seven hours of uninterrupted use, making it the perfect ultrabook for long distance travel. In terms of a processor, the MD231LL/A comes with a 1.7GHz Dual Core i5 processor, which handles even high-end CPU tasks at a reputable speed.
Audio and Video
In today's fast paced world, the words media and portability go hand in hand, and the company that brought the world the iPod certainly didn't forget that when creating the MacBook Air MD231LL/A. Users can watch full HD video at any time and in any location when using this streamlined ultrabook, while also experiencing top of the line sound via two dual stereo speakers. Apple have made sure that users can experience their music catalogue to the fullest via these small speakers that pack a surprising amount of power.
Communication
Apple has made communication a forefront of its sales pitch when it comes the MacBook Pro MD231LL/A. The model comes complete with a pre-installed webcam that can transmit 720p HD video and integrates with the FaceTime software seamlessly. The inbuilt omnidirectional microphone is versatile enough to substitute for a headset, although there is headset support should it be required by the user. The inbuilt microphone comes into its fullest when operating Siri, the computers on-board communication system. Siri can handle everything from text input to application commands, making communication between device and user as easy as it has ever been.
Connectivity
When in the market for a new ultrabook, connectivity is an important thing for shoppers to consider. The MacBook Air has both Wi-Fi and Bluetooth features and is compatible with all 802.11n networks. From a wired standpoint, expect the MD231LL/A model to have USB 3.0, headphone, microphone, Thunderbolt, SD card and MagSafe ports.
Due to external HDDs becoming commonplace, users should note that only FAT32 external HDD are compatible with Apple MacBooks. This means that if they aren't this format the device will not recognise it, and it will require reformatting prior to use.
Software
The MacBook Air MD231LL/A was the first laptop to ship with Mac OS X 10.7 (Lion) installed. The OS was created to work seamlessly with the systems specifications, but alongside OS X 10.7 Apple pre-installed some of their other software on the model.
iPhoto
iMovie
Garageband
App Store
Safari
Mail
Messages
Calendar
Contacts
Reminders
Time Machine
FaceTime
Photobooth
iCloud
Warranty
All Apple MacBook Airs come with a standard twelve-month warranty that applies to all parts of the machine. On top of this it is possible for shoppers to invest in AppleCare. AppleCare is Apple's own form of warranty and is a great way to get added protection for your device. When looking to buy a MacBook Air MD231LL/A, always bear in mind that used units may not still be under warranty when purchased.
How to Buy a MacBook Air MD231LL/A on eBay
After deciding that a MacBook Air MD231LL/A is the right type of ultrabook for your needs, it will be time to buy one. Head to eBay'sComputers and Tablets section and the Apple Laptops subsection. Shoppers can then use the search modifiers to the left of the page to find both used and new MacBook Air MD231LL/A models.
Another option for shoppers who choose to buy Apple products on eBay is to opt for seller refurbished and manufacturer refurbished units. If choosing to purchase a MacBook Air MD231LL/A that falls under one of these categories, always ensure that the seller is reputable by looking at their user feedback score. If unsure on any particular aspect of the netbook, whether that is specification or condition, contact the seller to obtain more information.
Complete any purchase through PayPal to ensure that the buyer protection program covers the cost of the ultrabook should something go wrong. If possible opt for an insured courier delivery service to cover the item should it be damaged in transit.
Conclusion
The MacBook Air in its initial form was a ground-breaking piece of technology and was the first slim line ultrabook to enter production. The product hasn't stood still, and the MD231LL/A model has gone on to build upon its predecessor in terms of portability and functionality. When looking for new or used Apple MacBook Air MD231LL/A shoppers should check out eBay and their array of related deals.