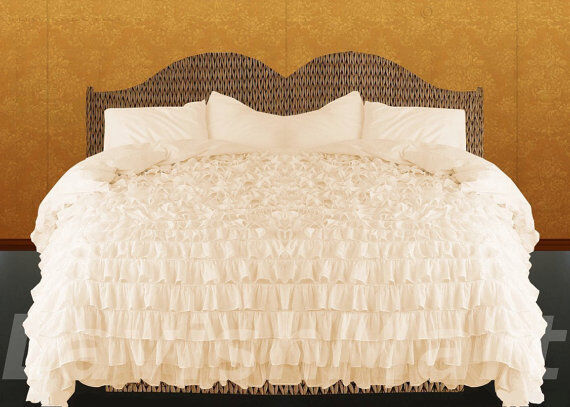 Prized for their comfort, Egyptian cotton quilt covers are popular bedding options for people who want soft, yet durable, covers that withstand long-term daily use. Constructed of high-quality fibres, Egyptian cotton quilt covers generally include a layer of batting to provide added warmth, although the breathability of the fabric allows many buyers to utilise the covers year-round. Quilt covers made from Egyptian cotton are available locally in department and bedding specialty shops as well as online at retail websites, like eBay. Because choosing Egyptian cotton for quilt cover material is comparatively expensive, however, buyers should research the basics of Egyptian cotton construction, cover sizes, and care requirements to be certain they choose the best purchasing options for their needs.
Egyptian Cotton Basics
To create authentic Egyptian cotton, textile manufacturers use two strains of cotton plants, Gossypium barbadense or Gossypium hirsutum. These cotton plants originated in the Americas but thrived in the climate of Egypt, which cultivated them as a cash crop in the 19th century. One distinctive feature of these strains of cotton is the extra-long fibres produced by the plants naturally. The longer fibres allow textile makers to spin finer strands of cotton compared to other cotton plants, which increases the softness of fabrics made from Egyptian cotton.
Egyptian Cotton Thread Count
To make the material for Egyptian cotton quilt covers, manufacturers employ a weaving technique that intersects vertical threads, called weft threads, with horizontal threads, called warp threads. Manufacturers label the weight of their Egyptian cotton material by counting how many weft and warp threads comprise a square centimetre of fabric during the weaving process. The thin structure of Egyptian cotton threads permits manufacturers to use more threads per square centimetre, so Egyptian cotton quilt covers have a higher thread count than covers made with other types of cotton. Fabrics with thread counts of 180 produce good-quality cotton, but may lack softness. Conversely, fabrics with thread counts of 200 or more have the classification of fine cotton and provide a high-level of softness and comfort.
When shopping for Egyptian cotton quilt covers, buyers should be sceptical of thread counts that exceed 400 threads per square inch. This is because thread counting techniques are not standard across the textile industry and some manufacturers boost their thread counts by dubious methods to increase the perceived value of their products.
Egyptian Cotton Finishes
When weaving Egyptian cotton, manufacturers alternate the pattern of weft and warp threads to create a unique surface finish on their fabrics. Before choosing an Egyptian cotton quilt cover, buyers should consider which type of finish best suits their preferences before making a purchase.
Types of Egyptian Cotton Quilt Cover Finishes

Description

Considered a plain weave

Has a matte, dull surface

Has a smooth, silky surface reminiscent of satin

Oxford

Generally used in men's dress shirts

Produces quilt covers with a crisp surface
Because the pattern of an Egyptian cotton's weave determines a cover's finish, each finish does not depend on a set thread count. Buyers must, therefore, take both thread count and finish into consideration when comparing different covers.
Egyptian Cotton Blends
Although Egyptian cotton ranks as one of the finest cottons in the world, buyers who value convenience may prefer a quilt cover comprised of a blend of Egyptian cotton and synthetic fibres. Cottons of all types have a tendency to wrinkle easily, which adds to the maintenance demands of pure cotton quilt covers. If a woven cotton contains a small percentage of synthetic fibres that resist wrinkling, the likelihood of wrinkles forming diminishes greatly without compromising the feel of the cotton.
Two issues when shopping for Egyptian cotton blend quilt covers are labelling and pricing. If a quilt cover contains a majority of Egyptian cotton, manufacturers may promote the cover as Egyptian cotton and provide details about its true fibre composition in small print on the package. Synthetic fibres are generally cheaper than Egyptian cotton fibres, however, so quilt covers that contain a blend of Egyptian cotton and synthetic threads are cheaper to produce. This blending of fibres impacts a cover's value and should result in a lower price than a pure Egyptian cotton cover.
Egyptian Cotton Quilt Cover Sizes
To match the various sizes of beds owned by potential customers, textile manufacturers design Egyptian cotton quilt covers in a number of sizes. Single quilt covers are the smallest standard option, while king size covers are the largest. Each size of Egyptian cotton quilt cover provides enough overhang to ensure adequate coverage without too much excess fabric reaching the floor beneath a bed. Because of this, buyers should purchase covers sized to match the dimensions of their beds.
Egyptian Cotton Quilt Cover Care Requirements
Since Egyptian cotton is a durable natural fibre, it can typically withstand machine washing and drying. Buyers should check care requirements before purchasing a cover, however, because added embellishments, like tassels or hand painted designs, often demand special cleaning. If buyers plan on using their Egyptian cotton quilt covers regularly, special care requirements can increase the expense of owning this type of cover.
How to Buy Egyptian Cotton Quilt Covers on eBay
Buyers who want a large selection of Egyptian cotton quilt covers value the options available on eBay. To make coordinating bedding easier, eBay carries Egyptian cotton quilt cover sets in a variety of thread counts, finishes, and colours. Buyers searching for discounted covers in Egyptian cotton can also browse eBay Deals' Bedroom products for viable purchases. Before initialising a sale, buyers should review a cover's product listing for size information and construction details to determine the cover's quality. Egyptian cotton is easy to clean, but buyers should check a product listing for care requirements to avoid any surprises once they receive their quilt cover.