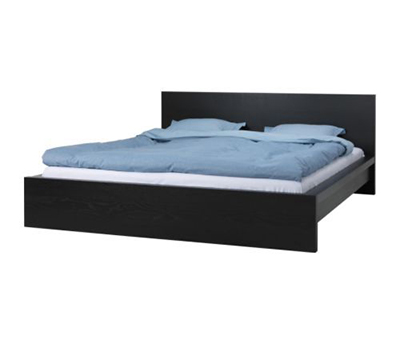 If Malm, Brimnes, and Fjell mean anything to you, it is likely you visited Ikea at some point. Choosing an Ikea bed is sometimes easier than spelling the names of their furniture. Whether you need a bed for a little one, bunk for your twins, or king for you and your mate, Ikea is likely to have an option to suit your needs. Rather than visit a store and haul your goods home, choose your next Ikea bed on eBay where many sellers offer free shipping. While on the site you can browse Deals on everything for your bedroom. Whatever your need or preference, be sure the bed fits the dimensions of the room, be sure you have the right tools, and always read the instructions.
Child Beds
Like adults, children have optimal sleep positions. Certain children tend to roll at night, making a top bunk without a bumper a hazzard. Other children might sleep walk, or need attention at night. Because of the multitude of needs and wants, choosing the right bed for a child is an important task. The Kura bed looks like it could be a bunk bed if only there was a second mattress. However, it is a reversible bed. You can flip the whole bed over so the mattress is set higher, or lower, to the ground. Alternatively, the Minnen has a slatted bed base and is made of cast iron. The sides of the bed have decorative iron that acts as a miniature bumper for the child that needs protection at night.
Teenage Beds
Teenagers are known for being temperamental while awake, but peaceful at rest. You can purchase a loft bed like theStora or Tromso so the teen can sleep up top, and have a workstation below. If the teen has frequent overnight guests who dislike sleeping on the floor, you can purchase a Norddal which has a top and bottom bed like a proper bunk. Teens that have larger bedrooms and bedding needs can purchase a Mandal bed from Ikea. Underneath the mattress contains storage drawers to keep keep everything tidy and neat.
Queen Size Beds
Fit for two adults, a queen sized bed is a good alternative for those living in smaller quarters. The only difficult part of choosing a bed, is choosing a mattress that accommodates both sleepers. The Malm bed comes with an attached headboard for a more finished look. Alternatively the Brimnes does not have a proper headboard and accommodates a simpler look. Some Brimnes models come with under-bed storage options to hide away excess linens, pillows, and blankets.
King Size Beds
Large enough for two people to sleep without ever touching one another, a king-sized bed takes up the most space visually. However, if dressed appropriately it can look less obtrusive than other options. Made of galvanized steel Leirvik has a head and footboard to help contain wandering blankets and pillows. The unit looks like something out of a fairytale for an added flair of whimsy.
Guest Beds and Day Beds
For the occasional in-laws or traveller, a guest bed or day bed from Ikea is a welcoming escape. Characterised by having three sides to the bed, with the fourth being exposed, a day bed can also provide storage underneath. For example, Bygland is a white wooden bed with storage underneath. For a more masculine host or guest, you can opt for the black Hemnes day bed. Many guest and day beds available come in twin and double sizes to help you accommodate varying sizes of guests.
Ikea Bed Comparison
While Ikea is known for bargains and deals for do-it-yourselfers, their beds vary in price from affordable to slightly pricy.
Bed Name

Features

Relative Price

Available in Twin to King sizes

Bedding for one or two people

Provides seating

Provides storage

$$ to $$$

Malm

Available in Single to King size

Provides up to 4 drawers for storage underneath

Real wood veneer helps the bed age well

Low headboard

$ to $$$$

Fjell

Available in Queen or King

Low headboard

Storage available under the bed

$$$$ to $$$$$

Leirvik

Available in Full to King sizes

Galvanized steel composition

Requires slats and mid-beam for proper assembly

No storage units under the bed, but you can purchases individual storage boxes

$ to $$

Birkeland

Available in Queen or Full sizes

Slatted bed base sold separately

White solid hardwood

$$$ to $$$$
There are dozens more beds available at Ikea, and more designed each year. However, it is beneficial to have an array of options, features, and price points available before making a purchase.
How to Buy
Buying a bed is important since it sets the mood for the room, and even the mood for how you sleep. You spend about 33 per cent of your life in bed so it should be the best bed for your needs. Whether you prefer a brand new King-sized Malm, or a slightly used Full-size Fjell, you can find it on eBay. If you have any questions regarding what comes with the bed, and what does not, you can contact the seller immediately. You can also check out eBay Deals for more bed and mattress ideas. The deals change daily so to keep up-to-date you can input your email for directed marketing. Whatever your taste in bed, mattress, or bedding in general, you can find it on eBay with a few clicks of the mouse and a credit card.