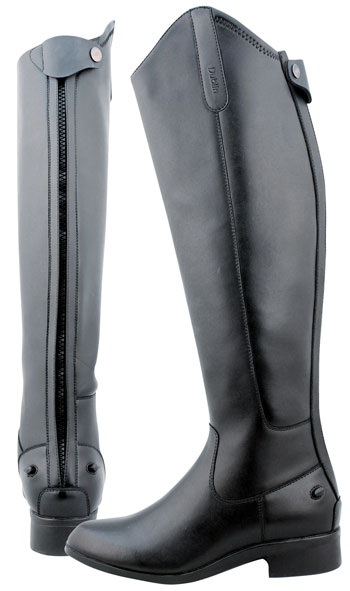 While there are certainly many types of shoes that can be found in the wardrobe of a majority of women, leather boots rank highly among the most popular. Because leather boots can be both fashionable and practical, they are a staple for many women. The right boots can be dressed up for romantic evenings or protect feet against harsh winter weather. Buying leather boots can be a daunting task because of the variety that is available. Buying the right pair of leather boots, whether from a shoe shop or online from eBay, takes a bit of research into the types of boots that are available as well proper leather boot care. However, doing this preparatory work is a good way to ensure that you choose the best boots for any situation.
Determine Your Size
The first step towards buying leather boots is to determine which size of boots are appropriate. Because leather boots are sold across the globe, it is a good idea to become familiar with the proper women's size conversion, as outlined by the chart below.
| | | |
| --- | --- | --- |
| UK Size | European Size | Australian Size |
| 4 | 37 | 6 |
| 5 | 38 | 7 |
| 6 | 39.5 | 8 |
| 7 | 40.5 | 9 |
| 8 | 42 | 10 |
| 9 | 43 | 11 |
| 10 | 44.5 | 12 |
Keep in mind that with taller boots, it is also important to consider the calf measurement of the intended wearer. Some people have thicker calves, which can make it difficult to wear tall boots without discomfort, so be sure to take that measurement as well.
Select a Style
Leather boots is a very broad category and can refer to many different styles of boots. Before delving too deeply into the shopping process, it is a good idea to consider the many styles of leather boots that are available and choose the one that is most appropriate for your situation as well as your personal aesthetic tastes. Although the variety of leather boots may seem virtually endless, there are a few popular styles including cowboy boots and booties.
Cowboy Boots
Cowboy boots, which were once reserved for people who spent the majority of their time on a horse, have since spread in popularity and are now a fashionable choice for many women. Generally, cowboy boots have hard soles with a short heel and come up around mid-calf, although there are styles that are shorter. Cowboy boots can easily be paired with jeans but also add a rugged and interesting look to dresses and skirts. It is important to pay close attention to sizing when purchasing cowboy boots, since they rarely have a zipper or any type of adjustable closure.
Booties
For those women who are seeking leather boots that are a bit trendier and shorter than cowboy boots, booties are a good choice. Booties generally cover just the foot and have a boot styling without the excess material on the leg. Booties are very flattering and pair easily with both casual and more formal looks. Additionally, booties can be a good way to get the boot look without concerning yourself with the size of the calf. Those women with irregularly sized calves may find some relief in this fact.
Consider Used Leather Boots
Just as there are many different styles of leather boots, so are there many different price ranges for those boots. Some leather boots from popular designers can be quite pricey. In order to save a bit, it is possible to find a deal on leather boots by choosing used leather boots. Because leather can be quite durable, a used pair of leather boots can still last a very long time and may even have a desirable vintage look to them. Be sure to consider used leather boots if your budget is a concern.
Condition Leather Boots
Even when you have purchased the perfect pair of leather boots, the work is not finished. It is essential that leather boots are properly cared for so that they may last for a long time. Because leather boots can be quite an investment, depending on the pair, most people want to take the time to care for them. The first step when it comes to new leather boots is to properly condition the leather before wearing them. This softens leather that may have become stiff during storage and helps to prevent cracks. Leather conditioner is available from many retailers that sell leather shoes and also on eBay. Leather boots should also be regularly conditioned, particularly if they are in storage or go unworn for a long period of time. Leather conditioning is not necessary for suede boots.
Waterproofing Leather Boots
Leather boots that are worn outside during wet weather should also be waterproofed. Applying a waterproofing formula to leather boots every season keeps water spots and other damage from occurring. There are both waterproofing sprays and waxes available. Sprays are easier to apply but the wax-style waterproofing formulas last longer.
Clean Boots Properly
In order to keep leather boots in good condition, it is important to clean them properly after they are worn. Wearing boots around the city in good weather may not cause very much debris to build up, but those who wear their boots in harsh weather or on a farm or ranch may find that they get quite dirty. Be sure to remove any excess dirt or grime from your leather boots before storing them, otherwise it can become a permanent part of the boots, which is certainly not desirable. When boots are clean, store them in a clean, dry place. If the boots are dirty enough to warrant washing, saddle soap can be used. Be sure to let the boots dry completely before wearing them again.
How to Buy Leather Boots on eBay
When you have determined that a pair of leather boots, either new or used, is the right addition to your wardrobe, it is a good idea to start your search on eBay. With sellers around the world and a huge array of options for shoppers, eBay can be a great place to find leather boots of all styles. You can enter some relevant search terms from the eBay home page or use the search box on any page of the site. A search for "leather boots" is likely to find many results, which can then be narrowed down using the eBay filters. It can be a good idea to consider the measurements of any boots purchased on eBay, rather than just the size, since sizing can vary between brands. If the measurements are not clearly posted in the description, feel free to send the seller a message so that you can complete your purchase with confidence.
Conclusion
A pair of leather boots can be a very practical addition to any wardrobe. Not only are they timelessly stylish, but leather boots can also last for many seasons when they are properly cared for. Whether choosing a pair of leather boots from a shoe retailer or online from a site like eBay, it is a good idea to consider all of the different types of boots that are available. There are many colours and styles of leather boots, some of which may be appropriate for harsh conditions and others that may only be best suited to more gentle wear. By considering all of the options that are available to you, it can be that much easier to choose the perfect pair that is both comfortable and affordable. A pair of high-quality leather boots is well worth the investment of time and energy so that they can be worn time and time again.