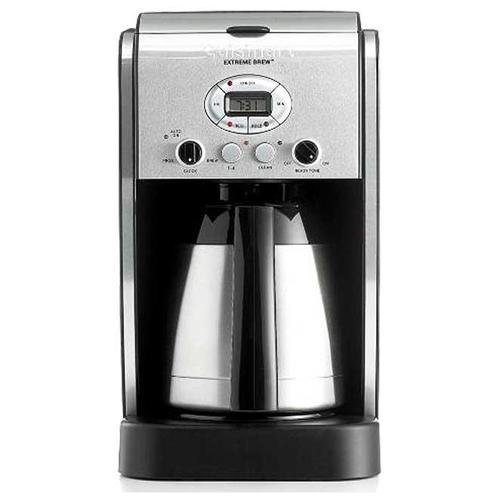 Waking up for work in the morning is never easy, but knowing that a freshly brewed cup of coffee is waiting can make it a little more bearable. In a dream world everyone would buy a specially made coffee from a high street vendor, but most realise that isn't economical. The way around this is to invest in a coffeemaker for the home.
Simply put, a high quality coffeemaker can provide a luxury coffee while allowing shoppers to make savings on a daily basis. When it comes to kitchen appliances, shoppers are sure to find great deals on eBay, the world's leading online auction site.
Types of Coffeemaker
When looking to purchase a coffeemaker there is no shortage of options available. Shoppers need to understand each type and their variety of features. It is important to know what is required from a coffeemaker before committing to a purchase, to help figure out what type is suitable. The following are the most common types of coffeemaker that shoppers will find on eBay.
Coffee Press
The simplest form of coffeemaker to operate (as it requires no electricity) is a coffee press. This makes it highly affordable, and the perfect coffeemaker for those who are new to such equipment.
· Also known as a French press.
· Users need to combine coffee beans and preheated water in a cylinder, in order to create a brew.
· After brewing, use the metal plunger to press down upon the mixture. This will force the liquid to separate from the coffee grounds.
· All in all, the process should leave a user with a perfect coffee that is ready for consumption.
A coffee press does a sufficient job of producing small amounts of coffee, but if more are required at a single time it struggles. Cleaning a coffee press is very simple, but the coffee element itself can be a bit tricky. It is recommended that people use coarse grinds, in order to get the best tasting coffee out of a coffee press. As far as being a budgetary option, shoppers can't go far wrong by acquiring a coffee press.
Drip Coffeemaker
In terms of popularity and recognition, drip coffeemakers stand head and shoulders above the rest. Expect to find this type of coffeemaker on the shelves of stores throughout Australia.
· It brews the coffee by allowing boiled water to drip through a coffee bean filled reservoir.
· High-end models can even grind beans prior to drip brewing, offering a more intense flavor.
· Drip coffeemakers run off electricity and require a suitable filter, in order to prevent coffee grounds ending up in the beverage.
· Disposable filters are common and convenient, but over time they can become an extravagant expense.
· Permanent filters are made out of a metal mesh and can be a longstanding option. However, they require a thorough cleaning after every use.
· Drip machines will place coffee into a pot, but some will be able to deposit it directly into the cup itself.
One of the unique features of a drip coffeemaker is the timer, meaning that people can wake up to find their coffee ready for pouring. Prices for drip coffeemakers vary, but their build quality and reliability is almost unmatched.
Percolator
They may be old-fashioned in some regards, but they are still very popular in Europe. Their classic approach to coffee making means that they produce coffee that has a classic taste:
· A percolator creates coffee using a hybrid of different methods.
· To start, water travels down the chamber, creating a substantial amount of pressure. This forces the water upwards towards a coffee grounds filled container.
· The water then drips down back into the main chamber, and the process repeats itself continuously until the coffeemaker is turned off.
· The upside of using a percolator is that the coffee is generally a lot stronger than those produced by other coffeemakers.
Percolator coffee has a real kick but it isn't for everyone, as some people can actually find it tastes quite bitter. It is this factor that will decide whether or not a percolator coffeemaker is suitable.
Pressure Brew Coffeemaker
Sometimes batch brewing is required (especially in office, restaurant or club environments). If this is the case, a pressure brew coffeemaker can be considered a good option.
· They feature a reservoir of water (instead of a single capsule), which remains hot whenever the coffeemaker is plugged into a mains socket.
· This means that coffee can be produced on demand at almost any time.
· It uses a simple button mechanism, which means it takes little to no know-how in order to operate.
The fact that these coffeemakers run off a digital console means that they aren't as affordable as other types. Expect to pay upwards of $200 for a high quality pressure brew coffeemaker.
Pod Coffeemaker
Simple to use and becoming increasingly popular, pod coffeemakers are a great option for those on the go. They haven't been short on celebrity endorsements either; the trick is in finding the right one.
· A pod coffeemaker can brew one cup of coffee at a time, but its unique feature is that it has a hot water reservoir. This means that you can make single cups of coffee back-to-back.
· Users will need plastic coffee pods instead of bulk bought coffee grounds.
· These pods can either be filled with hot or cold coffee, which makes a pod coffeemaker a multi-use and versatile drinks tool.
· Since they dispense the coffee straight into the cup, cleaning is minimal, making them highly convenient.
· After use the empty pods can be discarded, and the process should leave people with a smooth cup of coffee.
Pod coffeemakers rank amongst the most expensive currently available. However, as a long-term investment they pay for themselves. When looking to buy a pod coffeemaker, exploring the market is advised and sometimes buying used can be a real money saver.
How to Buy a Coffeemaker on eBay
A coffeemaker should be an essential purchase for regular coffee drinkers. To find the perfect coffeemaker at a competitive price, start on eBay's homepage and select the home appliances option. From there, click coffee makers (automatic), coffee makers (specialty), coffee percolators, or coffee presses to browse through all available coffeemakers. Once on a page of listings, use the search modifications to the left of the page to make search results more specific.
Coffeemakers are far from being small kitchen appliances; they are weighty and bulky, which makes shipping them difficult. Buying used often means having to collect the item, while many retailers will send them via an insured courier. Talk to the seller prior to purchasing to understand what delivery options and returns policy they offer.
Conclusion
Coffee isn't for everyone, but for those who enjoy it coffeemakers can be a great way to save money. Whether shoppers want to brew by hand or with the aid of electricity, they make creating the perfect tasting cup an effortless process. The sheer variety available means that there is sure to be a coffeemaker suitable for everyone.
In the world of kitchen appliances very few items are as luxurious and efficient as a coffeemaker. To ensure that shoppers get a new coffeemaker at the best price, be sure to visit eBay and see what the world's leading marketplace has to offer.