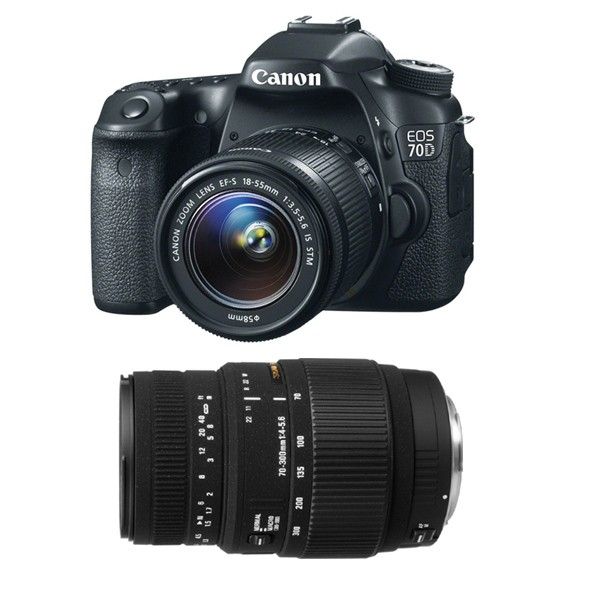 Canon EOS cameras have been on the market since the late 1980s and are one of the most popular digital SLR cameras around. Once you have purchased your Canon EOS (Electro-Optical System) camera, you may well be thinking of adding accessories like zoom lenses. Lenses are available in various focal lengths and fittings and are priced accordingly. It is therefore important to consider a few things before making any purchase.
How to Recognise the Difference Between EF and EF-S Lenses
There are basically two types of lens for the Canon EOS – the EF and the EF-S:
· Cameras produced prior to 2003 will require the EF – Electro-Focus – lens.
· Cameras produced later than 2003, when the EF-S lens was introduced, will, of course, require the latter type. The 'S' refers to the style of fitting and stands for 'short back' because it sits deeper into the body of the camera.
· EF lenses are distinguishable by the red dot on the perimeter of the lens. This will line up to a similar red dot on the camera's body.
· In addition to the red dot, the EF-S lens will have a white square with which to line it up with the camera when connecting it.
· Cameras with an EF-S mount will take both types of lens. They both have a red dot.
Advantages and Disadvantages of the EF-S lens
The main advantage of an EF-S lens is the cost. An amateur or casual photographer will not want to spend hundreds or maybe even a thousand dollars or more on what is essentially a hobby. Some experts agree that there is virtually no drop in the quality of pictures taken with an EF-S lens.
The big disadvantage of the EF-S lens is its incompatibility with some cameras, meaning extra expense when a new camera is purchased.
EF-S lenses were introduced with cost in mind and aimed at the non-professional photographer. This makes them a little limited in their use as they will only fit the one type of camera – the one with the white square. Should you wish to upgrade your camera in the future, you may well have to invest in a new lens as well.
What Lenses Should I be Looking Out For?
Below is a list of common lenses, some will be better suited to the hobbyist and others for the advanced amateur or professional.
EF 16-35 2.8L USM – Professional quality, wide angle zoom lens. This lens is at the high end of the market and is very expensive.
EF 17- 40 4L USM – More affordable version of the above. It's a little slower and more suited to the advanced amateur.
EF-S 17-85mm 4-5.6 IS USM – Popular lens. It combines good quality, with decent focal length range and image stabilising.
EF-S 18-55 3.5-5.6 – A very generic lens. Inexpensive and produces reasonable quality considering its low cost.
EF 28mm 2.8 – Lower end, wide angle lens. Ideal for landscapes for the amateur.
EF 85mm 1.8USM – Cheap but has a sharp quality. Perfect for portrait photography.
Non-Canon Lenses
Beginners and professionals, alike, will both be looking for value for money. This means that sometimes other brands of lenses are used in combination with the Canon EOS range of cameras. These brands, often known as 'Third Party', are usually cheaper than the Canon products.
Buying Canon accessories for your Canon EOS is a guarantee that they will actually be suitable for your camera, not just now but in the future should you wish to upgrade. Third party lenses are an excellent choice for the novice photographer. Initial outlay is low and many of the products are of the highest quality.
Some of these non-Canon products are perfectly adequate, and some are of the highest quality at a more affordable price. Whether to choose third party products, only you can decide, but the following factors should be considered:
Cost – The initial outlay may well be lower but it might cost more in the end.
Reliability – Top branded products, like Canon, are usually the sign of high quality and reliability. That's not to say that some other brands don't provide good reliability as well.
Compatibility – Purchasing Canon lenses for your Canon EOS means that they will be fully compatible. Third party lenses may be suitable when you buy them but may well cause a problem if you wish to upgrade.
Quality – Inexpensive products are sometimes inexpensive for a reason. The quality will generally be lower – not always but sometimes. This is not usually a problem for the amateur photographer, though.
How to Buy on eBay
Some products will be offered as a 'Buy Now' option at the price quoted. Others will be offered as if in an auction for a limited period. Simply enter your bid and keep watching. As the bids increase you can up your offer, just like a real auction.
Please remember to read all the information given for the product as it is not always possible to return goods if they are not faulty.
Conclusion
To see a full range of lenses suitable for yourCanon EOS camera just click on eBay's home page and select the Electronics section and click on Cameras and Photography. There will then be a sub-heading of Lenses and Filters which will give access to a vast range of lenses at prices to suit everyone.