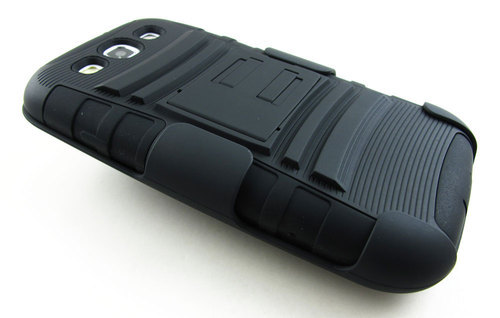 The Samsung Galaxy S3 has a 4.8-inch AMOLED display and an Android 4.0 Ice Cream Sandwich operating system along with an 8MP camera. A protective case can be a valuable purchase to guard the impressive handset against accidental bumps, scratches and falls. This guide attempts to present the types of cases available in an easy-to-read format to make choosing a case for the Samsung Galaxy S3 easier.
Key Features of the Samsung Galaxy S3
There are a number of key features to the Samsung Galaxy, which make it one of the best phones on the market, and these are highlighted below:
· The Samsung Galaxy S3 has an Exynos Processor based on the ARM CORTEXTM A9 quad-core processor giving 1.4GHz CPU Speed.
· It uses the Android operating system in version 4.0 (Ice Cream Sandwich) but is upgradable to the faster 4.1.2 (Jelly Bean).
· It has 1GB of RAM and a total storage of up to 64GB, and a micro-SD card slot up to 64GB.
· It has a 4.8-inch Super AMOLED capacitive, multi-touch capable touchscreen with 16 million colours and 720x1290 pixels and 306 ppi pixel density.
· The screen is equipped with the innovative Smart Stay Feature which automatically recognises when a user is looking at the handset, maintaining a bright display during use.
· The handset also has S-Beam technology to allow the sharing of content between Galaxy S3 phones simply by putting them back to back. Picture-in-picture technology allows users to watch an HD video in another window while sending an email or text.
· The handset comes with an 8 MP rear camera and a CMOS 1.9MP front camera with autofocus abilities and simultaneous 8-shot capabilities. It also has full HD (1080p) video recording and playback.
· The pebble blue handset is 2.7 x 5.35 x 0.3 inches (7 x 13.6 x 0.8) and weighs 133g (0.29lbs).
Types of Cases
The following categories describe different Samsung Galaxy S3 cases:
Slim Cases
Griffin Reveal : one-piece case adding less than 2mm of thickness, with durable polycarbonate frame. It has a hugging rubber lining for cushioning and a better grip.
Gear4 Thin Ice Liquid Rubber : ultra-slim rubber case clips onto the back of the S3, with access to all ports and buttons. It comes in a variety of bright colours and a transparent option.
Belkin Shield Sheer : slim polycarbonate case with a transparent tint to show off the S3. There is a cut-out for the rear-facing camera and comes in a range of colours.
Incipio Feather : ultra-thin Plextonium case adds 1mm of extra thickness whilst providing protection during transport of the handset.
Hard Shell Cases
BoxWave Unicolour : hard plastic case protects the back of the handset whilst a bumper guards against scratches on the screen. The cut-outs allow for full access to the ports whilst a textured back provides grip during use.
Tech21 Impact Snap : uses shock-absorbing D30 material used in armour by the US Ministry of Defence. It has access to all ports including the speaker and the rear-facing camera.
Urban Armour Outland : a tough armour shell and impact-resistant soft core provides hard-core protection, whilst oversized buttons add durability. The screen protector prevents scratches and raised bumper protects the screen when the handset is laid flat.
Special Features/Multi-Function Cases
Elago G5 Breathe Case : a special coating repels oil, dust and dirt whilst the hard shell provides everyday protection. The mesh-style design makes it lightweight and slim.
Case-Mate Pop Case with Stand : a built-in stand allows for video and film watching in portrait and landscape mode whilst the back and corners of the handset are protected by a plastic and soft rubber shell.
D. Bramante 1928 Leather Wallet : made from Indian leather, this wallet flips open, has a magnetic closure and four slots for cards with a pocket behind them for cash. A larger pocket houses the S3 but the handset has to be removed for use, making the wallet a travel case.
Morphie Juice Pack Battery Case : this slim case delivers battery power when needed, with LED indicators to show power level. It offers basic protection and total functionality.
Sports Cases
Arkon Sports Armband : sweat-resistant neoprene case with clear view of the screen, cut-outs at the top and bottom for the headphones and a storage pouch for cash or cards.
Belkin EaseFit Plus Armband : comfortable, lightweight armband with pouch for keys or cash. It is water-resistant and hand-washable.
Overboard Pro-Sports Waterproof Arm Pack : the Slide Seal System of this armband keeps water away from the handset and is built to float on water. It protects against sand, dust and dirt with room for money and keys.
Official Samsung Galaxy S3 Cases
Samsung Galaxy S3 Flip Case : this official case comes in a range of colours and replaces the battery cover whilst guarding the display against scratches and dirt. It covers the front completely, preventing accidental button presses whilst a built-in NFC chip allows it to retain the ability to share content by tapping against another S3.
Samsung Galaxy S3 Mesh Vent Case : this official case has a bump on the back to hold a coin, which doubles as a kick-stand for watching videos.
How to Buy Samsung Galaxy S3 Cases on eBay
Whether browsing or buying, find listings of Samsung Galaxy S3 cases on eBay easily with these steps:
· Using the search bar at the top of the screen, type in 'Samsung Galaxy S3 cases' or particular case brand names to search available listings. Use the categories on the left to narrow down results.
· Alternatively, start the search by category by using the drop-down menu next to the eBay logo. Find theElectronics section and then follow through fromMobile Phones & Accessories, toMobile Accessories and finally Cases, Covers, Skins.
· Either browse the listings as they are or use the categories on the left hand side to narrow down listings by 'Format', 'Product Type', 'Compatible Brand', 'Colour', 'Condition', and 'Price'.
· It may also be possible to find cases for the Samsung Galaxy S3 in eBay's recommended deals section, found at the top of the screen. Go to Electronics, thenPhones and scroll down to Accessories to browse deals.
· Before buying, always ensure the product is compatible with the handset by checking the product description and pictures carefully.
Conclusion
A protective case is an important investment when owning a smartphone like the Samsung Galaxy S3. It is also a stylish way of customising the handset. However, buying from the large range of cases available can be overwhelming. Knowing the types of cases that are available helps to make an informed decision when buying a case for the Samsung Galaxy S3 .