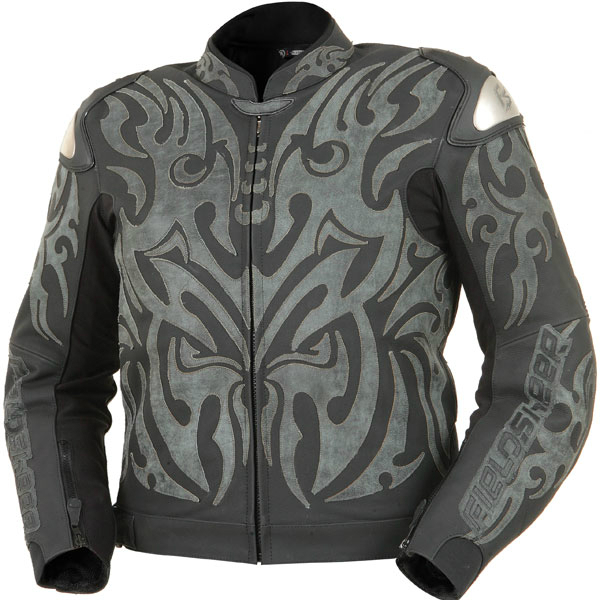 There is almost nothing more satisfying when riding a motorcycle than knowing that you are wearing a great motorcycle jacket. Some of the most popular styles of motorcycle jackets are ones constructed from genuine leather because they not only look great on, but this style of jacket protects the body from inclement weather as well.
There are a few things that should be considered before choosing this type of jacket, such as how it conforms to the body. Proper fit is not only essential, but the construction and type of leather used is important as well. Leather motorcycle jackets are located at many department stores and online at eBay. Knowing how to choose a leather jacket helps make the purchasing process a smooth one.
What to Look for in a Leather Motorcycle Jacket
Knowing how to pick out a new or used leather motorcycle jacket is easy when you know what to look for. Proper fit, padding, liners, vents, and pockets are just some of the things that you need to pay careful attention to when making your selection. Once all of the important factors are accounted for, then all you need to do is select one that reflects your own personal style and taste. There are many men's or women's leather motorcycle jackets to choose from.
Proper Fit
One of the most important aspects of picking out any type of jacket is making sure that it has the proper fit for your body. This is especially true of leather motorcycle jackets, since some types of leather are often less pliable than other materials. You cannot expect them to move in the same manner as a typical jacket made from more flexible materials. In order to be safe, your body must be able to move freely and have enough flexion in the right places to allow for all the necessary movements made when riding a motorcycle.
Jackets that are too tight restrict and bind movement, which sometimes makes it harder to steer or reach various instruments and components on the motorbike. Sleeves should be longer than normal to account for outstretched arms, and there should also be extra room in the shoulders to match the position of your body is when riding the motorcycle.
| | | | | | |
| --- | --- | --- | --- | --- | --- |
| USA Jacket | Men's Size | European Size | Chest (inches) | Waist (inches) | Sleeve Length (inches) |
| | S | 48 | 38 | 28 to 30 | 33 |
| 40 | M | 50 | 40 | 31 to 32 | 34 |
| 42 | Between M and L | 52 | 42 | 33 to 35 | 35 |
| 44 | L | 54 | 44 | 35 to 37 | 36 |
| 46 | Between L and XL | 56 | 46 | 37 to 39 | 36.5 |
| 48 | XL | 58 | 48 | 39 to 41 | 37 |
| 50 | 2XL or XXL | 60 | 50 | 41 to 43 | 37.5 |
| 52 | 3XL or XXXL | 62 | 52 | 43 to 45 | 38 |
The length of the jacket should be longer as well so that the area between the waist and the upper body are adequately covered when in the riding position. Look for a leather jacket that offers closure mechanisms around the neck, wrist, and waistline in order to keep the jacket securely in place while riding and to keep the body at a comfortable temperature.
Padding
The next thing to check for when choosing your new leather motorcycle jacket is if the jacket has padding. A jacket that has padding helps ensure that the body is protected from harsh environmental conditions while riding and often helps reduce injury to the body if the motorcycle crashes. For maximum protection, you should look for a leather motorcycle jacket with Kevlar inserts that stay in place with body movements. Added padding in the elbow, back, and shoulder areas is also a plus.
Liners
Leather motorcycle jackets with liners are another solid choice when it comes to choosing a jacket. Some jackets have solid liners that are sewn into the interiors, while others feature liners that are removable. Although this comes down to more of a personal preference when deciding between the two types, a great majority of motorcycle riders prefer jackets with removable liners. Leather jackets with removable liners help increase the versatility of the jackets, since the liners are quickly tailored to meet the needs of the owners when it comes to warm or adverse weather conditions. They simply just unzip the liners and remove them from the jackets.
Vents
Another very valuable feature that should be present in a leather motorcycle jacket is vents. Sometimes it becomes necessary to wear a motorcycle jacket due to riding conditions and often throughout the course of the ride the temperature changes. When this happens, the body heat of the rider often rises quickly and becomes quite uncomfortable if proper venting is not in place. It is always a good idea to look for a jacket that features venting panels in the area under the arms and shoulders in order to stay cool and comfortable.
Pockets
While the inclusion of pockets in a leather jacket may not seem important, often it is a very big deal. A leather motorcycle jacket with pockets helps you keep track of important items that may be needed in a hurry. A leather jacket with interior pockets offers the rider a great way to store valuables, such as a license, wallet, or cell phone. It is also important to look for exterior pockets that feature a waterproof coating and a flap closure rather than a zippered one, as air has a tendency to creep between the teeth of a zipper.
Reflective Materials
A leather motorcycle jacket with reflective materials is essentially a must if you want to help others see you on a dark road. It is not necessary to have a lot of reflective material on a jacket; often a reflective logo or thin reflective stripes down the sides are enough to make you stand out to others. Reflective material incorporated into the jacket design when well placed, does not detract from the overall appearance of the jacket, and it helps make you visible at night or in other low-light conditions.
How to Buy a Leather Motorcycle Jacket on eBay
Many people enjoy shopping on eBay when it comes to finding a great deal on a leather motorcycle jacket. If you have never used eBay before, you may be surprised at how easy it is to navigate around. Finding the perfect jacket is easy by using the keyword search query box or the advanced search option feature that is available. Individuals listed as Top-rated sellers are good ones to keep in mind as they have a record of providing outstanding customer service.
Choosing the right leather motorcycle jacket is easy. When you keep certain elements in mind, such as padding, liners, pockets, and reflective material, you should successfully find what you are looking for. Above all else, a motorcycle jacket should fit properly and keep you safe and comfortable at the same time.