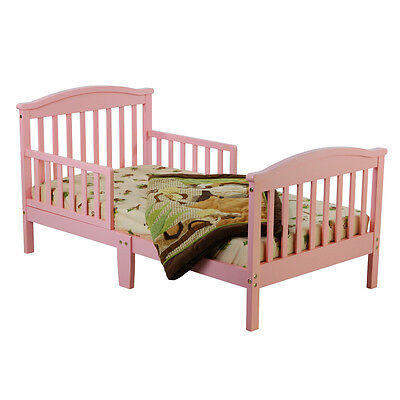 When a child is old enough to climb out of a crib, parents need to face the transition to a toddler bed. A toddler bed is often the same size as a crib except that the child climbs in and out of bed alone. Safety is the main concern, since many toddlers move quite a bit in their sleep. Another concern is getting the best value for money with a bed that lasts for more than just a couple of years. Learning about the choices in wooden toddler beds allows parents to buy a bed that grows with their child. Toddler beds are available in furniture stores as well as online on eBay.
Toddler Bed Styles
Since the transition to a different bed is a big one for a toddler, a large part of helping the child feel comfortable lies in choosing a bed the child likes. There are four styles of wooden toddler beds. These are the floor bed, the sleigh bed, the day bed, and the novelty bed.
Floor Bed
Some parents feel most comfortable with putting a mattress on the floor for a toddler, but when this is not an option, there are also wooden bed frames that keep the mattress practically at floor level. Some bed frames look like a low box with four sides and an opening in one of the sides so the child can easily climb in and out the bed. Other bed frames are more like an open platform on which the mattress lies. The box style is very cosy in cold climates, especially when parents fill this space with pillows and colourful blankets.
Sleigh Bed
Sleigh beds are those with a high headboard and footboard, usually with a scroll on either side reminiscent of horse-drawn sleighs. These are often cribs that convert to toddler beds by removing the side slats. A convertible crib gives great value for parents who plan to have more children.
Daybed
A daybed is a low bed with three sides and possibly a low rail on the fourth side. Putting cushions on the long backside converts the bed into a kind of low sofa which is useful in the day. A daybed converts a bedroom into a play space in the day, and many toddlers enjoy having their own sofa in their rooms.
Novelty Bed
A novelty bed comes in a shape like a car, ship, or even a construction machine. These are great beds for those children who make use of their newfound freedom to constantly get out of bed when it is time to sleep. A novelty bed keeps the child playing in bed until he or she falls asleep. Other novelty beds have much-loved themes like princesses, Mickey Mouse, or Elmo.
Features of Wooden Toddler Beds
A few key features should come under consideration when parents set out to shop for a wooden toddler bed. The first major decision is the size of the bed. Other key elements include the quality of the guard rails, the height, and the storage options.
Single Size or Cot Size
Toddler beds are traditionally the same size as cots or cribs, but many parents opt for a single-size toddler bed. These offer better value but there are some negative points as well. The table below summarises the pros and cons of cot-size and single-size toddler beds.
Bed Size

Mattress Dimensions

Pros

Cons

130 cm by 69.5 cm

More affordable

May be easier transition from crib

Soon outgrown

Single

187 cm by 92 cm

Lasts longer

More expensive
A cot bed is usually a toddler bed in a crib size. Mattress dimensions vary a little so buyers should ask about the bed dimensions if using an old cot mattress with a new bed frame. Single bed sizes have less variation than cot sizes but it is still a good idea to double-check the sizes of the mattress and frame when buying them separately.
Guard Rails
The quality of the guard rails is something to consider. Parents need to evaluate how their child sleeps. For some children, a low foam bumper under the fitted sheet is enough to keep them in bed. Other children fall even through a small gap in the rail because of the frequency of their movements in sleep. Buyers should always check how the side rail connects to the bed and the sturdiness of the construction.
Low Height
Toddler beds vary in height. Consumers should include the height of the mattress when calculating the total height of the bed. Some children may feel anxious if the bed is too high, and this prevents restful sleep.
Storage
Some beds have storage drawers built into them. These are great for storing bed linens, blankets, and so on. Storage beds are often a little more expensive than other bed types, but they also provide great value.
Convertible Beds
Many toddler beds are convertible in various ways. Small ones convert to cribs with the addition of side rails. Some even convert to a desk, by raising the flat bed platform and removing one of the long sides. These conversions add to the value of a bed.
How to Buy a Wooden Toddler Bed on eBay
Finding a toddler bed that is perfect for your family is easy. There is a wide selection on eBay and eBay Deals and looking for local sellers helps avoid shipping costs. To find a wooden toddler bed on eBay, start by entering the term ' wooden toddler bed' in the search box on any eBay page. Then widen or refine the search as necessary by specifying more criteria or changing the search terms. Look for eBay's Top-rated sellers, who have earned a reputation for excellent service. The transition to a 'big kid bed' is an exciting one for children. Make it easier for everyone by finding a bed the children love on eBay.