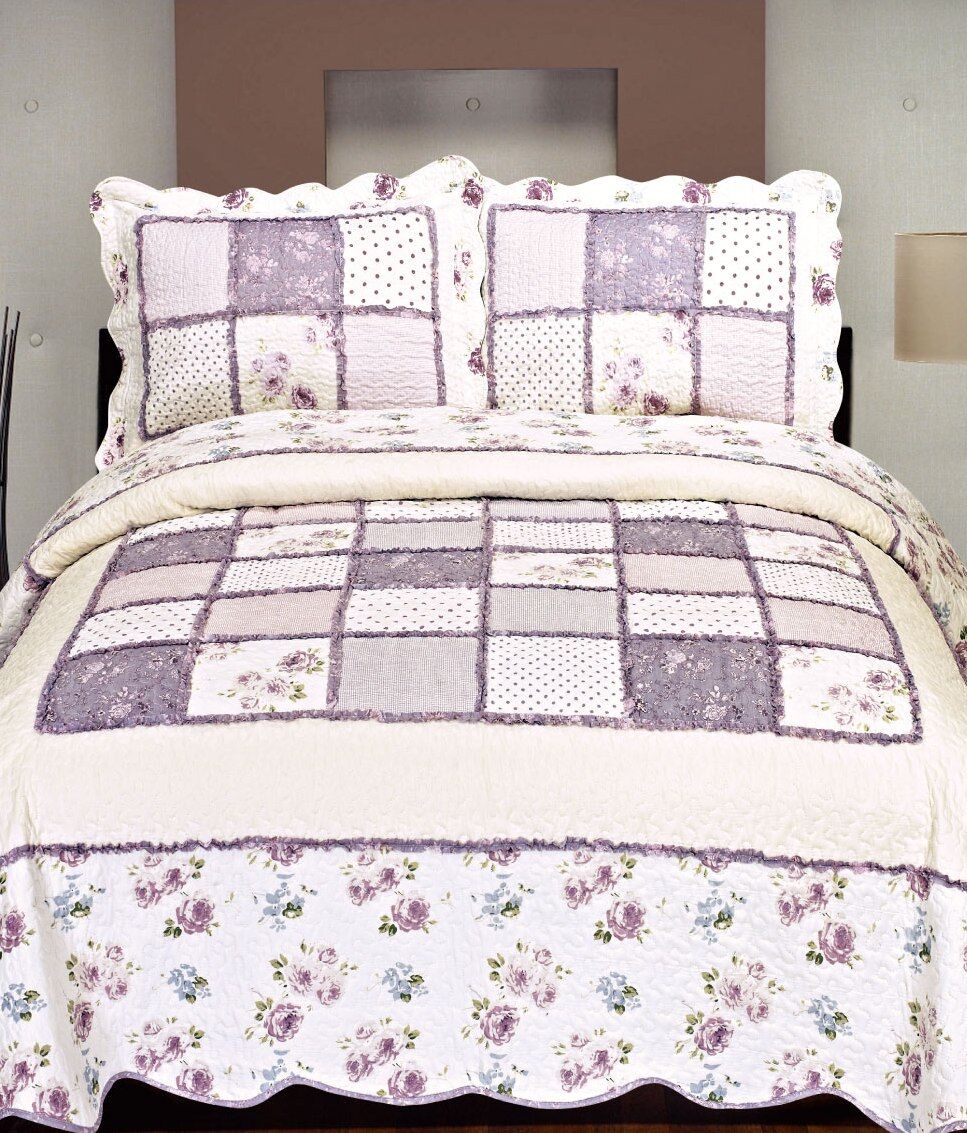 A designer quilt cover set can change the way a bedroom looks. Although a quilt cover set should complement a room's interior design, you can change the atmosphere by introducing interesting patterns, designs, and colour combinations; investing in a good quality quilt cover set is far cheaper than redecorating a room.
When shopping for a quilt cover set, looks are as important as comfort. Learn about the types of fabrics and the embellishment techniques that are available. Use the bed sizing chart included to find a quilt cover that is the perfect fit for any bed. You can buy designer quilt covers from numerous sources, including bedding and department stores and online retailers such as eBay.
Fabrics for Designer Quilt Cover Sets
When choosing a quilt cover set, it is important to understand the properties of the fabrics on offer. The fabric should look good and feel comfortable. The table below lists fabrics you may encounter with a short description.
Quilt Cover Set Fabric

Description

Most popular fabric for quilt covers

Natural

Breathes well

Soft and comfortable

Easy to clean

Durable

Luxury covers feature high thread counts

High quality fibres include Egyptian and pima cotton

Polycotton

Blend of cotton and polyester

Cheaper than pure cotton

Easy to clean

Not prone to pilling and shrinking

Look for covers with a high cotton content

Breathability decreases as the polyester content increases

Luxury natural fibre

Expensive

Hypoallergenic

Beautiful lustre and drape

Warm in cool weather and cool in warm weather

Breathes well

Difficult to clean and maintain

Snags easily

Real silk rarely features in quilt cover sets

Natural or synthetic fibres

Shiny and lustrous

Soft

Slips off the bed easily

Snags easily

May be difficult to clean and maintain

Prices vary depending on fibres

Brushed cotton or cotton blend

Soft

Warm

Suitable for cold weather

Easy to clean
Choose a fabric that you can maintain that fits your budget. If you have children or pets, avoid fabrics that snag easily.
Embellishments and Designs for Designer Quilt Cover Sets
Quilt cover sets come with a variety of embellishments and designs. It is important to be practical when buying embellished bedding because quilt cover details, such as buttons and sequins can fall off and pose a choking hazard to young children. In addition, embellishments on pillowcases may look good, but they are rarely comfortable.
Buttons, Ribbons, Sequins, and Other Objects
If a designer quilt cover set features details that are attached with glue or thread, ensure that they are attached firmly. If possible, choose covers that feature embellishments fastened with thread. You can replace these easily if they come undone, and they rarely leave unsightly marks if they do fall off. Avoid buttons or sequins on pillowcases. If the pillowcases feature ribbon or panel details, check where the seams lie. Alternatively, choose pillowcases that are plain on the underside.
Embroidery
Designer quilt covers often feature embroidered designs. These add the interest and texture that printed patterns lack. Check for loose threads to ensure that the embroidery does not unravel. Remember to iron embroidered sections on the back of the fabric to avoid damaging the quilt. Bear in mind that this type of decoration is prone to snagging and wear. Check embroidered pillowcases to ensure that the raised thread is not uncomfortable to sleep on. Remember that facial skin is soft and sensitive, so choose pillowcases with plain undersides or the minimum amount of embroidery.
Designer Quilt Cover Colours and Patterns
Designer quilt covers come in a staggering selection of colours and patterns. Choose a design that matches your room's interior design. If you want to change the atmosphere, select a cover that highlights a subtle colour in the overall scheme. If the room has a bright and busy feel, choose a plain quilt cover. Adding patterns to a room with a busy interior design can cause decorative clashes and ruin the look. On the other hand, liven up a drab room with a colourful, patterned quilt cover set.
Size of Designer Quilt Cover Sets
To find the right size quilt cover set, choose a cover that is slightly larger than the mattress. The table below lists average sizes for different bed types. Use this as a guide while shopping.
| | |
| --- | --- |
| Type of Bed | Width x Length (cm) |
| | 92 x 87 |
| Single (extra long) | 92 x 203 |
| King single | 106 x 203 |
| | 137 x 187 |
| | 153 x 203 |
| | 183 x 203 |
As mattress sizes are not standard, you may need to take measurements. Remember to factor in the mattress depth. Allow a little extra on either side to cover deep mattresses. When in doubt, it is better to buy a quilt cover that is too big. You can always tuck it in or you can allow it to hang to the floor. If the cover is too small, there is little you can do to remedy this.
How to Buy Designer Quilt Cover Sets on eBay
eBay sellers offer a range of designer quilt cover sets at competitive prices. To find the perfect quilt cover set, browse the selection or use the search field to find a particular item. Enter a phrase, such as " Kylie Minogue quilt cover set", into the search field, which is accessible from every page. Refine the results listed by choosing the most suitable product features. Visit eBay Deals to see more great offers on designer quilt cover sets.
Although looks are important when it comes to bedding, you should not discount comfort and practicality. With the wide selection of designer quilt cover sets available on eBay, it is easy to choose one that suits your lifestyle and preferences.