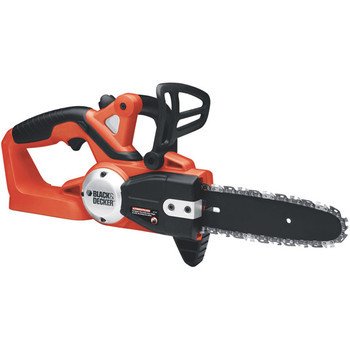 Cut through wood, pipe, shrubbery, and metal with a budget-friendly, easy-to-use Black and Decker chainsaw. Electric chainsaws are more efficient than gas chainsaws, and more cost effective to maintain. There are several considerations to weigh when you are purchasing a chainsaw, including the voltage, size of the chainsaw, and how the chainsaw is used.
Black and Decker is a reputable company that has been making all types of tools for over 100 years, and manufactures high-quality, affordable items. Find an affordable but powerful Black and Decker chainsaw for a low price on eBay or a retail hardware store, and choose the best chainsaw for your budget and your needs.
Choose a Black and Decker Chainsaw Style
When it comes to purchasing a chainsaw, there are more options to consider than you think. Each option varies in price, so it is important to weigh the features that are important to you so you get the best chainsaw for your money. Different chainsaws also perform differently and are better suited to a variety of tasks, so picking the right model is important.
Cordless, Rechargeable Chainsaw
Black and Decker creates cordless chainsaws that make jobs easier because there are no cords to trip over or get in the way. Cordless chainsaws operate on rechargeable batteries, and are available in 18-volt and 20-volt lithium chainsaws. Both models come with an 8-inch bar and a lithium battery which has a long life once it is fully charged.
A comfortable handle allows easy grip, and the chainsaw has a lock switch to avoid accidents. Black and Decker cordless chainsaws are lightweight and affordable, and perfect for simple jobs like yard work and cutting firewood.
Electric Chainsaw
Traditional Black and Decker electric chainsaws have cords and are available in 4-amp models, and called Alligator saws because of the chain shape. An Alligator saw is perfect for cutting branches quickly, and the clamp is secure and offers a 6-inch cutting bar. Put aside your pruning shears and use this small but powerful, high performing yet affordable electric corded chainsaw instead.
The Alligator chainsaw looks small, but it packs a punch. The small saw is easy to grip with two handles and easy to maintain. You may need to oil the saw sometimes, but that is all the care it requires to continue working well for years to come. The saw is self-adjusting and makes allowances for the tension of the chain to provide the perfect cut each time.
Lopper or Pruning Chainsaw
The Black and Decker Piranha chainsaw offers a 12-volt powerhouse perfect for pruning. The rechargeable battery stays charged for up to 50 cuts. Switch the blades to create a jigsaw instead for a versatile saw that is useful for many tasks including plumbing and renovations. It is also small and light enough to fit into crevices that traditional saws cannot fit into.
Serrated, thick teeth make cutting even thick branches and pipes simple, and the affordable chainsaw is perfect for yard work and tree trimming. It is an affordable tool for you if you simply need the right saw for jobs around the house and do-it-yourself tasks. The 6-inch blade saws through branches up to 3 inches around, and it works equally well on lumber and even metal. Cut the cord with this easy-to-use and inexpensive alternative to a traditional chainsaw, jigsaw, or pair of pruning shears.
Pick an Affordable Black and Decker Chainsaw Voltage
If you are choosing a chainsaw and you are not sure what the voltage means, it means a bit of a price difference. Black and Decker makes chainsaws which offer several different voltage types, including 12-volt, 18-volt, and 20-volt models. A higher voltage chainsaw offers more power per cut, but a longer lasting battery is of more importance for longer use of the saw on one charge.
If you plan on doing a long day of tasks, it is advisable to purchase a backup battery pack for a cordless saw to avoid recharging the battery often, in order to complete a long job. The only downside to a cordless chainsaw is that the battery takes up to 12 hours to fully charge. A corded saw offers more power, while a cordless saw is lightweight and more convenient to use.
Choose a New or Used Black and Decker Chainsaw
One way to save money on a chainsaw or pruner is to purchase a used Black and Decker model . Buying a used chainsaw in good condition saves money, though the chainsaw is likely to need maintenance, such as a replacement chain or battery pack. This still costs less than purchasing a new chainsaw if you are on a truly tight budget. Black and Decker tools are long lasting and made to be durable, so as long as you purchase a used chainsaw in great condition, it is a solid option for an affordable tool.
How to Buy
Look for great deals on eBay when you purchase a Black and Decker chainsaw. Use the search bar on any page to key in terms, such as " Black and Decker chainsaw", and filter your results to narrow your options. Filter by price range so you stay within your budget. Check for chainsaws available from authorised merchants who are Top-rated sellers for the smoothest transaction. Also check for excellent feedback from other buyers before you purchase.
Cordless chainsaws are perfect for small yard work and cutting logs around your house. Do not tether yourself to a cord by using a lightweight and rechargeable chainsaw that is easy enough for anyone to use without complications. Cut through metal, pipes, branches, and lumber, and even prune your hedges to perfection with the proper Black and Decker chainsaw.