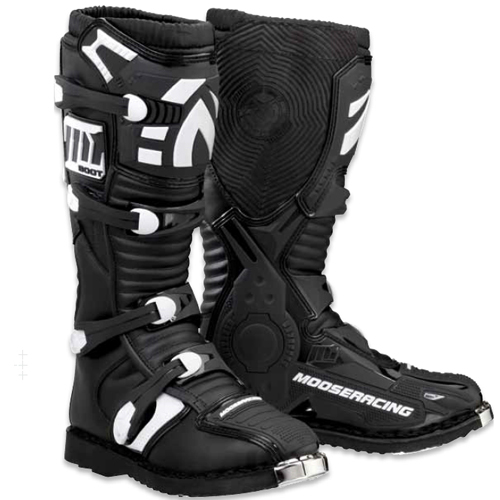 As well as being great for Harley-Davidson, Yamaha, or Honda fans who want to raise their kids to appreciate motorcycles, children's motorcycle boots not only look good, but make their investment worthwhile by standing up to harsh elements and lots of use. From little tots to middle schoolers, children can use these boots as winter shoes, horse-riding, skiing, or motocross equipment, or just as part of an everyday look. Many children's motorcycle boots are made of a combination of leather, steel, plastic, and other hardy materials. Those looking for children's motorcycle boots can find the right pair of boots for his or her child on eBay, where thousands of different sellers provide millions of options that the shopper can purchase right from home.
About Children's Motorcycle Boots
Many of these motocross boots have the same basic design; the size is scaled down to comfortably fit a child, while still providing protection and support, and the straps or buckles are not overly complex. However, it is still advisable to be aware of all the different designs and features a kid's racing boot has, in case there is one feature in particular that the user needs in the boot. Because children's racing boots is something of a niche category in the consumer market, there are only about half a dozen major brands that the shopper can browse through, which makes it easier to shop. Additionally, many of the boots, regardless of the company and brand they are under, share features that are important for the child's safety, such as reinforced shin guards.
| | | | |
| --- | --- | --- | --- |
| Age | US and Canada | UK and Austrailia | Europe |
| | 10 (under 6 years) | 9 | 27 |
| Under 6 years | 11 | 10 | 29 |
| Under 6 years | 12 | 11 | 30 |
| Under 6 years | 13 | 12 | 31 |
| Over 6 years | 1 | 13 | 33 |
| Over 6 years | 2 | 1 | 34 |
| Over 6 years | 3 | 2 | 35 |
| Over 6 years | 4 | 3 | 36 |
| Over 6 years | 5 | 4 | 37 |
| Over 6 years | 6 | 5 | 38 |
| Over 6 years | 7 | 6 | 39 |
Size and fit are important factors in the safety of a boot as well. Whether the child wears socks, how thick the socks are, and if they prefer breathing room in the boot all come in to consideration when choosing a part of boots.
Materials
As mentioned before, some of the popular materials off-road boots are made of include leather, steel, and durable plastics. The leather is often used for the outside of the boots, as it is long lasting and can provide protection as well. Steel is used in these shoes as well, though you do not find an entire boot made out of the material; steel is more commonly used in smaller pieces as reinforcement, such as in the toe and shin. Typically, the rest of the boot that is not leather or steel is made out of plastic.
Some models go beyond the typical use of plastic and create special molded panels that comfortably yet securely hold the child's foot in place to prevent rolled or broken ankles. These panels, usually made out of a slightly more flexible material than the outside of the boot is, also help prevent undue wear and tear on the rest of the boot. Often, children's motorcycle boots are lined with cambrelle, which is a soft, synthetic, non-woven fabric typically used in shoe lining. Finally, some boots even add other materials, such as cowhide and suede to ensure the boot gives off a sophisticated look.
Features
One of the most important aspects of racing boots that the wearer wants to look for before purchasing a pair of boots buys is protection, both against the elements and against potential accidents. Just about every pair of children's motorcycle boots from every company has that idea in mind, and emphasizes it with the plethora of features on the boots. For example, a leather heat shield is designed to prevent plastic from burning, so the wearer can hop on a motorcycle without having to worry about the plastic part of the boot melting. Some motocross boots have an elastic gaiter, which seals the top of the boot, around the wearer's calf, ensuring that debris such as rocks and snow do not get into the boot. Other protective features are for practicality and a fashionable look, like the steel toe guard, which does the obvious job of preventing painful stubbed toes, but also gives a polished, finished look to the boot.
For motocross racers, a race sole that has an internal steel shank laminated into the sole is absolutely necessary; the steel shank helps absorb some of the shock that comes from motocross jumps, and lengthens the life of the shoe's sole.
Certain parts of motorcycle boots are often reinforced to protect the wearer's foot, including the shin, ankle, and even the heel. Some boots have a reflective heel panel for riding at night, as well as a fashion statement. Other features that may not emphasize safety, but make motorcycle riding a more comfortable and enjoyable experience, include oil-resistant rubber soles, a lining that encourages air flow, fabric inserts that reduce the weight of the boot on the wearer's foot, heel padding, and removable, replaceable soles. The latter feature is especially welcome for those who plan to keep motorcycle boots for a long time, since the removable sole allows consumers to maintain boots in near-perfect condition. Replaceable soles are easy to find, and can help keep a pair of boots going for a long time.
How to Buy
A good place to find a large variety of boots that are available at a wide range of prices is eBay. To start shopping, go to the any page. From there, type in keywords such as " children's motorcycle boots" into the search box found on every page. You can narrow down the search results by specifying your search categories, such as size, brand, price, condition, and more. You may also be able to find great bargains on all kinds of children's footwear on eBay Deals.
Even though children grow quickly, they get more than your money's worth out of their motorcycle boots, especially if you buy for older children. Whether for junior motorcycle riders, motocross fans, or just outdoor explorers, motorcycle boots are a pair of shoes that can be used for just about anything.