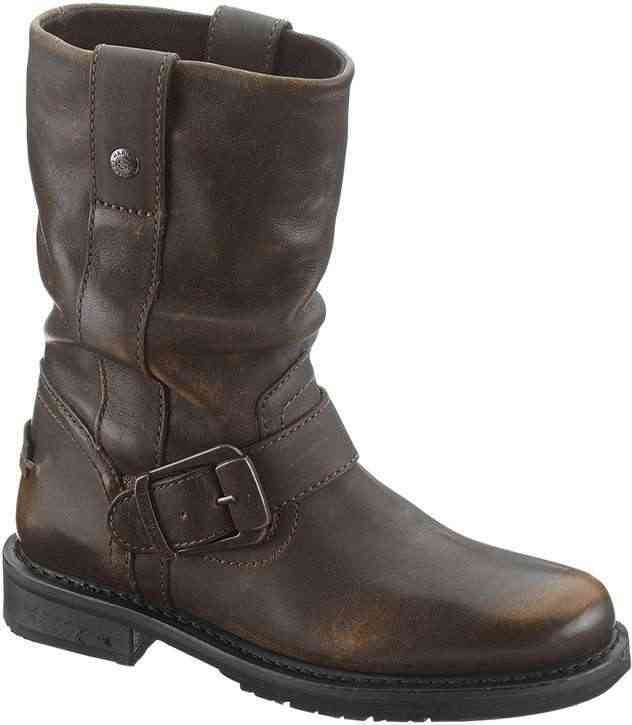 Whether they are hardcore bikers, or weekend warriors, motorcycle riders' feet are the closest body parts to the ground while they ride. Feet, ankles, and legs are not built for the types of impact they may encounter in a motorcycle crash, or when used to avoid a fall in a sharp turn. A quality pair of motorcycle boots helps to protect the rider from serious injury. When it comes to motorcycle boots, what you spend is not necessarily what you get. Paying more does not ensure the boots are more comfortable, more practical, or better constructed. Understanding which features to look for in quality boots helps consumers make the best buying choice.
What to Look for in Motorcycle Boots
The primary problem with buying motorcycle boots is that they have become a fashion statement for trendy teenagers. This often drives the prices up on fashionable boots that do not necessarily provide adequate protection. Before shopping for motorcycle boots, the consumer needs to decide how they intend to use the boots, and what level of protection they desire. As an example, those riding touring or cruising bikes do not require a boot with the same amount of armour and protective padding as those riding racing bikes. Thus, cruisers have a bit wider selection, allowing them to find a boot that is comfortable for walking as well as riding. Racing boots, on the other hand, are lighter than cruisers, while providing a greater level of protection.
Material
Materials used in construction are the primary elements that set motorcycle boots apart from other shoes, such as fashion boots,running shoes, and trainers. Most shoes made for walking or comfort are made of soft canvas, imitation leather, or soft leather. These materials provide little protection when meeting the asphalt at high speed. It is for this reason that quality motorcycle boots have traditionally been made of thick, genuine leather, which is resistant to abrasion. In recent years, manufacturers have begun producing motorcycle boots with modern materials, such as Gor-Tex, which is more breathable than leather, while providing superior abrasion resistance.
Whether riding in good weather or bad, riders' feet tend to get wet. Because riding with wet, squishy socks is very uncomfortable, motorcycle boots should be waterproof, or at least very water resistant. Untreated leather absorbs water fairly quickly, making it important for consumers to be sure that they purchase leather boots treated for water resistance.
Closures
The manner of boot security, from Velcro to laces, is a personal choice for most people. Laces make taking the boots off easier than Velcro, but they also come untied. Loose laces can be frustrating and also dangerous if they catch in the driveline. No matter which type of closures the consumer prefers, they should cinch the boots tightly to the legs to keep out water. All boot closures should be sturdy and securely attached to minimise the chance that the boots come off in a crash.
Construction
Construction is really the bottom line when shopping for quality motorcycle boots. No matter which materials construct the boots, they cannot protect the feet if they are not well constructed. Double-row stitching ensures seams stay together even under the toughest conditions. Sewn-on soles are much more durable than those that use glue. Sewn-on soles last longer and protect better in the event of a crash.
The materials used to make the soles are an important consideration when shopping for motorcycle boots. While a hard sole is more durable and lasts longer, it provides less grip. Softer soles provide superior grip, but do not last as long. The type that is best depends on the individual consumer's riding needs.
Height
In order to provide protection to the feet, ankles, and lower legs, any motorcycle boot should be tall enough to come to at least mid-calf. Leaving the ankles uncovered not only exposes them to serious damage; it makes the likelihood of foot damage much greater. Some riders find these high-top boots a bit stiff and uncomfortable at first, but the protection afforded is much greater, and certainly worth the time to grow accustom.
Some riders opt for half boots, which are lower than mid-calf motorcycle boots, while still providing more protection than ankle-high boots. Half boots are popular because they allow a rider to move more freely, and are more comfortable for walking when off of the bike. Half boots still leave the shins unprotected, and allow for greater injury to the ankles.
Fit
Boots that fit properly tend to be more difficult to put on and take off than regular shoes. Having said that, consumers should look for boots that are not too difficult to slide on or off. Boots should fit snugly to the heels without squeezing the rest of the foot. Remember that socks affect the fit of any boot, so it is best to wear that type of socks normally worn while riding when trying on boots. Thick boot socks tend to make wearing boots for any length of time more comfortable, but consumers must take care to allow enough room for them. Because each manufacturer sizes boots a little differently, be sure to check the sizing guide before buying.
| | | | | | | | | | | | |
| --- | --- | --- | --- | --- | --- | --- | --- | --- | --- | --- | --- |
| US | 5 | 6 | 7 | 8 | 9 | 10 | 11 | 12 | 13 | 14 | 15 |
| Euro | 38 | 39 | 40.5 | 42 | 43 | 44.5 | 45.5 | 47 | 48 | 49.5 | 51 |
Each country, and even manufacturer has their own fit. So while you may fit a size 5 American boot and assume that translates to a 38 European boot, you may be mistaken.
Finding Deals on Motorcycle Boots on eBay
It is impossible to say what is the best motorcycle boot on the market, as this depends on each rider's individual needs and preferences. There are, however, a great many boots to consider. Many look great while being of quality construction and versatile enough for everyday riding. Consumers should not rush into a decision. Shopping for boots on eBay Deals ensures a large selection from which to choose. Check out eBay's forums to see what other consumers are saying about the boots you are considering, and then be sure to do business with reputable sellers. eBay's Top-Rated Sellers have earned this designation by upholding honest business practices and providing excellent service.