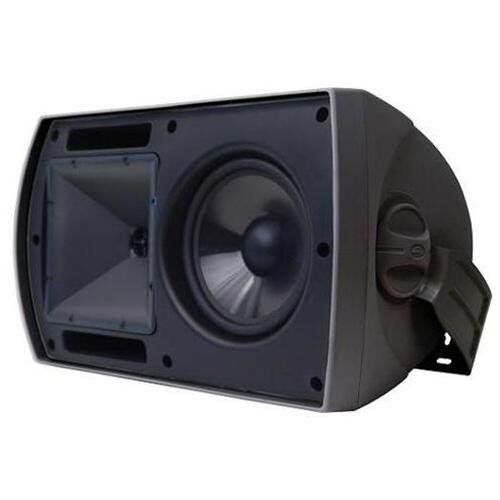 Klipsch speakers are known for providing high quality sound and being among the best speakers available on the market. The U.S.-based company is one of the oldest and has a reputation for producing speakers of excellent craftsmanship and quality. Klipsch makes speakers for home and personal use, as well as for businesses and commercial use. With so many different types of speakers to choose from, a shopper is sure to find a set of speakers to meet his audio needs. Before making an investment in a set of Klipsch speakers, a shopper should take the time to learn more about the brand and their products to see what Klipsch has to offer. Whether looking for new or used Klipsch speakers, shoppers can find a large selection at affordable prices on eBay.
About the Klipsch Brand
Klipsch is a speaker manufacturer that was founded by Paul W. Klipsch in 1946. The company makes premium speakers based on four principles: high efficiency, low distortion, controlled directivity, and flat frequency response. These were Paul Klipsch's principles when he founded the company, and the latest designs for new speakers still conform to these principles, which accounts for the brand's enduring reputation for producing speakers that deliver high quality sound.
One characteristic that sets Klipsch speakers apart from all the others on the market is the efficiency of the speakers. The speakers are energy efficient and only require about 1 watt of power to produce 85 dB of sound. This makes them among the most efficient speakers in the world. Additionally, the speakers contain no toxic substances, so they are better for the planet all around. Even with this "green" approach to speaker design, Klipsch speakers are able to produce clear sounds suitable for all listening purposes.
Klipsch Product Lines
As far as products are concerned, Klipsch has a single focus that is spread across many markets. The company does not just produce one type of speaker. They have multiple lines across several categories. The different types of speakers, as well as the product lines, are listed in the table below.
Speaker Type

Product Lines

Home Audio/Theatre

Palladium, THX Ultra2, Reference, Klipsch Gallery, Synergy, Heritage, Klipsch Icon, HD Theatre, Quintet Home Theatre

Personal Audio

Headphones: Image S4, Image X10, Image ONE, Klipsch Mode

Computer Speakers: ProMedia v.2-400

Wireless

Klipsch Gallery G-17 Air, Klipsch Stadium, Klipsch Console
As seen in the table above, Klipsch does not limit itself to just speakers for audio or theatre systems. The company also produces several lines of headphones and computer speakers to meet a variety of listening needs.
Klipsch Speakers by Type
People who wish to add Klipsch speakers to their homes or offices should choose the speakers they need based on the type. Each type is specially designed for certain situations, so shopping within the proper category ensures that the shopper chooses the right speakers to produce the right sound. Shoppers can find speakers for home stereo and theatre systems, personal listening, and even commercial purposes.
Home Audio and Home Theatre
A wide selection of home audio and home theatre speakers are available from Klipsch. Shoppers can find satellite speakers and floor-standing speakers that offer precise audio reproduction for optimal listening. The Palladium Series of speakers offers the highest quality in craftsmanship and a unique design. Also in this category is the Heritage Series. These speakers combine a vintage look with modern technology. The speakers mimic the appearance of the first Klipsch speakers manufactured in 1946.
Personal Audio
Most people could not imagine their lives without their iPods and MP3 players, computers, or other personal audio devices. Klipsch understands the importance of producing quality headphones and small speakers that are portable.
Headphones
The headphones produced by Klipsch use the same technology as the speakers. Listeners can expect the same premium quality sound. The Image Series, introduced in 2007, has won several awards, and these headphones are highly rated for comfort, bass, sound accuracy, and noise isolation. Whether shoppers are looking for over-the-head headphones or in-ear earbuds, Klipsch has a wide selection to choose from.
iPod/MP3 Player Speakers
Klipsch allows users to turn their iPods and MP3 players into high quality sound systems with specially designed speakers that allow users to dock their players right onto the device. This makes the speakers easy to connect as required, and they are small so they stay out of the way when not needed. Additionally, Klipsch offers a large selection of iPod compatible speakers and headphones that are designed to work solely with Apple devices.
Computer Speakers
Computer speakers designed by Klipsch have won a number of awards and are considered to be among the best on the market. The ProMedia v.2-400 speakers were released in 1999 and were the first computer speakers to be THX certified. With speakers of this quality, people can turn their computers into small home theatre systems.
Wireless Speakers
Wireless speakers allow people to stream music from their portable music players without having to connect the device. The speakers can sit on a table, counter, or bookshelf and play music from an iPod, iPad, or iPhone that is located several meters away. The speakers use AirPlay to pick up wireless signals. The home must have WiFi connectivity in order for the speakers to work.
Commercial Speakers
Klipsch also offers several lines of commercial speakers. Large speakers are made for installation in movie theatres in addition to smaller speakers that are used in waiting rooms and shops. With premium sound, sleek looks, and durability, Klipsch speakers are an ideal choice for any business looking to create a specific atmosphere in a workplace or retail space.
Used Klipsch Speakers
Over the years, Klipsch has introduced new lines of speakers and discontinued old lines. Some of the old lines are still revered as some of the best and are regularly sought out by audiophiles. Additionally, some people search for used Klipsch speakers as a way to save money on the more expensive, new speakers. Used speakers can be in good condition and provide high-quality sound. However, there are a few things that shoppers should look out for.
The condition and the price are the two most important factors to consider when shopping for used speakers. The two are related, so if the speakers are in poor quality, the price should be lower than those speakers that are in good condition. Shoppers should look for damage to the outside housing of the speakers. This could indicate that there is damage on the inside as well. If possible, a shopper should plug the speakers in to see if they work or not. This is to test to make sure that speakers are not blown. It is important to research the value of the speakers before making a decision to ensure that the price listed is a fair one.
Buying Klipsch Speakers on eBay
Shop on eBay to find deals on Klipsch speakers and headphones. Start on the home page and type "Klipsch speakers" into the search bar. Once the initial search results are returned, narrow them down more by selecting the type, condition, price, and other options. You can sort the listings by price, and if you are looking for a better deal, consider sorting the listings by sellers who offer free postage. Be sure to view the item description and images to get a better idea of the speakers you are buying. Additionally, view the seller's feedback score to help you make a decision on which seller to do business with. Those with the top-rated seller badges have high feedback scores based on feedback by previous buyers and are sure to provide high-quality products and excellent service. Be sure to leave feedback for the seller you purchase from to help future buyers.
Conclusion
Klipsch is a U.S.-based speaker manufacturer that is known for producing quality products. They have several lines of speakers, ranging from headphones to portable computer speakers to stereo speakers and even commercial cinema speakers. No matter what a person's listening needs are, if he is looking for top-quality sound, there are Klipsch speakers available to meet his needs. Enjoying top-quality sound requires paying a high sticker price, so a shopper should be sure to take his time and learn about the company, as well as the products that they offer before committing to a purchase. eBay allows shoppers to easily compare speakers, find great prices, and have their purchases shipped directly to their homes, making the entire process easier all around.
Klipsch speakers|headphones|stereo|home theatre|wireless speakers