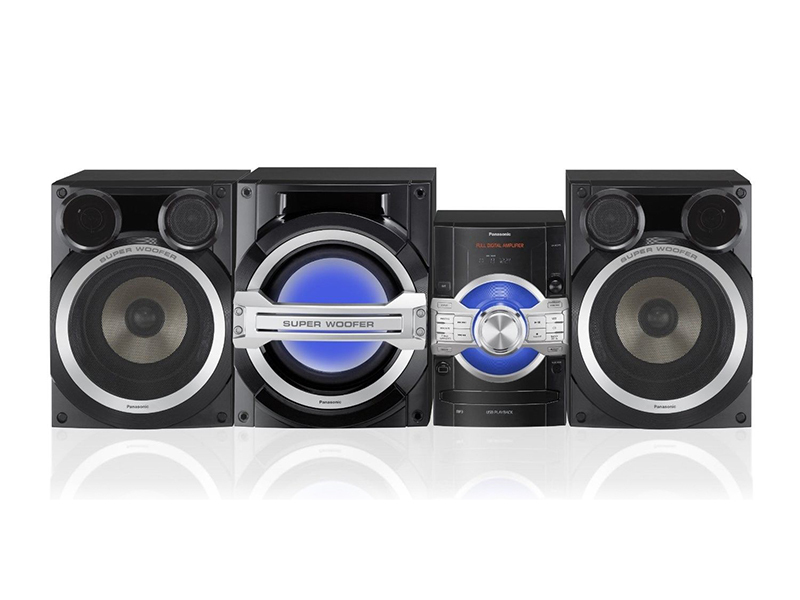 A hi-fi is a high-dollar expense, especially as the product often needs updating. Many people cannot afford to buy a new system whenever updates are necessary or new versions are introduced on the market. No piece of technology is timeless, but the Panasonic company does offer options to help customers keep original models as long as possible. The company offers interchangeable components of the best sound and material quality.

Overview of Hi-Fi Components
A hi-fi component is simply a piece of equipment used to generate sound. The focus of each type of component will vary, but for the most part, they must work with each other to create one larger functioning system. Panasonic has a list of components to be used together for a full sound system.

Source

CD Player
CD Transporter
DA Converter
Tuner
Vinyl Turntable
CD Turntable
Digital Turntable
Digital Music Player

Amplifier

Integrated Amplifier
Pre-Amplifier
Power Amplifier
Phono Amplifier

Output

Cables

Power Cord
Digital Cable
Interconnecting Cables
Speaker Cables
The most common Panasonic hi-fi includes the CD player and two speakers with cables.

CD Player for Panasonic Hi-Fi Audio
The CD player has been Panasonic's forte for many years, thanks to the wider range of available CD units through the Panasonic name. The sound quality is unlike any other and the units are compact and users find them to be highly stylish.
The CD player will be the most costly part of the hi-fi setup, as it is considered the central weight of the whole system. The component comes with a number of different options at purchase.

| | |
| --- | --- |
| Sound Quality | The power output of any unit is measured in watts, which is transferred to the speakers. A CD unit can transfer anything from 1-watt per channel up to 125-watts per channel. The higher the number, the better sound quality a CD player can achieve. |
| Media | A hi-fi CD player should play CD-R, CD-RW, CD+R, CD+RW, along with standard non-recordable CD media. In terms of space, there are a variety of multi-CD changer models that are worth looking at. |
| USB and MP3 Player | MP3 players (specifically iPods) are extremely popular and it is hard to ignore their music playing capabilities. Shoppers may want to find CD units that can incorporate such technology via a USB port. |
| DAB Radio | An FM/AM radio will come as standard on almost every CD unit. For those who want a better sounding radio, a DAB variation should be considered a must-have addition. |

Speakers for Panasonic Hi-Fi Audio
Not all speakers are hi-fi speakers. They usually have more features, making them unique in the industry. There are some basic criteria that make hi-fi speakers different than all the rest.
Buying Panasonic speakers requires the user to research through the full line of products. It is essential to gain a full understanding of brand offerings, for both used and new items.

The speakers must have the correct input requirements, which means they will partner with fellow components.

Check the wattage and amps of every speaker to make sure it matches all the other items in the hi-fi system. The Panasonic line includes everything from super-powered to low-end speakers, and the system cannot be overloaded.

Cables for Panasonic Hi-Fi Audio
After the components are purchased, the cables will need to be acquired to hook everything together. It may seem that cables are a standardised item, however, this isn't always true. Consider the list of following points when trying to get the most quality from the cables.
The length must be taken into account. They must be long enough to place each component in its desired position.

If longer cables are needed, high-end cables should be used to ensure audio quality. Low-end cables may disappoint at longer lengths.
Cable Material
Typically, a hi-fi cable includes the same type of core material than in any other type of audio cable. It is made from one of the substances below.
| Material | Description |
| --- | --- |
| Copper | Copper is considered the standard form of hi-fi cable material. The purer the copper, the better the sound quality. |
| Silver | Silver provides a basic sound that doesn't suffer from any sound transmission issues. It will never provide the peak of sound quality, but is reliable and marginally better than copper. |
| Gold | Gold is considered the best in terms of quality. It transfers audio without any loss in sound, and users will really be able to hear the difference when it's partnered up with a high-end system. However, their quality comes at an added expense. |
| Platinum | Platinum is a great choice for cable material. Its effects on audio quality are largely unknown, but the price tag signifies that they are of a high standard. Platinum will rival gold in the home audio cables market. |

How to Buy Panasonic Hi-Fi Components on eBay
Hi-fi is a very popular part of Panasonic's audio equipment line, mainly because it is a higher quality. Users are able to create a personalised setup with a great sound. Panasonic components can be found under the electronics category on the left side of the eBay page. If this option does not offer enough choices, simply use the Search box at the top of the page.
Panasonic|Hi-fi|Amplifier|Speakers|Cables|Subwoofers