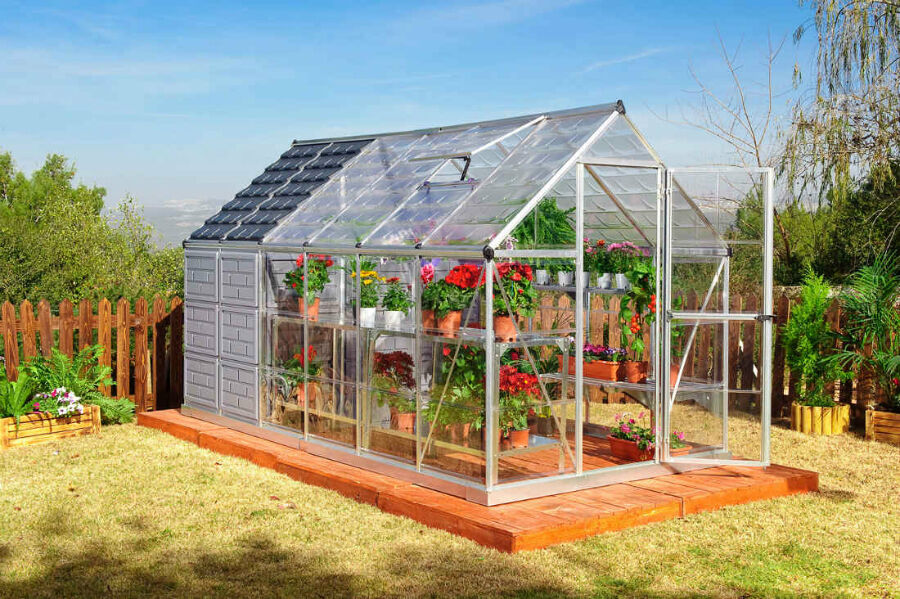 Cultivating, growing and producing fruit and vegetables has become an increasingly popular pastime the world over and a sturdy greenhouse or shed is crucial to this process. Greenhouses come in all manner of different shapes and sizes with eBay one of the easiest places to buy them anywhere online.
The following guide shows will show buyers how to identify the correct greenhouse and the best way to buy one safely and securely when using the world's leading auction site, eBay.
Greenhouses: The Basics
The main purpose of buying a greenhouse is to control the climate in which plants, vegetables or fruit are grown. Buyers of greenhouses can use the conditions to grow produce that wouldn't survive outdoors in certain seasons by using artificial conditions.
When buying one, the buyer must consider the amount of plants that will go inside it, as well as how much space there is to build one, because they can be large, and as a result, take up a fair bit of space.
Most greenhouses are made from the following parts:
- Frame
- Covering
- Doors
Choosing one of these depends on each buyer's circumstances, and the following section will go into some of these in some more detail.
Types of Greenhouse
When buying a home greenhouse, the main decision to be made concerns whether to buy a glazed version, or one that is constructed using some kind of plastic. Each has a different role to play, and the table below explains each one in some more detail:
Covering Method

Frame Type

Characteristics

Glazed

Wooden, Steel or Aluminum

· Models that are glazed tend to be more expensive than plastic ones.

· More light can be let in.

· Glazing lasts longer than plastic and this is reflected in the price.

· Can shatter or smash easily.

· Some common types of glazing used for greenhouses include glass, polycarbonate, acrylic, fiberglass, and plastic film.

· Size of the greenhouse will likely be bigger if it's constructed and then glazed.

Plastic

PVC

· Common among more affordable models that are used on a smaller scale.

· Easy to move around the garden in order to get the optimum amount of sun.

· Plastic coverings won't shatter; as a result, they are more reliable.

· Lasts for a shorter time than glass, but this is reflected in the affordable price.

· Main type of covering used is polycarbonate.
Decisions to Make When Buying a Greenhouse
Before buying a greenhouse, there are a variety of different questions that must be answered to ensure the correct one is acquired. The headings below outline some of the main considerations:
- Size: Before purchasing a greenhouse or any large-scale garden item, the dimensions must be looked at in detail. The item description will contain information relating to the size of the greenhouse, and it's important to consider height, width, and depth when conducting your search. Buyers must also consider how much space they need for all manner of different pots and anything else that is used to store plants.
- Price: A great deal of the greenhouses found on eBay are large in size, and more expensive as a result. Before looking for greenhouses, it's important to be clear what budget is available for the purchase. Price is linked to the size of the item, what it's constructed from, and the amount of added extras.
- It's important to do some background research online first to work out the recommended retail price (RRP) of an item, so to work out if the eBay price is correct or too high.
- Climate Control: The main reason for buying a greenhouse is controlling the heat at which plants are being kept and grown. This depends on the weather conditions, and if there's not enough sun, the area may not be at the optimum temperature needed. If this is the case, using a specialist heater that is unique to greenhouses can control the temperature using some form of outdoor power equipment.
- Condition: Buying any item from eBay means being confronted with items that are in all manner of conditions. Buyers are advised that when starting a search they are clear as to what condition they will be happy with. Condition has a lot to do with how long the item lasts for, and how much it will cost.
- Age: eBay doesn't have age as a search parameter so it's usually easiest to Ask the Seller how old an item is. This links with the condition of an item and is another indicator of what the greenhouse will be like once it's received.
- Children: Many greenhouses are constructed using some sort of glass, and are easily broken when hit with garden toys, like balls. Buyers that have children who play ball games in the garden must consider this before buying, as replacing glass can be very costly. It makes a greenhouse constructed from plastic a more attractive proposition.
Buying a Greenhouse on eBay
Online merchants offer a huge amount of garden equipment, with greenhouses being one of the largest parts of any such selection. eBay has one of the largest collections anywhere online and the number of sellers present makes it one of the best informed places to buy them in the world.
Sellers are ready to answer any question posed by buyers and are as good a resource as you will see. Finding greenhouses on eBay is made easier by following these steps:
Categories: The easiest way to find any item on eBay is to search for it using the site's 'Shop By Category' tab that exists on the home page. Clicking on it will bring up a drop down menu where buyers should click on 'Home & Garden'. The next page sees a new list of options where buyers should scroll down until they reach 'Gardening' and click on it. The following page will have various options on the left hand side and clicking on 'Garden Sheds' is the next step. To see all of the greenhouses, simply type 'greenhouse' into the search bar at the head of the page and a list of all of those available on eBay will come up.
Search: Another good way to find items on eBay is to use the site's extensive search feature. To do this, buyers can type search terms into the box that exists at the top of any eBay page. To narrow the results down, use the parameters that will appear at the side of the page that indicate the categories in which products have been found.
Condition: eBay allows buyers to look at items that are narrowed down by the condition they are in. The parameters offered by the site are as follows: 'Brand New' and 'Used'. Narrowing down the search using these gives buyers the chance to know a bit more about how the product will reach their door.
Safety Precautions: Buying any item on eBay means taking certain measures to make sure it's sourced from a seller that can be trusted. The site keeps an extensive history on every seller that has ever sold an item on, and it's here that buyers can decide if a seller is to be trusted or not.
eBay Deals: eBay gives buyers the chance to take advantage of special deals on gardening equipment – including greenhouses and sheds. As well as the special prices on offer, all postage is free of charge on this part of the site.
Conclusion
Any gardener looking to advance their plants, vegetables, fruit or anything else that's grown would be crazy not to consider a greenhouse. The buildings give gardening fanatics control over the climate that plants are grown inside - something that can be very helpful during winter months.
eBay is one of the best places to find greenhouses online and offers one of the largest collections anywhere. Once buyers have chosen an item, they are reminded to complete the transaction using PayPal, so that it goes through as safely and securely as possible.