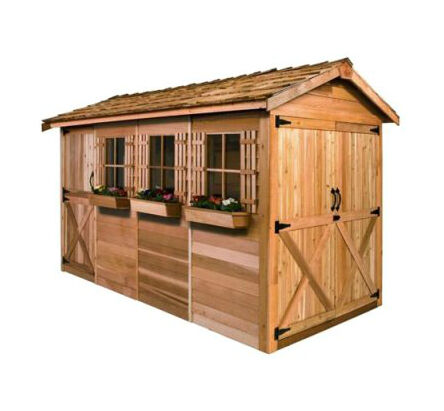 A shed is the perfect place to store all of your outdoor products, such as lawn mowers, garden tools and bikes, out of the rain and protected from direct sunlight.
Sheds come in many different styles, shapes and sizes to suit any and every need. Sheds also come in a variety of materials and colours to cater for the differences in individual taste and specific requirements.
The purpose of this guide is to inform the reader all about used sheds, and to explain how to purchase them safely and efficiently from renowned auction-based website, eBay.
Sheds
A shed is a simple single-storey structure for the garden or allotment. Sheds can be used for storage purposes, hobbies or as a workshop. These small structures are also ideal for housing hazardous materials that should not be stored inside the home such as, petrol, diesel, pesticides and herbicides.
Sheds come in all shapes and sizes, from small tin-roofed structures to large wooden-framed sheds with windows, electrical outlets and other modern luxuries. Sheds can be bought pre-assembled or in kit form for you to assemble yourself.
Types of Sheds
Sheds can often be categorised into different types by their intended use, i.e. a garden shed is located in the garden and is typically for storing gardening tools and other miscellaneous equipment (soil, pots, plant feed, fertiliser etc.).
A bike shed, on the other hand, is specifically designed to store and protect bicycles. Also known as 'bicycle' sheds, these structures often contain a framework on which bikes can be supported and secured. Bike sheds often have locking doors and thicker walls than most other shed types.
Another type of shed is a workshop shed. This style of shed is ideal place for a workbench, storing large tools and equipment, such as ride on lawn mowers and tractors. Workshop sheds typically offer easy access by way ofdouble doors, a sliding door or multiple doors.
Besides their purpose, sheds can be further categorised by their style:
Apex Shed
These sheds are named after their apex roof, which slopes upwards from either side to a single ridge along the middle. The apex shed type is the generally the most common due to the fact that short timbers support the roof, unlike in other shed types.
Pent Shed
Pent sheds have a single sloped roof where the front eaves are higher than those at the back, encouraging rainwater to run off. The large amount of space and headroom at the front of these shed types makes them ideal for using as a workshop.
Hot House Shed
Hot house sheds are similar to greenhouses in that they are typically transparent, (or semi-transparent) allowing flowers and plants maximum light, providing perfect conditions for them to grow.
Many of these shed types are made from versatile and durable materials like Polycarbonate, which is light, strong and weather resistant. Hot house sheds typically feature sliding doors (often at both ends), guttering and air vents to allow plenty of ventilation to the growing vegetation.
Shed Materials
Sheds can be made from a wide range of materials, from metals such as iron or steel to woods like Cedar. Below outlines just some of considerations surrounding the three most common materials used to make sheds:
Metal Sheds: Versatile, durable and fire resistant, these shed types are great for long-term strength and longevity. Some metal sheds may rust over time, especially if they are made from steel that is not galvanised. A good metal shed should have thick walls, as some sheds can be easily misshaped by denting or damaging the walls.
Wooden Sheds: Great-looking in appearance, strong and sturdy, wooden sheds are one of the most popular types of shed worldwide. Wooden sheds, however, require a fair amount of maintenance, as they need regular staining and preservatives applied to prevent damage occurring to the wood by rain, fungi, insects and the sun. The greatest feature about wooden sheds is that they can be easily modified (i.e. put another window or door in, hang hooks or shelves etc.), as wood can be cut and drilled easily, using most traditional and widely available tools.
Plastic Sheds: Affordable, lighter and stronger than their wooden counterparts, these sheds often feature UV-resistant plastics that increase the shed's durability greatly. Unlike other shed types, plastic sheds are rot-proof, meaning they don't need coating in a preservative.
How to Buy a Used Shed on eBay
The choice of used sheds online outnumber those that can be found on the high street greatly, and numerous amounts can be reviewed and analysed alongside each other, aligned with the buyer's individual requirements and preferences. In this sense, eBay is excellent for presenting a quick and easy route into searching for used sheds on the Internet.
For the most successful purchase, use the following advice for efficient and safe shopping on eBay:
Search: In order to start a search on the website, enter 'shed' into the search toolbar. Then, using the menu on the left-hand side of the screen, select 'Home & Garden' followed by 'Gardening'. Then, should the option be available, click 'Garden Sheds'. To narrow the search results down to only used sheds, tick the 'Used' box under the category "Condition".
Brand: Some people may have a favourite manufacturer or brand when it comes to outdoor products. Should this be the case, eBay stocks an extensive range of sheds made by reputable manufacturers, such as Absco, Colourbond, Yardsaver and Qiq Fix, to name only a few.
Shop Safely: For the most successful purchase, always read the product description thoroughly (so that you know exactly what is being purchased), and review the postage details and payment options prior to purchase. And remember, it's always possible to contact the seller if you are unsure about any part of the transaction. This function can also be used if you would like to ask the seller a question about the item, or would simply like more information about the product in question.
eBay Deals: Don't forget to check out the latest deals on sheds by looking in the 'Backyard' section of the 'Outdoor and Travel' sections. Some fantastic discounts can be found here along with free postage costs.
Use PayPal: PayPal offers one of the safest ways to pay for goods online. PayPal allows buyers to send payments quickly and safely online using a credit card, debit card or bank account.
eBay accepts a range of payment methods, although PayPal is generally considered the easiest and most secure method of payment, as the 'Buyer Protection Programme' will cover the transaction. For more information about PayPal please visit the 'About PayPal' section on the website.
Conclusion
There are often many issues to consider and factors to take into account when purchasing a used shed. However, with the important information and crucial considerations outlined in this guide, coupled with eBay's highly detailed and user friendly website, buying a used shed is quick, easy and painless.
Buying on eBay should be considered not only due to the potential of finding a good deal, but due to the extensive choice of used sheds that the website presents.
Remember to always keep your personal information and banking details safe and secure by using payment authority, PayPal to complete transactions between yourself and the seller.