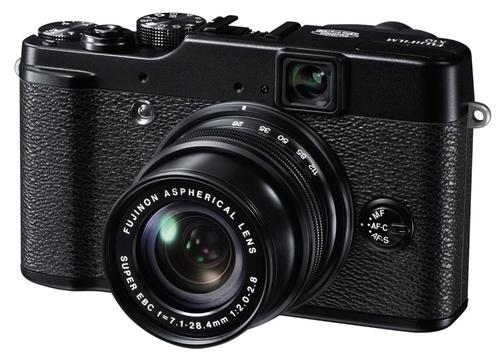 Fuji is a leading name in the world of photography. They create cameras for all types of budgets and skill levels. Those looking to pick up a new digital camera will want to cast an eye over the Fuji X10, a classic rangefinder camera with a retro look. When looking to buy a camera there are plenty of online retailers to choose from, but none offer better value than eBay, Australia's leading online marketplace.
Build
The Fuji X10 has a thick black exterior, which is intended to withstand general scratches and bumps. It has a retro style that matches up well with the leatherette finish, which wraps around the middle of the device. This also helps provide the camera with a firm grip.
Keeping to the cameras style, the controls for the device are laid out in a modern yet traditional way. Thick metal dials at the top of the camera help control exposure and compensation modes, with the shutter release trigger located in between them. The rear of the camera is where the model is at its most contemporary, with four directional controls and a 2.8" LCD screen, it makes getting the most out of this retro infused device simple.
Performance
Details are the key when it comes to the Fuji X10, as images come out rich no matter the ISO setting used. Noise is kept under control, meaning that even at high shutter speeds it will never have a distinguishable effect on the outcome of an image.
The EXR mode also stands to improve image quality when pictures are taken in certain environments. The low-light EXR mode aids photographs that are being taken in dark conditions. When this is partnered with Fuji's Dynamic Range mode, it does an excellent job of retaining detail in unstable lighting environments.
Features
Fuji has also stuck with tradition when it comes to the Fuji X10 by including a variety of film simulation modes. This means that even in the advent of new technology the camera can still produce classic and vintage looking images. The three settings are Velvia, Astia and Provia, and they do their best to recreate classic Fuji styles and are applicable for use in most light conditions.
The Fuji X10 has a unique feature in the fact that the device does not have a power switch. In order to wake the device from standby mode all photographers need to do is rotate the zoom ring or hold the play button. In the same sense the flash-up button is hidden, but by default the camera has it set to automatic. In order to put it into a "forced on" mode, the settings menu needs to be accessed.
Data
The Fuji X10 may look like a 1970s model on the outside, but at its heart it is a fully-fledged modern day point and shoot camera. This means that it is capable of handling a constant flow of data and various image formats. Each image taken takes up 3MB of space (in JPG format). Should the user choose to up the resolution then the image will take up 5MB or more.
Like the Fuji X100, the Fuji X10 is capable of handling a variety of different flash memory options. However it isn't capable of naming memory devices, so that still needs to be done on a computer prior to use.
Accessories
The Fuji X10 is a versatile device, which on its own can deliver a quality photographic experience. However, there are plenty of ways to further such experience. Shoppers can try utilising Fuji's range of officially endorsed accessories.
· Lens Hood LH-X10
· Shoe Mount Flash EF-X20
· Shoe Mount Flash EF-42
· Shoe Mount Flash EF-20
· Leather Case LC-X10
· Battery Charger BC-45W
· DC Coupler CP-50
· Li-ion Battery NP-50
· AC Power Adapter AC-5VX
· AV Cable AV-C1
The above accessories are all officially endorsed by Fuji and purposely built for the X10 model.
How to Buy A Fuji X10 Camera on eBay
After looking at the information in this guide and deciding that the Fuji X10 is the right camera for your needs, shoppers will want to make sure that they get it at an affordable price. To locate the right priced Fuji X10, log on to eBay's homepage and select theCameras and Photography portal andDigital Cameras sub-portal. It may also be worth using the keyword and advanced search options, in order to get more focused search results. Simply type in a key phrase (i.e. Fuji X10) and hit return to see all related auctions.
Digital cameras can be expensive and in most instances are long-term investments. It is up to shoppers to protect themselves and they can do this in a variety of ways. Always choose to use an insured courier delivery service and put through payment with PayPal. This will result in the item being covered, even if something happens to the order during transit.
Conclusion
The Fuji X10 camera utilises Fuji's classic camera design, and partners it with impressive internal specifications. It is a vintage looking model, with all the modern touches that make it an impressive point and shoot camera. The market for cameras is highly competitive, but eBay has made finding the Fuji X10 at an affordable price easy.