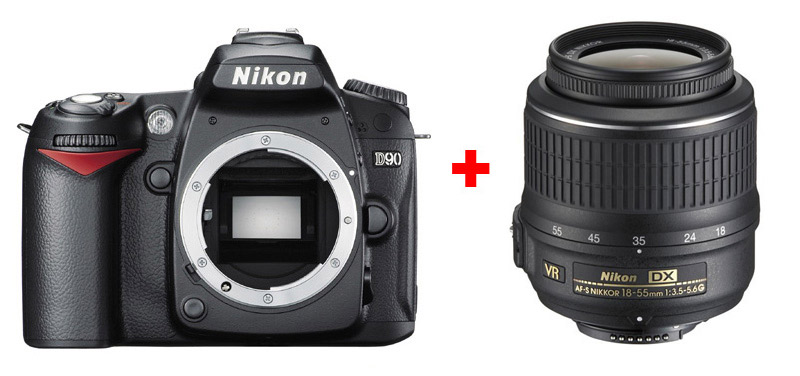 The Nikon D90 is a 'prosumer' 12.3 megapixel DSLR designed to fit between entry-level and professional DSLR models. It made history in the digital SLR world for being the first DSLR to include high definition video capabilities. This guide will cover the technical specifications, handling and operational specifications and other notable features of the Nikon D90 , ending with how to buy the camera on eBay.
Technical Specifications
The table below is a list of the technical specifications of the Nikon D90 which can have a direct impact on the camera's performance, power and abilities:
Features

Nikon Coolpix P510

Resolution

12.3 MP

Processor

Expeed

Sensor Type

CMOS

Sensor Size

23.6 x 15.8 mm with 12.9 million total pixels.

Kit Lens

5.80 x zoom 18-105 mm (27-158 mm equivalent).

Viewfinder/Screen

Eye-level pentaprism SLR, 3" TFT-LCD with 920,000 pixels

ISO

200-3200 (expands to 100-6400)

Shutter Speeds

1/4,000-30 with Bulb

Aperture

f3.5 Max

Metering

Matrix, centre-weighted and Spot

White Balance

Auto, 12 manual modes with fine tuning, pre-set modes

Flash

Built-in, auto pop-up with six modes including slow sync

Self-Timer

2, 5, 10 and 20 second durations

Memory And Storage

SD memory cards, compatible with SDHC memory cards; DCF 2.0, DPOF, Exif 2.1 and PictBridge file systems

Power

Rechargeable Li-ion Battery EN-EL3e

Connectivity

Hi-Speed USB; HDMI connector with camera monitor turning off when connected.

Optional terminals: Remote Cord MC-DC2; GPSUnitGP-1

Videography

Full HD 720p in AVI format, compressed to Motion-JPEG. Mono sound. Resolutions: 1,280 x 720 (24 fps), 640 x 424 (24 fps), 320 x 216 (24 fps)

Audio Video Output

NTSC; PAL; simultaneous playback from audio video output and on LCD monitor

Tripod Socket

1/4 inch ISO1222
Handling and Operational Specifications
The following specifications address specifications that can affect the handling and operation of the Nikon D90, including its design elements:
Weight (without battery, memory card, monitor cover or body cap): 620g (1.3lbs).
Dimensions : 5.2 x 4.1 x 3.0" (13.2 x 10.3 x 7.7 cm).
Body : quality plastic body with metal chassis and rubberised grip in key places such as the hand grip, the rear of the camera for the thumb and on left side of rear. Robust feel in hands, without feeling too heavy or too fragile.
Layout : logical, ergonomic button placement with intuitive layout of controls for natural operation.
Notable Features
The following bullet points address the notable features of the Nikon D90:
· Newly designed Nikon DX-format CMOS image sensor with 12.3 MP and Integrated Dust Reduction System.
· World's first DSLR with movie function: D-movie, selectable in a range of resolutions in AVI format.
· Scene Recognition System uses a 420-pixel RGB sensor to improve autofocus, auto exposure, and auto white balance and incorporates the new Face Detection System.
· Live View with contract-detection priority auto focus and face detection using high-density colour LCD with a 170o ultra-wide viewing angle.
· Advanced Scene Modes that automatically adjust settings for exposure, image processing, Active D-Lighting for smooth tone reproduction in high-contrast lighting, and Picture Control.
· Multi-CAM 1000 autofocus sensor module with 3D tracking for 11 points of Auto Focus and illuminated focus points for fast and precise autofocus coverage.
· Extensive in-camera Retouch Menus including RAW development, Distortion control, Straighten and Fisheye. Also includes in-camera vignetting control.
· 4.5 frames per second continuous shooting with a quick start-up response of 0.15 seconds including short viewfinder blackout time and shutter lag.
· Built-in flash with 18mm lens coverage. Includes Nikon's original i-TTL flash control for Advanced Wireless Lighting.
· Energy saving design allowing for approximately 850 images on a single charge, with 50% of pictures taken with flash. An optional Multi-Power Battery Pack MB-D80 which extends the shooting capability (uses six R6/AA-size batteries)
· Pictmotion menu creates slideshows that include five choices for background music and image effects. Optional photo-editing software Capture NX 2 allows for easy photo editing.
· Included Nikon ViewNX software with 72 thumbnail and calendar view in playback when browsing through and organising images.
How to Buy the Nikon D90 on eBay
Buy from eBay's large range of Nikon cameras and DSLRs with the following steps:
· Using the search bar at the top of the screen, type in 'Nikon D90' and browse the listings. It may help to narrow down the listings by selecting ' Digital Cameras' on the left hand side.
· From there, type in 'Nikon D90' into the search bar as before, or use the sub-categories such as 'Format', 'Type', 'Brand', 'Optical Zoom', 'Condition' and 'Price' on the left to narrow down the results.
· Ensure the sale is genuine by reading the seller's product description carefully, paying attention to any pictures they provide and asking questions if need be. Use the ratings next to their name on the right of the screen to determine if they have a good reputation and are reliable.
· It may also be possible to shop for the Nikon D90 in eBay's recommended deals section. Go to the top of the eBay page and select the Electronics tab and choose Cameras to browse deals.
Conclusion
Designed to appeal to the broadest possible audience of any Nikon SLR, the Nikon D90 is ideal for both first-time customers moving up from compact cameras to serious amateur photographers wanting photographic control and quality without a heavy price tag. Whilst making an informed decision is made simpler by perusing this guide, buying the Nikon D90 on eBay is made easier with a few simple steps.