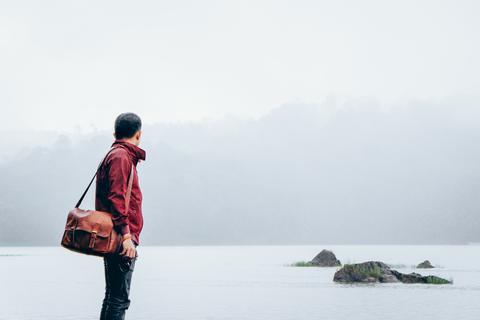 The right leather bag should be a perfect blend of form and function. It should not only help you organise your essentials, it should also make you look great.

One type of bag that easily blends them both is the messenger bag. Its size and shape makes it very versatile, and it mixes perfectly with your formal and casual outfits.
What makes them so great?
Convenience: Messenger bags are more convenient compared to other types of bags. They are designed to let you easily access the pockets while the having the bag on your shoulder.

Luggage Safety: The extension strap on the messenger bag lets you keep your luggage secure and safe.

Versatile: Most messenger bags come with additional straps so you can carry them in a variety of ways. You can carry them by hand or on your shoulders. This is especially great when you're hiking or riding a bike.

Organisation: The messenger bag's rectangular shape and multiple pockets makes it easy to store your essentials. They can easily fit laptops, tablets, notes, magazines, books, smartphones, and anything you need to carry around.

Style: Messenger bags are stylish. They can be used for formal and casual occasions.

What to look for in messenger bags?
Size: While bigger bags will let you carry items of different sizes, like laptops, books, and folders, it can be cumbersome for cyclists. Make sure you choose just the right size for your specific needs.

Colour: Messenger bags come in a wide variety of colours. Although this is a matter of personal preference, choosing a colour that goes with your wardrobe will help with your style.

The length of the strap: Stay away from messenger bag's with non-adjustable straps. While you can get away with non-adjustable straps for other bags, messenger bags are different. You will need to adjust a messenger bag's strap according to different situations like walking, sitting, or riding a bike.

Pockets: Not all messenger bags come with the same number and style of pockets. Some are designed with compartments for every item you can think of; while others have a more minimalistic design. Do you want a space for your water bottle? Do you need a bigger space for your laptop? You must consider these things before choosing the right messenger bag for you.

Hardware: Aside from quality material, your messenger bag should come with quality hardware. When you're on the move, your valuables should stay secure. Check your bag's hardware like zippers, metal fastenings, and clippings. You want to avoid the inconvenience of having a malfunction or jam while you're on the move.
Types of materials:
Leather:
Full grain leather is topnotch material for messenger bags. It is very durable. and with proper care, should last you a lifetime. There's a wide array of styles you can choose from. Its sleek and elegant look can complement formal look, casual look, or anything in between.
Canvas:
The main advantage of canvas bags is that it is very rugged and can take a beating out of every day use. It is the ideal material to take on your daily commute. If you choose canvas, make sure you get the weather-proof one.
Nylon:
Nylon messenger bags are among the cheapest ones you can find. But they are ideal for use during rainy weather. They are lightweight, making them easy to carry. They are vulnerable to damage caused by moisture,so they need to be dried in case they get wet.
To check out our line of messenger bags, visit our
eBay store here...