Do you have new or second-hand curtains to sell on eBay? This guide unveils fifteen success tips from an experienced seller and bidder.
I first sold curtains on eBay in 2005 when I moved house and needed to quickly recreate a whole new look on a budget. My children had also outgrown their nursery curtains and wanted different styles.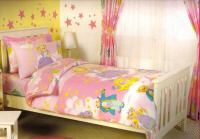 Initially, I was amazed just how many people there are out there looking for curtains on e-bay. Of course, it makes sense. Curtains are fast way to transform a room or an office. Professionals and students frequently move house, and babies quickly grow into children with new tastes then teens with favourite fads. We might not have the time or experience to sew our own curtains -- or I could be looking for a particular shade, logo or retro pattern that's just not available in our local stores.
Buying online allows us to see a range of options at affordable prices.
So, before you click "list it now", here is a quick checklist to help you draw more bids for your curtains.
1. Sell, don't just list. For example, when I sold some second-hand organza curtains last year, I was able to recoup close to what I had first paid for them by describing the benefits they bring. eg: "Create a dreamy ambience in any room with these sheer rainbow curtains. The material catches the sunlight outside, creating extra light and beautiful tones, while still providing privacy from the outside world."
2. Describe the window size, not just the size of the curtains. Curtains are not something we buy every day, and it feels scary to sit there trying to figure out what 240x213 means. So help your buyer feel more confident by including statements like "This pair of curtains will cover a window of up to 2 metres wide, and 1.5 metres high".
3. Show your curtains at their best. Make sure there are no obvious creases showing in the photograph. Hang the curtains on one of your existing curtain rods around the house, to ensure they're seen at their best. Better still, take a close-up photograph of the image on the curtain packet. Photograph the curtains in a well lit place inside, rather than outside on the clothesline, where buyers might get the impression that their curtain has been trailing on the grass somewhere.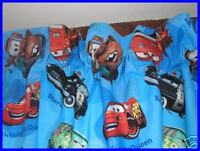 4. Show the pattern as closely as possible. Include a close-up photograph of the pattern and fabric. Remember, buyers are used to selecting curtains in a store where they can touch and closely see the material -- so you need to increase their confidence by showing as much detail as possible. Here's a handy guide on taking great eBay pictures.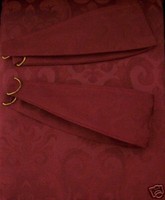 5. Make sure the photo matches the actual colour of the product. Sometimes there are listings which, when you read the text, emphasise that the curtain is a different colour from the one shown in the packet. Remember that people take in 90% of information visually, so buyers will reasonably assume they are getting what they see in the picture. This can lead to a disappointed buyer, poor rating and far fewer bids as we're not quite sure what we're bidding on.
6. Clearly state whether the curtains are ready to hang, and rod-pocket, tab top or pencil pleat. Provide extra information about what this means. (eg: "These curtains have the pencil pleat tape already sewn at the back, ready for you to simply add hooks and hang on a curtain track". OR "Simply slide your curtain rod through the tabs at the top of the curtain.")
7. Clearly and accurately describe the condition. Buyers are usually not as familiar with e-bay as you are as a seller. They might only shop online a few times a year. So spell out everything -- for example: don't just right BNIP. But take the extra few minutes to write brand new in packet. If there are marks or pin-pricks, no matter how small, do mention them. This increases the trust that the buyer has in you.
8. Sell your strengths. Always mention the following facts if they're true, as they are attractive to sellers: official licenced product; non-smoking home; brand new in packet; as new condition; thread count/linen quality.
9. Always write in lowercase (not CAPITALS). Capitals are harder for the human eye to read (we're trained to read in sentence case), and it also sounds like you are shouting at your customer.
10. In your item description avoid using exclamation marks, different coloured fonts, italics, flashing or flowery text, brightly coloured backgrounds etc. Clear, simple text is professional and easy to read.
11. Always include a gallery picture. Buyers skim the page looking for colours and patterns, and are far more likely to click-through to your item when they can quickly see what's on offer.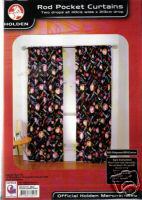 12. Include a clear colour description, as well as the fancy name. This makes it much faster for buyers to find the shade they're looking for. eg: "The colour of these curtains is Russett -- which is a lovely deep, warm shade of red tinged with orange".
13. Keep the postage price reasonable. Buyers prefer to pay for the goods, not the postage. Set the starting bid at a figure you'd be comfortable to sell for, rather than trying to make extra in postage and handling. Visit the eBay postal centre.
14. Include the postage price, including a registered post option. Many people don't have the time to ask a question and wait for the reply -- include this information in the original listing. eg: Australia-wide $7.50. Do check and estimate your postage carefully before listing, so you're not out of pocket -- remember to think about what it will cost you for a satchel and any packaging. You can make many estimates using the links at eBay's postal centre.
15. Offer PayPal payment option. As a buyer, this gives me far greater peace of mind so I'm more likely to bid. As a seller, payment is often much faster -- I was paid within minutes of selling two sets of curtains last year. See the postage and payment section on eBay's sellers guide.
Finally, if you're considering going into business making and selling curtains, I've noticed that there's a gap in the market. Most of the pre-packaged curtains are for drops of 213 or more. You could test the market with ready to hang curtains in solid fashionable colours (eg: creme, chocolate, deep pink etc) of drops of around 170. Better still -- visit a window retailer and find out what the most popular window sizes are for new homes -- then make to that size.
Pinch-pleat might be worth a try too, as most of the pre-packaged curtains on offer are tab top.
Simple, matching quilt/doona covers could make a great set and increase the bidding price.
If you're making to sell on eBay, test the waters with as small investment as possible as the above points are merely my obversations as a buyer. Use the selling tips to maximise your listing -- particularly describing the window size, not just the size of the curtain material.
Finally, search curtains on eBay to see what's on offer right now.