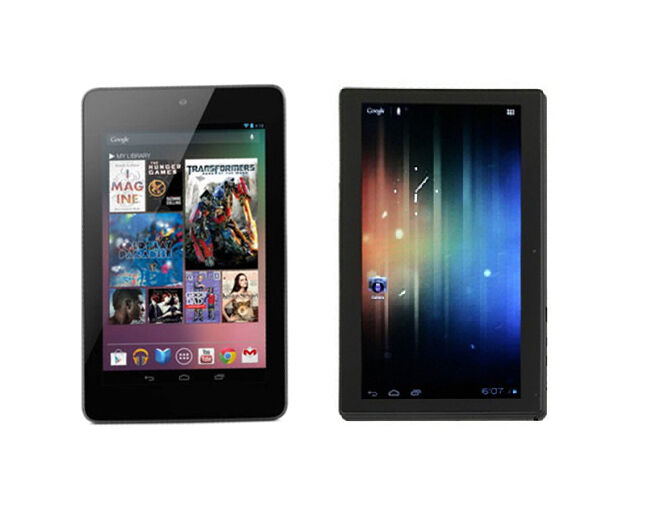 The Zenithink C94 and the Google Nexus are two types of tablet computer currently available to buy. There is a very large market for tablet devices and people often find it difficult to choose one over another. The following guide shall examine the specifications and features of the aforementioned tablets, and will explain how buyers can find suitable models of each device on eBay.
Choosing a Tablet
Most people believe that all tablet computers are essentially the same and do the same things. This is not true, and investigation reveals that different tablets are suitable for different intentions. Some devices are made for entertainment purposes and are equipped with the ability to play a vast amount of media files, and such tablets are designed with high screen resolution to give the user the clearest quality. Other devices are more suitable for organisation and work related activities such as reviewing documents or conducting online meetings.
The best way to find a suitable tablet is to first work out what exactly the device will be used for. Buyers should also consider by whom the tablet will be used by, as some tablets are better suited for family use than others.
Buyers that understand what they want and need from a device will find it much easier when it comes to selecting one device rather than another. It is also recommended that buyers read reviews of any device they are considering buying as this will give them a good idea of the device's quality and performance.
| | | |
| --- | --- | --- |
| | Zenithink C94 | Google Nexus |
| Specs | The Zenithink C94 is a multi-touch tablet that has a 10.1" display screen with a 1020 x 600 pixel resolution. The dimensions of the device are 252 x 165 11.9mm and it weighs approximately 585g. The Zenithink C94 is available with three different memory storage sizes. These are 8GB, 16GB and 32GB. The tablet comes equipped with a USB port, a 3.5mm headphone jack, a TF port, built-in Ethernet, and a HDMI output to allow users to connect the device to a television or computer screen. Both the front and rear camera are 2-megapixels in image quality, and the tablet supports 3gp with audio video recording. The device uses Google's Android operating system and runs on a 1.0GHz AllWinner Quad Core processor. | The dimensions of the multi-touch Google Nexus tablet are 114 x 8.7 x 200mm, and it weighs 290g. The Nexus' screen is smaller than the Zenithink C94 and is 7" in size, with 323 pixels per inch. The device possesses a 5-megapixel rear camera and a 1.2-megapixel front camera. Buyers can choose from a 16GB or 32GB model, and the tablet runs on the Google Android operating system and uses the SnapDragon S4 processor at speeds of 1.5GHz. The device is equipped with microUSB, a 3.5mm headphone jack, a microphone and power and volume buttons. |
| Features | When the Zenithink C94 is in use it has a battery life of six hours. The device supports playback of the following audio formats HE-ACC, ACC, MP3, MP3 VBR, 3gpp, WMA and WAV. Video formats supported are 1080 MP4, 1080P AVI, 1080P MKV, 1080P 3GP and RMVB. The tablet has a viewer program for use with Microsoft Word, Office, Excel, PowerPoint, Image and PDF files. | The battery of this device allows for up to nine hours of continuous use. The device can support playback of a number of different media files including MP3, WAV, eACC and WMA. Video media formats supported by the tablet include MP4 and H.264. The device is equipped with a document viewer similar to that found on the Zenithink C94. Online features found on this device include Google Search, Google Maps, Gmail, Youtube, Google Talk and Picasso. |
Buyers will notice that in terms of performance and features both devices are quite similarly matched. However, the Zenithink C94 is definitely more suitable for professionals looking for a device to assist with everyday living, while the Nexus is ideal for those looking for an entertainment device with decent web browsing capabilities.
Searching for Tablet Computers on eBay
eBay is an ideal place to search for tablet computers and buyers will find a large selection to choose from. Products sold on eBay are typically lower in price than those sold in stores or on specialist websites, so buyers will be guaranteed excellent value for money.
· On the following page, scroll down and click on the iPads, Tablets & eReaders link found halfway down the list.
· When the listing page has loaded, buyers should click on the Android filter under the Operating System heading, and then enter the name of the desired tablet computer into the search bar.
Buyers can search for used tablets by clicking on the appropriate box under the Condition heading, and all buyers should visit the Tablet section in the Electronics tab in eBay Deals before making a purchase as they may find their desired tablet for sale at a reduced price.
Conclusion
The Zenithink C94 and the Google Nexus are both well-designed tablets that offer the user plenty of features and good value for money. However, through investigation of technical specifications and functions it becomes apparent that the Nexus is the better entertainment device of the two, while the C94 is more suited for use reviewing work.
Buyers should look for their preferred tablet computer on eBay as the site has a large selection of new and used devices for sale at very reasonable prices.