Most artificial plants (also referred to as silk plants) are made for indoor use.
There's some plants available for outdoor use and they are usually made from a plastic material
that's more UV resistant then the usual polyester fabric plants.
The range available is from about 30cm in height to 3 meters tall.
Some styles can be made to size, like the bamboo trees on natural stems. Natural bamboo canes are placed in a pot and then artificial bamboo leaves are fixed to these stems by drilling holes and glueing the branches in.
One of our best selling products is a grass tree head ( formally known as blackboys), this is the green part
that sits on top of the black stem. many people have this item in their house but the top green part has deteriorated over the years and it can be easily and cheaply replaced now.
Growum Holdings has been in the artificial plant business for 25 years, we can supply many varieties of plants.
as an importer we stock large numbers of most items as a lot of our products are used in commercial situations like shopping centres, clubs, restaurants etc.
Many private customers buy artificial plants to decorate their homes to get the decorator look and if selling a property plants can make the difference to give the home a warm welcoming look.
Have a look through our store to see what's available, you'll be surprised how many varieties are available at a very reasonable price.
The "hot" new trend is for vertical gardens. We stock a large range of hanging bushes that are suited for this application. Because of their light weight and ease of display artificial plants are an ideal alternative to real plants which need a very complex watering system in vertical gardens.

There's quite a few different plants available:
flowering plants including Canna lilies, Spathiphyllums etc
hanging bushes in baskets like Geraniums, Fuchsias, English Ivy, Boston ferns etc
plastic plants including Yucca's, Agaves, Cycads, Palms, Mother in laws tongue, grasses etc
trees like Palm trees, Bamboo trees, Totems, Scheffleras etc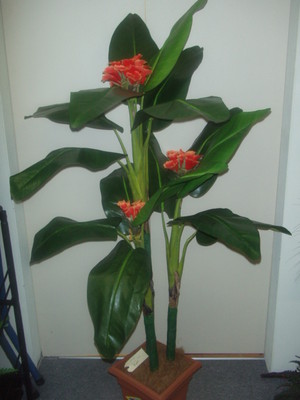 150cm Canna lily pictured
Enjoy your shopping in my store
http://stores.ebay.com.au/ARTIFICIAL-TREES-AND-PLANTS?_rdc=1