You don't want to miss out on that big concert or footy game that's coming to your city. It's an international act or big game and the event has sold out. Your friends have tickets and you want to go. Often, the only place you can get tickets is on eBay. This guide will hopefully show you how not to get ripped off and to buy tickets safely.
Follow these 10 easy steps to safely purchase tickets and enjoy that experience you thought you'd miss out on.
For Buyers
1. Budget - Decide within yourself or discuss with your partner how much money you're willing to spend to buy your tickets. Tickets to sold out events are usually a lot more expensive than if you were to buy them originally as demand for them has increased. Make sure you take this into account and aren't too unrealistic.
2. Decide where you want to sit - Visit the ticketing agents website (e.g. Ticketmaster or Ticketek) and check out the seating plan for the event you want to go to, or view it in the listing (if it's been including). Decide where it is you want to sit and then you can use this effectively in your search. Make sure you've got the terms right as these are usually concert specific. Some concerts might be "general admission" where as others might be "gold standing."
3. Look around - Do a search for a combination of keywords to find all of the available tickets you can to that event. Make sure you include the city the event is in, otherwise you might end up buying tickets to a different state! (e.g. "robbie williams perth") Then, you can refine your search to include where you want to sit (e.g. "robbie williams perth oval a")
Also consider doing a search of "Completed Items" to see what price these tickets are generally selling for so that you don't get ripped off. This is done just by doing a normal search, then on the left-hand-side ticking the "Completed Items" box and clicking "Show Items."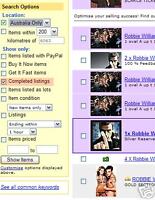 4. Search for Buy It Now items - Often ticket buyers will bid on auctions for tickets hoping to get a cheap deal. Most of the time, ticket auctions end up costing more than if you were to buy tickets using Buy It Now. Using your budget, search for Buy It Now tickets (by ticking the box as shown below) in your price range and look for the cheapest. If you're absolutely sure that's where you're wanting to sit/stand, grab them while you can.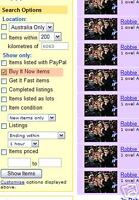 5. Check out who your seller is - Look at your sellers information. This is displayed in top right-hand-corner of the listing. Look at their feedback score by clicking on it. Every person who buys or sells something to a user leaves feedback about the transaction.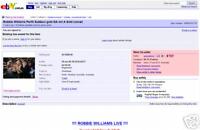 The higher their "Feedback Score", the more experience they have on eBay. Though, you must also take into consideration their "Positive Rating." This is the percentage of feedback which has been positive. 100% is the best and be skeptical of anything below 95%. Obviously, the higher the feedback score, the higher the positive rating needs to be, otherwise it means they have had more negative feedback.
An example of this is a person who has a Feedback Score of 100 and a Positive Rating of 99% has had 1 negative feedback left against them, whereas a person with a Feedback Score of 1000 and a Positive Rating of 99% has had 10 people leave negative feedback against them.
The feedback comments give you an indication of previous buyers experiences with the user and this will give you a good idea of how you're most likely to be dealt with.
Ever since the initiative of "Electronic Tickets" being introduced by ticketing vendors, some sellers have taken advantage of this by registering new eBay usernames and selling electronic tickets more than once, with the purpose of ripping off the buyer. Ensure you check your sellers feedback thoroughly and only buy concert tickets (especially if they are high in price) from an experienced seller with a high amount of positive feedback (99.9% or more).

6. Check what form the tickets are in - This is very important. You need to find out whether your tickets are:
Standard, physical tickets (like you buy from a ticketing agent)
Ticketfast/ezyticket electronic tickets (more information can be found at http://www.ticketmaster.com.au/h/ticketfast.html or http://premier.ticketek.com.au/Content/Help/faqs.aspx)

Ensure the buyer has the tickets in their possession and that they aren't waiting for them to arrive before sending them to you.
Ticketfast/ezyticket tickets are printed by the buyer on their printer. They're perfectly safe, though you need to find out if the person is sending you tickets on plain paper, or whether they are actual tickets. Alternatively, with the Ticketfast technology, you can be sent a .PDF file from the seller which contains the tickets that you can print out yourself. Beware though, as if the seller has kept the .PDF and prints the tickets for themselves, then they go to the concert / game, you will be unable to get in if they beat you to the gate.
The importance of finding out what form the tickets are in, or if the seller even has them in their possession yet will alter how positive your experience is and stop you from being surprised in the event it's not what you expected.
7. Buy at the right time - Don't buy tickets if they don't have PLENTY of time to arrive before the event. Make sure that you're not buying tickets for a concert that's on this Saturday on a Thursday afternoon. Give plenty of time to get the finer details sorted out, arrange payment and wait for it to clear. The last thing you want to do is pay hundreds of dollars for tickets and then not receive them in time.
8. Don't get ripped off with POSTAGE! - Postage is something which many eBay users make a lot of money on. Ensure that you're not getting ripped off for postage. Remember, tickets are just documents / pieces of paper. They don't cost much to send.
For regular mail, it'll cost 50c from anywhere in Australia plus the cost of an envelope.
For Express Post, it shouldn't cost more than $5.00 from anywhere in Australia as you're being sent documents only.
For Registered Post, you're looking at the cost of a normal stamp plus $2.50 (and any insurance is additional $1.10 per $100).
I'd recommend always requesting that your tickets get sent via Registered Post. This is the only insured and secure postal option which will ensure your tickets reach you safely. Normal Registered Post is insured for up to $100. For each additional $100 the cost is $1.10. For example, if your tickets cost you $700, you should ask that they are insured up to $700 which would cost $7.70 + $2.50 (Registered Post cost) + Normal Stamp ($0.50).
If you're going to pick up your tickets in person, always make sure you have the right amount of money in cash and always take someone else with you for your safety and to witness any money changing hands.
9. Choose the best payment option - If you've got access to many payment options, pick which one is best for you. Make sure you pay close attention to the sellers payment instructions and ONLY use a payment option that they have said they accept.
PayPal - PayPal is run by eBay and is an instant payment system. You can pay through PayPal using your credit card or funds you already have in your PayPal account. You can transfer money from your statement / savings accounts to your PayPal account though this takes 2-3 Business Days. Your payment appears INSTANTLY the destination account meaning you'll get your item sooner.
A big bonus about PayPal is that it has Buyer Protection, where purchases made using PayPal are protected up to $1000 should your item not arrive or your seller rip you off.
Direct Bank Deposit - When you've bought your item, if you're paying by Direct Bank Deposit from and to any bank account in Australia, you'll be presented with the bank account details of the seller. Take these details and use them to make payment either via Internet Banking or at a Bank Branch. It usually takes 24-48 hours for funds to appear in the destination account unless it's from the same bank.
Money Order - If your seller allows Money Order as a payment option and you wish to use it, I'd recommend sending the money order to their postal address (you might have to request it) using Registered Post. This guarentees that your money order has reached them and they have signed for it and gives you peace of mind. Money Orders cost a small fee and can be purchased from your local Australia Post outlet.
10. Buy your tickets and enjoy the event! - If all else fails, use the "Ask this seller a question" link at the top right-hand-corner of the listing to clarify anything with the buyer.
This guide looks like the process is really daunting, but really it isn't. It's quick and effective and often, it'll be less-complicated than buying tickets through a ticketing outlet.
Most sellers are willing to go out on a limb to deliver good service to you and in return, buyers should do everything they can to make payment quickly and communicate well with sellers. If you do these things, the experience will be positive for both of you and you'll get your item quickly and be able to enjoy it.
BEWARE! Only buy tickets on eBay if you're sure they're legal, legit and within the terms and conditions set out by the vendor. Tickets which break the terms and conditions of the vendor may be cancelled without notice to the buyer and in turn, could mean you rock up and don't have a seat.