A COLLECTOR'S GUIDE TO EBAYANA, CONTINUED:
THESE ARE A FEW OF MY FAVORITE THINGS, PART 2
I have often been asked about my eBayana collection, so I have decided to write a guide that will tell you about some (more) of my favorite things. Please bear in mind that my collection includes not only actual eBay-licensed merchandise but also items created as an homage to eBay AND items that come in all four primary eBay colors: red, blue, yellow, and green. In fact, for the purposes of this guide, when I refer to eBay colors, those are the four I mean.
In Part 1 of this guide, we investigated the BATHROOM and BEDROOM. Now let's find out what's in the LIVING ROOM? or would be, if we had enough space...
First, we'll stop by the bar to pour an adult libation. It's right here under the
ONE ENCHANTED EVENING PRESENTED BY EBAY banner from Voices member usakat

No, don't open the eBay Champagne! That bottle of eBay Sparkling Wine was given out by eBay Germany (ebay.de) as a Red Star Feedback Award, and I had to write to three different Sellers before I got permission to bid on it.
But you can use the
EBAY WINEGLASSES from the eBay PowerSeller Breakfast In Bed Set, which was given to a select 100 PowerSellers when they were served breakfast in bed by an eBay employee as part of an eBay promotion a couple of years ago
You can set them here, on the
EBAY TRAY: also from the eBay PowerSeller Breakfast In Bed Set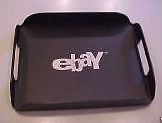 If you'd rather have a beer, use the
EBAY CARES BEER STEIN: exactly what it sounds like, a beer stein that has the words "ebay cares" engraved on it. I forget what promotion this was for
Or maybe this occasion calls for a martini? Let's use the
EBAY MARTINI SET: Not the one from eBay Live! 2006 in Las Vegas, the original one that was awarded to higher-ups -- PowerSellers or executives, I never did find out which
Since we're having martinis, let's break out (not break, please!) the
HAND-PAINTED MARTINI GLASS that I got from Voices member usakat
Here, I've put some chips and dip in my
EBAY SNACK SET: a 60s set of little dishes in all 4 eBay colors that swirl together to form a single contiguous unit
You can smoke, if you insist, but please use the
EBAY ASHTRAYS: a set of 4 matching ashtrays in the four eBay colors; I found another set of these in a different style, but the Seller was from eBay Germany (ebay.de) and wouldn't give me permission to bid on his set
There are some breath mints in our
EBAY LIVE! CANDY DISH: as recently sold on eBay by monjott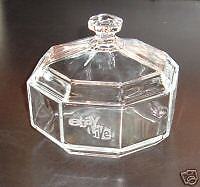 I'd invite you to sit down on one of the
EBAY BARSTOOLS in all four eBay colors, but when I went back to buy a set, the Seller was NARU (Not A Registered User)
So moving right along…There! We're in the LIVING ROOM, as you can tell by the
EBAY CURTAINS AND MATCHING WALLPAPER BORDER in all four eBay colors
EBAY CEILING FAN with blades in all four colors
I see you're admiring some of our eBay artwork? A few of my favorites include
MEG WHITMAN PORTRAIT: purchased from meg4givefest (Meg Whitman herself) as part of GiveFest 2007, wherein employees listed items for charity; currently draped in black
MEG WHITMAN AUCTIONS A FISH: Talk about the one that got away! I like this even better than Meg's portrait; it's a picture of a 1950s housewife holding out a fish at what looks like a garage sale (people are gathered round, there's items evidently for sale on tables in the background) with Meg Whitman's head on the housewife's body. Hilarious!
EBAY LOGO AND EBAY POWERSELLER LOGO by artistpavel: Impressiononistic homages to the respective eBay logo and icon
EBAY LOGO BY KOOPA THE TURTLE: It was custom painted for us after we saw Koopa creating other artwork featuring the four eBay colors; yes, he's a real turtle, and yes, he really paints. Look it up on eBay if you don't want to take my word for it!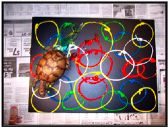 EBAY MONTAGE: the eBay logo created from thousands of Polaroids
And if you like mosaic effects, then you'll love my mosaics from eBay Seller shwaihat of Jordan, including
EBAY MOSAICS featuring the logos of: eBay, eBay Live!, eBay Radio, and the eBay Education Specialist Program
Shwaihat was also my source for eBay-homage rugs and tapestries, including
EBAY RUGS AND WALLHANGINGS hand woven of pure cotton and wool featuring the logos of: eBay, eBay Live!, eBay Radio, and even PayPal plus a custom-made special gift that says "ebetsy" spelled out vertically in ebay-style lettering. One of our favorite rugs is called "eBay Over The Mountains" and depicts the ebay logo rising over the mountains of Jordan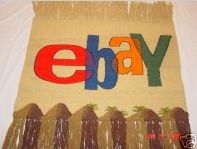 EBAY SAND BOTTLE with the ebay logo spelled out in colored sand, also from eBay Seller shwaihat of Jordan
Speaking of eBay tributes, check out these
HANDMADE WOODEN BOXES by thangz4sale: one with the ebay logo; a nesting set with the ebay and "it" logos; and one with the PowerSeller logo. Some of our best friends are PowerSellers, and maybe someday we will be too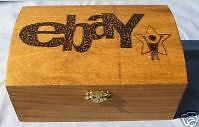 Oh! I'm sorry! I didn't mean to keep you standing so long! Have a seat here on our
EBAY BEANBAG CHAIR: a vinyl beanbag chair in all four eBay colors, as seen @ eBay Live! 2006. Or maybe it was 2005?
Make yourself comfortable with the
EBAY EDUCATION SPECIALIST THROW PILLOW: You have to be an Education Specialist Trained By eBay to buy one of these; I am, so I did!
EBAY FEEDBACK PILLOWS: a green smiley-face star (positive), a red frownie-face star (negative), and a gray neutral star
You can set your drink right here, on the
EBAY COASTERS: a set of six (all different) from eBay Japan (ebay.co.jp), which no longer exists; and a set of four square ones in needlepoint and acrylic with the ebay logo on them plus one round coaster from a Seller @ eBay Ireland (ebay.ie)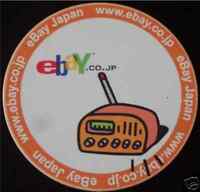 Or perhaps you'd rather cuddle up on our giant
EBAY "IT" PILLOW: approximately five feet tall, it comes apart with velcro for even more comfy snuggling with our collection of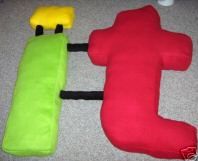 EBEARS, including: a 3-foot teddy bear wearing an ebay T-shirt (larger than a small child - terrifying!); an 10-year anniversary bear; a limited-edition Steiff bear (wearing a tiny red ebay hoody); a "tuned by ebay" bear from eBay Austria (ebay.at); two eBay Hunden (Hounds), one with a red shirt (from the FanShop @ eBay Germany, a.k.a. ebay.de) and one with a blue shirt celebrating eBay Austria's "Night Of a Million eBayers" (he arrived with a note that said "Hello Mum, I've arrived at my new home"); an eBay it bear; an eBay Bidder Bear Beanie Baby; an eBay Magazine Beanie Baby; and a Betsy Bear Beanie Baby plus Woz Wannabe, who wears an outfit made for a baby from eBay Live! 2006 Staff shirts. I worked as Staff @ eBay Live! 2006 (don't ask me how I got so lucky, but I sure wish I could do it again) and I treasure my eBay Live! Staff Shirts
I don't know about you, but I am worn out from that tour of the LIVING ROOM. Before we tackle the DINING ROOM, OFFICE, RUMPUS ROOM, and YARD, I think it's time for a nap! ZZZZZZZZZZzzzzzzzzzzzzzzzzzz…
Thank you for reading my guide. If you found it helpful, please vote "Yes" below.