What's more exciting to an
eBayana
collector than a makeover? Why, a makeover of
The eBay Shop
, of course! Are you familiar with
The eBay Shop
? Have you shopped there recently? Did you even know that there's a link to
The eBay Shop
(
http://www.theebayshop.com
) in the very fine print at the bottom of the
ebay.com
home page? No? I didn't think you did.
The eBay Shop
is one of
eBay
's unintentionally best kept secrets, but nowadays that's about to change.
Originally founded back in the late 1990s as ebayorama,
The eBay Shop
is — just like it sounds — the official company store. And it is a virtual treasure trove of
eBayana
. Anyone who's read any of my other
eBayana
guides knows that some of my coolest
eBay
collector's items, and a fair amount of my
eBay
attire, originally came from
The eBay Shop
.
Last year,
The eBay Shop
changed hands and is now under new management. What's in it for you? More and cooler items, better fitting apparel, lower price points, and a plethora of goodies fit for giving — to others or yourself — just in time for the holidays, that's what! Let's take a little tour, and I'll show you what's in store. There's a brick-and-mortar
eBay Shop
at
eBay
headquarters in San José, but you can do your shopping online at any time. So let's take it from the top. Or you can just skip reading the rest of this guide altogether (although I'd really appreciate your helpfulness vote) and go straight to
The eBay Shop
at
http://www.theebayshop.com
.
EBAY LIVE! 2008
I'd like to start right off by checking out
eBay
caps
and other
wearing apparel
(taking it from the top, doncha know) but there are some items on sale that just won't last, so we'd better look at those first. They're the last of the
limited edition goodies
from
eBay Live!
2008 in Chicago. And with that looking like the last of the late great
eBay Lives
, at least for the foreseeable future, you'd better grab a piece of
eBay
history while you can.
Most collectible is the
limited edition lithograph by renowned artist Michael Smith
, successive versions of which have been offered to my personal knowledge at every
eBay Live!
since 2004. Each spectacular
lithograph
graphically sums up the city and theme of that year's
eBay Live!
, and 2008's limited edition of 250 is no exception. It was originally offered at $89.95 — matted and framed, complete with a special collector's pin and Certificate of Authenticity — and now it's a real steal at only $67.46.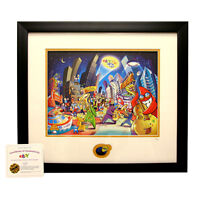 Second only to the
Michael Smith limited edition lithograph
in collectibility is the
eBay Live! Collectible Pin Set
. It features 11 Hero pins from
eBay Live!
2008, including a special pin that's only available as part of the set. Each
pin set
is individually numbered — I believe there were only 500 of them made, or maybe it was 250 — and comes with a Certificate of Authenticity. They're now offered at $89.96, down from $119.95. Sure, you can probably find all of the individual pins on eBay for less, if you look long enough — but you probably won't find that special 11th pin, and they won't come beautifully packaged in a brightly graphic keepsake box.
For hard-core collectors, there's two special items left that were exclusive to
eBay Live!
2008 in Chicago: The first-ever
eBay
Bobbleheads Set
featuring the three main Heroes of
eBay Live!
($10 for the set, complete with a Certificate of Authenticity and serial number plus a carrying case); and a red canvas
wheelchair bag
with the
eBay Live!
2008 Chicago logo in white. So handy for the handicapped (excuse me, physically challenged).
TO GIVE

Next, let's look at a couple of items specifically suggested for giving. A cuddly 16-inch eBay Teddy Bear in creamy white has a colorful ribbon around his neck and an embroidered eBay tag on his hind paw. Perfect for kids of all ages! Then there's the eBay Luxury Essentials Travel Kit. Forget your fear of flying — or just the boredom of long car rides — with this gorgeous 9.5" x 2.5" x 12.5" utility-style case made of black nylon with what looks like an embossed black leather eBay logo panel and a white satin lining. It contains a 3' x 4' fleece and satin blanket complete with a foot pocket, a white satin pillowcase, and an airline-size eye mask. Now that's what I call traveling in style — and comfort!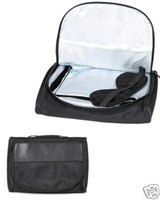 TO WEAR

Now we can get back to taking it from the top. Prices for
eBay
baseball-style caps
have dropped from a pricey $14.95 under the old management to become much more reasonable. The best looking of the three currently available
caps
, and the most expensive at the full price of $9.95, is the
eBay Two-Tone Cap
in white and tan chino with a big embroidered
eBay
logo, a stripe of all four
eBay
colors offset on the front edge of the brim, and an adjustable fabric back strap. One size fits most. Then there's the
distressed navy blue chino twill cap
with a navy blue distressed patch on the front bearing an embroidered
eBay
logo and an
unstructured chino cap
in black with a grey-edged white patch bearing the
eBay
logo off center on the front over a white graphic stitched design. Both of these latter styles are on sale for just $6.90.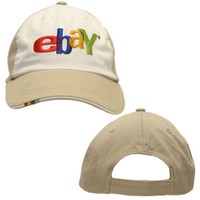 Next let's look at
men's apparel
. There's just enough
menswear
to provide a good selection without being overwhelming. There are three styles of short-sleeved
polo/golf shirts
: one in navy piqué with self-fabric contrast piping in white ($22.95), one in basic black 100% ringspun cotton ($17.08), and one by Nike in graphite (gray) high-tech Dri-Fit fabric that keeps you cool and dry ($33.95). All bear the
eBay
logo, the first two on the chest and the
Nike shirt
on the sleeve. There's also a long-sleeved
Easy Care Navy Blue Dress Shirt
with the
eBay
logo on one side of the chest ($19.95).
For a more casual look, there are three more choices. The brown
Paint Graphic T-Shirt
has the eBay logo silkscreen in a white "paint streak" graphic on the upper front and the words "Since '95" in a second paint-streak graphic on the back tail. It's just $5.75 on sale. Then there's an
Organic T-Shirt
made of 100% organic ringspun cotton — part of
The eBay Shop
's newfound commitment to carrying earth-friendly products. It says
eBay
on the front as part of a natural-looking graphic and is on sale for $10. The newest style is the
eBay Stripe T-Shirt
, in comfy 100% cotton with the eBay logo on the front with "paint stripes" of each color running down from the letters. It's very reasonably priced at $13.95.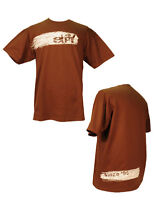 For colder weather, there's an old-school-style
Men's Track Jacket
in black and gray ($29.95), a lightweight and waterproof zip-front
Tournament Jacket
from Page and Tuttle in "birch" (light khaki) nylon with a contrasting taffeta lining ($31.95), and a
Nike V-Neck Windshirt
($63.95) that's wind and water resistant, with the Nike logo on one sleeve and the
eBay
logo on the other. The two jackets bear the
eBay
logo on one side of the upper chest.
Moving on to
women's apparel
— ah, now we're getting to the good stuff. Once again, there are just enough items to provide a nice range of choices, and almost half of them are on sale: Two
polo/golf shirts
, one like the men's in basic black 100% cotton (on sale for $17.08) and one in a birdseye (shadow) striped sage green jaquard with a one-button closing and a little dressier pressed-open lapel at the collar ($25.95, and really pretty). An
Easy Care Women's Shirt
(long-sleeved dress style) in light blue, $19.95. An old-school
Track Jacket
in white and navy ($29.95) and a
Women's Tournament Jacket
just like the men's, but cut for a woman ($31.95). Two out of three
T-shirts
are on sale — a black cap-sleeve model that says
eBay
in silver sequins ($9.20) and a 3/4 sleeve raglan style with black sleeves and a dark gray body ($13), with the
eBay
logo on the hip — while the newest design is a lovely and flattering (I have one) pale blue short-sleeve
Heart T-Shirt
that features the full-color
eBay
logo with a cascade of
eBay
-colored hearts falling from it. But I think my favorite item is the chenille hoody in light apple green, so cozy and just $23 on sale.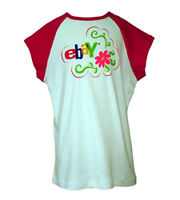 Kids' stuff
at
The eBay Shop
is the best it's ever been. Start 'em off young with an
eBay Onesie
in pale blue or pink ($9.95). Toddlers from 2T-4T get their own adorable
eBay Short Sets
in white and bright blue (for girls) or navy and light blue (for boys) — a coordinating T-Shirt and long shorts for just $13.50. Boys get a royal blue and white
Paint Graphic T-Shirt
with the
eBay
logo on the front and "Since '95" on the back tail, just like the men's but cheaper at just $11.95. Girls have it really good with a
Floral T-Shirt
(red cap sleeves and a light blue body, $14.95) and a matching light blue ribbed
Floral Tank Top
that's modestly strapped and priced ($13.95); the
eBay
logo is given a complementary surrounding floral design in hot pink and green. And the descriptions for both items thoughtfully warn that they run a little small. But the best item's not just for babies: a cozy, snuggly 30"x40"
Chenille Baby Blanket
in pale blue and white stripes, cotton candy pink and white, or pale yellow and green , with the
eBay
logo on a corner label — perfect for a sofa throw as well as for an infant.
UNDER $5
There's a special department for items under $5, including a metal and frosted acrylic
eBay
Jelly Belly Tin
complete with jellybeans ($3), but most of the items at that price point actually are sprinkled in with their various categories and not double-listed, which is kind of a shame for those of us who love a bargain or want to indulge, but on a budget. So I'll just mention those products as we run across them elsewhere.
TO WORK
Lest we forget that
eBay
is our business (even if it's more like a hobby),
The eBay Shop
carries a nice selection of
eBay
business gear. There's a black leather
"Padfolio"/Pen Set
($18.95) with an embossed eBay logo; 3.5"x5.5"
eBay Mini Journals
(5.95) with an elastic strap to keep them closed in your pocket or purse and logo-embossed covers in red, blue, green, or black (poor yellow got left out again); and a 7"x10" spiral-bound
Step and Repeat Journal
($10.95) with a calendar and an
eBay
-logo-patterned recycled cover. You can write in these journals with a
3D eBay-logo'd black rubberized pen
or a pack of four
eBay
-colored logo'd
Papermate Propel Pens
(both on sale for $2.88). Also on sale ($4.05) is the
Mini Sharpies 4-Pack
in red, blue, yellow, and green…so festive! Then there's a
Pen and Pencil Set
that comes in red, yellow, or green and black with the
eBay
logo in black plus a nice frosted acrylic case — a great deal for $3.95. Or go all out with a top-quality
Waterman Rollerball Pen
bearing the
eBay
logo in elegant gold ($45.95).
Catering to everyone's inner geek are several nifty computer-related items. One is a handy
Note Holder/Computer Brush
(on sale for a mere $2.30) that sticks to your monitor, or wherever you might want to mount it, and also has a place for your favorite pen. It comes in all four
eBay
colors with the
eBay
logo in white. Then there's a
Slick-Sweeper
($4.95) in black with the
eBay
logo in white. It looks kind of like a toothbrush holder but actually houses a keyboard brush in one swivel-out end and a screen cleaner in the other. We got one of these in our tote bag at the last
eBay Live!
, and we use it every day. Best of all is a one-gigabyte
Rotating USB Flash Drive
($11.25) in red or blue that folds into a protective aluminum holder bearing an etched
eBay
logo. Oh, and let's not forget the
eBay Webcam
, in basic black with the
eBay
logo in white, on sale for just $11.25 down from $16.95. Included is a padded clip that allows it to be positioned conveniently on a desk or attached to a laptop with a camera that captures images at a 640 x 480 resolution and 15 frames per second. It comes packaged in a gift box with software, instructions and an attached USB cord.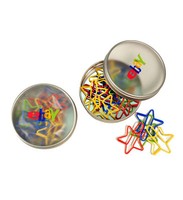 Speaking of eye candy, a couple of great stocking stuffers (even for your own self; you can always pretend Santa brought 'em) are the
Klip Art Paper Clip
s in the shape of feedback stars in red, blue, yellow, and green in a nifty metal and frosted acrylic tin bearing the full-color
eBay
logo (on sale for $5.75) and the
Sticky Book
folder with the full-color
eBay
logo on the cover and two sizes of sticky notes plus sticky note flags in five different colors inside ($4.95).
Not all the
drinkware
selections are shown in the
Drinkware
department, but I'm going to tell you about them anyway. First up is a double-wall insulated
Gripper Travel Tumbler
($11.50) in red, blue or green metal — no yellow :( — with a rubberized grip around the center and the
eBay
logo in white. Then there's the 24-ounce PBA-free
Zuma Water Bottle
( $7.95) in red or green with the
eBay
logo in white.
You can never be too rich, too thin, or have too many
totes and bags
, right? I can't speak to the truth of the first two, but the third is definitely true. And
eBay bags
from
The eBay Shop
have over the years been consistently fine. Among the
bags
currently available is the
Recycled Owl Convention Tote
in blue with the
eBay
logo in white, an eco-friendly choice made with 51% post-consumer recycled material. It sports an open main compartment, open front pocket and 12" drop handle height, and it's just $7.95. Also very handy is the
Canvas Field Bag
($18.95) in charcoal (really more like olive khaki), a classic 10"x12"x3.5"pigment-dyed satchel made of 100% cotton canvas with front and inner Velcro compartments, a zippered back compartment, a striped adjustable shoulder strap, and the full-color
eBay
logo embroidered on the front.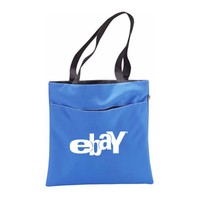 For more serious toting, try the
Montezuma Convertible Laptop Bag
— $38.95 in black with a full-color embroidered
eBay
logo — which converts from a backpack to a messenger bag at the switch of a strap and has a specially padded compartment for your laptop. For those who must conduct business while on the go, the
Hip-Hop Messenger Bag
($49.95 in black with a full-color embroidered
eBay
logo) is the perfect combination of geek meets street. Sized to fit most 15" laptops, this lightweight 12.5"x17.5"x 4" biker-style
bag
made from industrial strength pindot nylon is loaded up with a heavily padded laptop sleeve, dedicated media and power supply pouches, file folder pocket and cell phone pocket. Dual side mesh water bottle pockets mean refreshment is never far from hand. A front drop-in audio pocket and airline ticket sleeve make for easy travel. And getting back into eco-friendly mode, check the
Go Green
department for the 12"x19"x7"
Recycled Zippered Tote
, just $19.95 in basic black with a big white eBay logo. Made from 100% post-consumer recycled material, it features a large zippered main compartment, front zippered pocket, side accessory pockets and a 12" drop handle height.
TO PLAY
It's important to remember that
eBay
is a pleasure as well as a business, and
The eBay Shop
has plenty of items suitable for playtime. If you've read my
eBayana Cabana: Collector's Guide to eBay at the Beach
, then you already know about the handy yellow and black all-purpose mesh
Beach/Sport Bag
($6.70) and the gorgeous
eBay Beach Towels
with the embossed
eBay
logo in all four
eBay
colors ($15.95 each). For golfers, there's a black
Golf Towel
($8.95, and not just useful for golf) with an embroidered full-color
eBay
logo or
Nike One Tour Golf Balls
($13.95/sleeve) with the
eBay
logo in black. But you also should check out fun stuff like the
eBay
Magic 8-Ball
($5.50); the stress-relieving
eBay Sploosh Ball
(in red, blue, or green and yellow, $2.95); the
eBay
logo
Rhinestone Keychain
($3.45 on sale) and best of all, the fabulous
eBay Foot Bag
($6), better known as a hackysack, hand-crocheted in Guatemala of stripes in all four
eBay
colors with an embroidered
eBay
logo.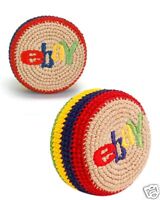 TO GO GREEN
We've already talked about everything in this department, but kudos to
The eBay Shop
for offering it.
PAYPAL
The eBay Shop
has always carried at least a couple of
PayPal items
, but now they rate their own department. Offerings include a
Cinch Bag
($6.50) in black and blue piped in white with the PayPal logo in white; it can be carried over the shoulder or like a backpack thanks to the adaptable drawstring design and features an open main compartment that cinches at the top, an open front pocket, and a quick-access zippered pocket with mesh lining for additional storage or your PayPal water bottle. There's also a
PayPal Contrast Stitch Cap
in navy blue with white stitching ($9.95) and a pearl-buttoned short-sleeved
W's Tipped Pique Polo
($22.67 in white with the PayPal logo in blue) that for some strange reason is only available in size 2X. It's made of micro-polyester pique with moisture wicking treatment to help you stay cool and dry. Anti-bacterial treatment prevents odor. And for those afraid of wearing pristine white, Scotchgard® stain-release treatment won't allow spills to penetrate and cause unsightly stains. Just for fun, there's a
PayPal Jellyfish Yo Yo
, $3.25 in green, blue, and yellow with the PayPal logo in — of course — blue. For more serious matters, you'll want the
PayPal Essence Journal with Stratton Twist Pen
($7.10).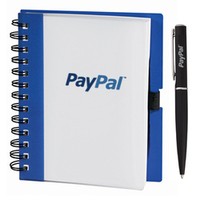 POWERSELLER
It used to be that only
PowerSellers
could access the
PowerSeller
department of
The eBay Shop
, but it's become much more democratic under the new management. So at least you can see what's available to you once you achieve
PowerSeller
status. You're on the honor system now! There's a 7"x10"
Spiral Journal
($6.90) in bright yellow — making up for yellow's short shrift elsewhere — with the full-color
eBay
and
PowerSeller
logos. Then there's a 100% ringspun cotton
Men's Essential Sport Shirt
in dark blue and
Women's Essential Sport Shirt
in sage green, a bargain at $19.95 each. The
Women's Essential Sport Shirt
has a V-shaped two-button neckline that makes it a little more flattering than the basic
polo shirt
. Next up is a long-sleeved khaki
Easy Care Shirt
(dress style) that I guess is unisex. All three of these
shirt
s have the
PowerSeller
icon embroidered on the chest, and the
sport shirts
have the full-color
eBay
logo embroidered on their short sleeves. Finally, there's my new favorite chotchke of choice, the
eBay PowerSeller Star Keychain
($4.95). It's a metal star on a split ring, and it bears the full-color
eBay
logo on one side and the
PowerSeller
logo on the other. Classic and tasteful, and so
eBay
with the feedback star!
That's all, folks. And while there was a distinct dearth of
eBay
attire at this year's
eBay
Radio 6th Anniversary Party
in Las Vegas — mostly, I was told, because people "couldn't find any" — now you have no excuse. So
eBay
up, at
The eBay Shop
!
Thank you very much for reading my guide. If you found it helpful, please vote by clicking "Yes" below!