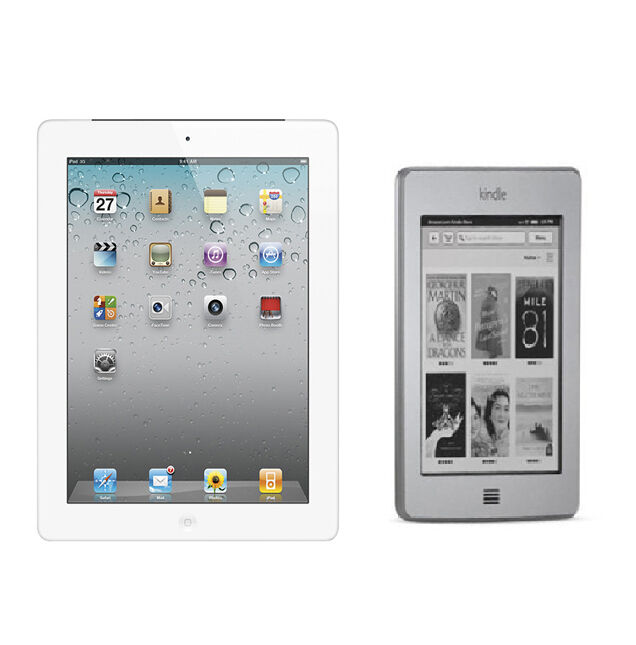 Keen e-book readers may find a hard time choosing between the iPad 2 and the Kindle Touch. The iPad 2 has a large library of downloadable eBooks and apps whilst the Kindle Touch is the first Kindle with multi-touch technology. This guide will explore these and other features of the two tablets, including technical specifications, special features and how to buy both on eBay.
Technical Specifications
These specifications directly impact the speed, fluidity, graphics, picture quality and memory space of the tablet:
| | | |
| --- | --- | --- |
| Feature | iPad 2 | Kindle Touch |
| System Chip | Apple A5 dual-core ARM Cortex-A9 at 1GHz | Freescale i.MX50 at 800MHz |
| Operating System | iOS 6 | Kindle Touch 5.3.7; None: wireless thus does not require a computer to download content |
| Graphics | Imagination Technologies PowerVR SGX 543MP2 dual-core | None |
| System Memory | 512MB DDR2 RAM built into Apple A5 package | 256 MB |
| Built-In Storage | 16GB; 32GB; 64GB | Up to 3,000 books or 3-4GB for user content, including free cloud storage for all Amazon content |
| Battery and Power | 25 WHr built-in rechargeable lithium-polymer; retains power on standby for 30 days; 30-pin charger | 3.7 V 1420 mAh; retains power up to two months with wireless off, up to 3 weeks with wireless on |
| Wireless and Mobile Data | Wi-Fi (802.11a/b/g/n), 3G (cellular HSDPA, UMTS, HSUPA and 2G cellular GSM, EDGE); Bluetooth (2.1 with EDR technology) – includes Wi-Fi only model and Wi-Fi and 3G model | Amazon Whispernet using EVDO/CDMA AnyDATA wireless modem; Wi-Fi (802.11bgn); 3G supported – includes Wi-Fi only model and Wi-Fi and 3G model |
| Connectivity | 3.5mm stereo headphone mini-jack; built-in speaker; microphone; TV-Out; computer sync; OTA sync; Micro-SIM card tray (for the Wi-Fi + 3G/Cellular model); 30-pin dock connector port | USB 2.0 port (micro-B connector); 3.5 mm stereo headphone jack; built-in stereo speakers; AC power adapter jack |
Design
The following table compares the design specifications of the iPad 2 and the Kindle Touch, including dimension and weight comparisons:
Feature

iPad 2

Kindle Touch

Available Colours

Black; White

Silver

Dimensions

9.50" (24.1cm) x 7.31" (18.5cm) x 0.34" (0.8cm)

6.7" (17.2 cm) x 4.7" (12 cm) x 0.43" (1.1 cm)

Weight

601g (1.33lbs)

(3G/Cellular model: 613g (1.35lbs)

213g (0.46lbs)

3G model: 220g (0.48lbs)
Display
The following table is a comparison of the display/screen of the tablets:
| | | |
| --- | --- | --- |
| Feature | iPad 2 | Kindle Touch |
| Physical Size (Diagonal) | 9.7" | 6" |
| Resolution | 1024 x 768 | 600 x 800 pixel resolution |
| Pixel Density | 132 pixels per inch (ppi) | 167 pixels per inch (ppi) |
| Technology | LED-backlit glossy widescreen | Electronic paper display with proprietary waveform and font technology |
| Touchscreen | Multi-touch with IPS technology | Infrared touch-screen control |
| Features | Supports multiple languages and characters simultaneously | 16-level grey scale; built-in dictionary with choice of six languages |
Notable Features
The following bullet points highlight the notable features of the iPad 2 and the Kindle Touch:
iPad 2
· At 0.88 cm thin, the iPad 2 can be taken anywhere without the feeling of an extra weight.
· Front and back cameras: 0.7MP back camera with video recording, HD 720p with audio, 0.3MP front camera with video recording. FaceTime video calling to communicate with other Face-Time enabled iPad, iPhone, iPod touch or Mac over Wi-Fi.
· Use the App Store to download for free or buy from thousands of apps with categories including games, productivity and news.
· Photo and video geo-tagging over Wi-Fi.
· Remains on standby without losing power for 30 days, gives up to 10 hours of surfing the web on Wi-Fi, watching video or listening to music and up to 9 hours of surfing the web using a mobile data network. The battery is charged using the provided power adapter or by connecting the USB cable to a computer system using the provided 30-pin charger.
Kindle Touch
· High-contrast E Ink display allows for clear text and images and reads like real paper with no glare, so it can be used in bright sunlight without difficulty.
· Easy-to-use touchscreen with new EasyReach feature allowing tap-to-turn-page function.
· The Kindle Touch becomes a mobile library with space for over 3,000 books which are automatically backed up online in the Kindle library on Amazon. Enjoy free, exclusive and low-cost books or read a sample for free.
· Built-In Wi-Fi connects to Wi-Fi hotspots everywhere.
· On a single charge, the battery lasts for reading of half an hour every day for up to two months with wireless off.
· Choose from six languages with instant translations by highlighting a section.
· New X-Ray feature allows for one single tap to display all the passages across a book that mentions specific topics of interest, including detailed descriptions from Wikipedia and Shelfari.
· Kindle will read aloud English-language content using Text-to-Speech feature.
· Kindle Reading Apps allow for the books to be shared across Kindle, Apple, Android, Windows Phone, Mac and PC devices.
· Whispersync technology allows for synchronisation of the last page read, bookmarks and annotations.
How to Buy the iPad 2 and Kindle Touch on eBay
Buy either the iPad 2 or the Kindle Touch on eBay easily and securely with these simple steps:
· Either type in 'iPad 2' or 'Kindle Touch' into the search bar at the top of the screen to browse the listings. It is possible to narrow down search results using the categories in the left-most panel.
· Alternatively, use the 'Shop by category' link next to the eBay logo. Choose Electronics, thenComputers & Tablets andiPads, Tablets & e-Readers. It may also be worth checking the iPad & Tablet Accessories sub-category for relevant listings.
· Having reached the categorised listings page, either type in 'iPad 2' or 'Kindle Touch' into the search bar, or continue to use the sub-categories on the left hand side to target the search. Sub-categories include: 'Format', 'Storage Capacity', 'Internet Connectivity', 'Operating System', 'Condition' and 'Price'.
· Make sure to closely read the seller's product description, shipping conditions and to ask any questions before purchase. Prioritise sellers with a higher rating and with a good reputation as they tend to be more reliable.
· It may also be possible to find the tablets in eBay's recommended deals section, found near the eBay logo. Click on the link and go to Electronics, Computers then Tablets to browse the deals.
Conclusion
Whether buying the multi-functional iPad 2 or the e-Reading specialist Kindle Touch, it is easier to make an informed decision when all the information is presented in an organised way. And, with eBay's large selection of iPad, Tablet and e-Reader listings, buying either the iPad 2 or the Kindle Touch is made simpler and faster.