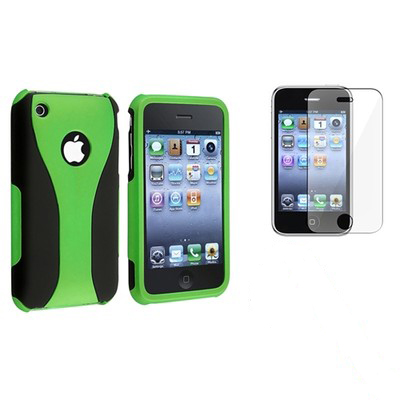 The iPhone launched in 2007 and since then it has become an iconic device that is recognised worldwide. It was the first phone to feature a multi-touch interface and was revolutionary for it's minimalist design.
There are a large number of the devices and accessories for sale on eBay, with the following guide helping buyers to identify the right accessories to augment their device.
What is an iPhone 3?
Since 2007, Apple have been updating the iPhone every year to add new features and improve performance. The iPhone 3G was released in 2008 and its successor, the iPhone 3GS, in 2009.
In 2008, the iPhone 3G was the first phone to have access to the App Store, where thousands of paid and free apps can be download and installed directly to the phone using a cellular connection. This saw 3G grow in popularity and now the iPhone has sold over 250 million units worldwide with this likely to increase in future.
When buying an iPhone 3G or 3GS on eBay you'll find a wide selection available. They vary in age and condition with different colours and carriers available at every turn, meaning it's possible for buyers to find their perfect phone on a budget.
Once decided on a phone, the next step is to consider accessories with thousands available on eBay for the iPhone 3G and iPhone 3GS. Two of the main ones to consider are the cases and screen protectors.
Cases, Covers and Skins for the iPhone 3G and iPhone 3GS
Buying either a case, cover or skin for an iPhone is important because they can help protect your phone. Not only that but they add personality to your device through colours and design.
· On eBay you can buy cases, covers and skins in black , blue , pink , white , and many other colours.
· Always double check that cases, covers and skins are compatible with the iPhone 3G or iPhone 3GS because accessories made for later versions will not fit the iPhone 3G or 3GS.
· Most cases, covers and skins sold for the iPhone 3G and 3GS are sold as brand new .
Screen Protectors for the iPhone 3G and iPhone 3GS
When buying an iPhone 3G or 3GS on eBay, an essential item to purchase alongside the device is a screen protector. As the name suggests, the screen protector will protect the iPhone's screen to a certain extent. It will limit water damage and help to protect the screen from scratches.
Most screen protectors are anti-glare with a matt finish, meaning the light will not bounce off the screen making it easier for users to see the screen when in direct sunlight. The matt finish means that users will barely be able to notice it there if applied correctly.
Accessory Bundles
When planning to buy a few accessories to go with the iPhone 3G or 3GS, sometimes it can be a good option to look at accessory bundles.
There are many different bundles available for both devices and most will include screen protectors and a case. Packs that are more extensive can include mounts, mirrors, headsets and adaptors.
How to Buy an iPhone 3 Case or Screen Protector on eBay
The beauty of eBay is the sheer amount of iPhone 3G and 3GS accessories for sale with sellers happy the help buyers decide on any item they are interested in:
· To find iPhone 3G and 3GS accessories, buyers are advised to go to the list of categories on the homepage and select 'Mobile Phones and Accessories' under the Electronics tab.
· From the list of options that appears, select 'Mobile Accessories' and a list of every accessory available to buy on eBay will appear and narrow this down by selecting an option under 'Categories'.
· Narrowing the list down to just Apple items can be done by selecting it under 'Compatible Brand' and typing iPhone 3G or 3GS into the search bar will show accessories designed specifically for those devices.
· Buyers should always check the seller's feedback before buying. Each seller will have a number next to their name, the higher the number the more positive feedback they have received for items they have either sold or bought. Clicking on the number will let buyers read the feedback other buyers have left.
Conclusion
When purchasing one of the most iconic gadgets in the world, buyers will want their device to stand out from the crowd. eBay is a great place to achieve this with thousands of cases and pouches available at an affordable price.
As the iPhone is an expensive yet successful device, it's important to look after it properly. The best technique to ensure the long-term safety and protection of your iPhone 3 is to purchase a case and screen protector.