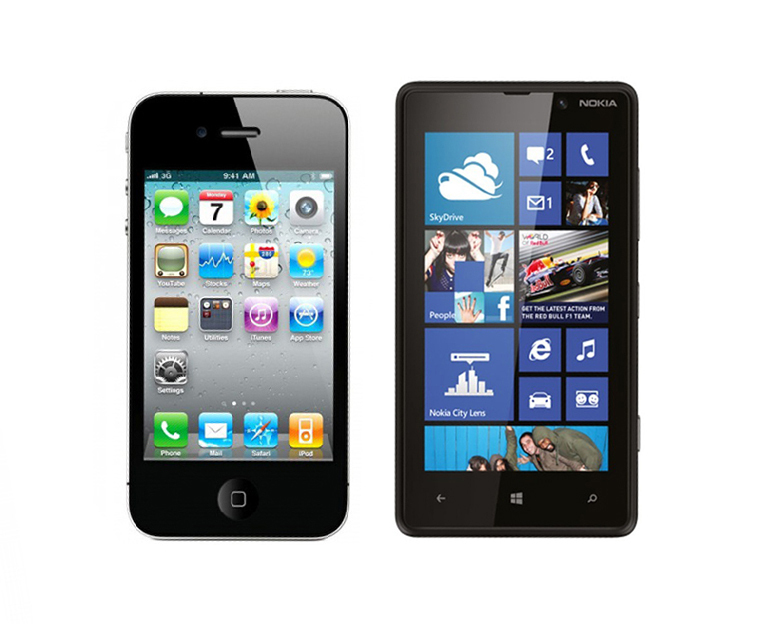 This guide will look at two popular smartphones on the mobile market, theiPhone 4 and the Nokia Lumia 820, and detail some of the main differences between them.
It will do so in respect to buying on shopping website eBay, a site where both phones will be available at prices lower than on the high street. Before using eBay, it is recommended that customers are aware of their rights and responsibilities as a buyer.
A Look at the iPhone 4
Developed by the Apple Company in 2010, the iPhone 4 is a touch-screen smartphone with 3G capabilities. It runs on the iOS operating system, created by Apple and used on many of its products. Versions of this system have been subject to constant upgrades.
Working the phone is achievable by touching the screen with the fingers or a specially designed touch pen. The multi-touch display function is able to recognise two or more points of contact on the screen.
Design – The iPhone range has a distinctive appearance, with the physical home button situated beneath the screen face. The iPhone 4 has a stainless steel rim along the edges and a body that copes well when accidently dropped. The top rim contains the power/lock button, along with the headphones jack. The Apple connector for charging/docking is located along the bottom.
Dimensions – Coming in at 115.2mm tall by 58.66mm wide with a depth of 9.3mm, the iPhone 4 is comfortable to use as a conventional phone and also watch media, although the screen size is not as enlarged as some of its other competitors on the market. It weighs 137 grams, meaning it will not overly weigh down a pocket.
Camera – Smartphone owners will expect a highly capable camera installed into their handset and the iPhone 4 does not disappoint. It contains a 5 megapixel back-sided illuminated sensor camera, suitable for both low and strong light. A touch-to-focus makes taking snaps easier also.
Battery – The iPhone 4 runs on a built-in rechargeable li-ion battery, which deals well with the strains some people place on their phones. Reviews of the model have shown that, despite running simultaneous apps and viewing media, the battery can last all day with a full charge.
A Look at the Nokia Lumia 820
The Lumia 820 was released in late 2012, integrating Windows Phone 8 technology into the system. Developed by Nokia, the phone is a smartphone at the higher end of the market with a touch-screen facility.
Like the iPhone 4, the screen has a multi-touch capacity and also integrates a 'Super Sensitive Touch' feature to make operating it easier.
Design – The phone is comfortable to hold, with a plastic case and curved edges. Physical buttons are located on the right-hand side and top of the handset, which are easily accessible to press. Exchangeable back shells are an attractive feature of the Lumia 820, unlike the iPhone range, which can add a bit of colour variety and/or replace a damaged body.
Dimensions – The 820 is more robust than the iPhone 4, but is not big enough to be a pain to carry around. With a screen size of 109.22mm, there is more room to watch media and read internet text comfortable.
Camera – Equipped with a Carl Zeiss camera, the back 8.0 megapixel camera is one of the phone's standout features and capable of taking pictures of 3264x2448 pixels. With clever features installed, such as Smart Shoot, the Lumia 820 is a good option for budding photographers.
Battery – One of the advantages of the 820 comes with its wireless charging capabilities, which works with the universal Qi standard. The 1650 mAh Lithium polymer battery provides a modest lifespan, lasting users throughout the working day when fully charged.
Comparing the iPhone 4 and Lumia 810
The table below can be used to compare the basic specifications of both smartphones; a useful way for potential customers to make a decision about which model to invest in:
Selling Points of the iPhone 4

- Attractive and usable screen

- Top-notch call quality

- iOS can be upgraded

- High picture resolution

Selling Points of the Nokia Lumia 810

- Powerful camera

- Swappable back cover

- Micro SD support

- Wireless charging

Dimensions

H – 115.2mm. W – 58.66mm. D – 9.3mm

Dimensions

H – 123.8mm W – 68.5mm D – 9.9mm

Operating System

Android iOS 4.0 (upgradeable)

Operating System

Windows Phone 8

Storage

8, 16, or 32 GB flash memory

Storage

8 GB internal flash; up to 64 GB external

Camera

5 MP back camera, HD video 720p

Camera

8.0 MP back camera, HD video 1080p

Display

8.9mm screen; 640x960px resolution

Display

109.22mm; 800x480px resolution
Using eBay to Buy a Smartphone
When on eBay, enter into the Mobile Phones category via Electronics>Mobile Phones & Accessories from the home page. Here, type in either 'iPhone 4' or 'Lumia 820' and proceed to review the results.
By using the refinements on the left-hand side, or by sorting the listings by such aspects as price and buying format, a more desirable list of phones will be presented. eBay also allows users to set a maximum price range for the phones to avoid overspending.
If going above the preset budget is a potential worry however, look through the eBay Deals section of the site and check out the Smartphones category. Here, many phone models are offered by eBay at a reduced rate and with free postage costs.
Conclusion
Use this guide to achieve a basic comparison between the iPhone 4 and Nokia Lumia 820, but feel free to review more detailed information from various sources before making a final decision on which model to go for. Also remember to assess the items listed on eBay for a wide range of choice and potentially lower prices.