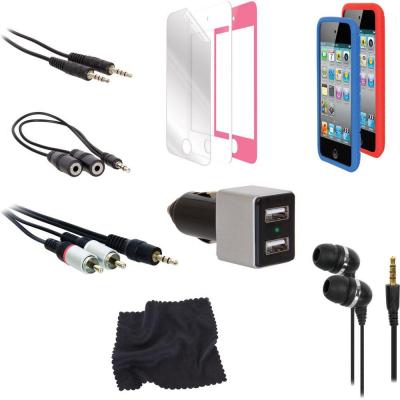 iPod's allow anyone to carry a whole collection of music around with them with ease. With iPod's being such an important piece of equipment for entertainment, it is important to get the most out of it by getting hold of the must have accessories.
There is a large range of iPod accessory bundles that will help to play music at its highest quality, protect the device and charge it. For all of the best accessories for the iPod, take a look in the Electronics: MP3 Player Accessories section on eBay and bid on and buy your favourite products.
What Accessories are Available in an iPod Accessory Bundle
There is a massive range of iPod accessories available to get the most out of your iPod. Here are some of the most popular items that are ready to buy on eBay.
IPod Protective Case
It is important to keep your iPod protected from scratches and accidents with an iPod protective case. They come in a range of styles with some being made from leather, hard plastic and rubber. These cases mould around the music device and are easy to grip to stop any accidental dropping of the iPod.
Screen Protector
Screen Protectors are cheap and easy to apply to the iPod. iPod screen protectors are small sheets of sticky plastic that stick onto the front of the iPod and protect the music player from scratches and small scrapes and bumps. They come in a pack of 3-5 screen protectors and can last for up to a year depending on how much wear and tear it takes.
In-Car Charger
In-Car chargers are small devices that fit into the cigarette lighter on the dashboard and charge the player using the car battery. In-Car chargers are great for making sure there is a place to charge the player if on the move or away from the house.
Wall Charger/USB Charger
Wall chargers are standard chargers that are compatible with any plug socket. Many wall chargers are basically adaptors in which a USB cable can be plugged in meaning it is easy to charge the music player via the wall or a laptop or computer.
Earphones
Ear phones can come in all shapes and sizes so it is important to find out what you want from them. Prices can vary a lot as well as the sound quality. You can choose from in-ear headphones that fit snuggly in the ear or overhead earphones which have a band that sits on the top of the head and has padded ear muffs which the music is played from. In-ear headphones are smaller and more discreet so are perfect for life on the move whereas overhead earphones are more comfortable and suitable for long journeys.
3.5mm Auxiliary Cable
Auxiliary cables are small ports which can be plugged into the headphone socket on the iPod and allow the user to play music through a larger sound system like the car or home speaker system. Auxiliary or AUX cables are very cheap and unlock music for everyone to hear.
Silicon Fishbone Earphone Tie
These small plastic items are great for keeping headphones untangled in your pockets and saving lots of time when it comes to taking headphones out of the pocket and making sure they are ready to use.
Travel Pouch
Travel Pouches are small pockets made of soft material that keep the iPod safe from small scratches and bumps when the iPod is not being used. They will normally have a non-abrasive cloth inside to ensure the iPod doesn't get scratched and remove any dust.
Cleaning Cloth
Cleaning cloths are small pieces of material which lift the dust and dirt from the screen of the iPod. They are similar to the cleaning cloths used for glasses and are easy to carry around at all times.
iPod Stylus Pen
If you don't want to smudge the iPod screen or find it hard to control it with your hand, you can buy a stylus pen which will allow you to scroll and select through the songs without using fingers. They are used just like a normal pen and are great for precise movement compared to using fingers to control the iPod.
iPod Car Cradle
iPod car cradles are great for keeping the music player upright and visible when in the car so songs can easily be selected without you taking your eyes off of the road. They are also brilliant to use while charging the iPod.
Small External Speaker
Plug a small external speaker into the iPod to play all of the tunes out loud for everyone to enjoy. The small speakers can fit in the pocket and come in a variety of shapes and sizes. There is a large number of novelty speakers available on eBay as well that fit right in palm of your hand.
How to Buy an iPod Accessory Bundle on eBay
eBay offers a massive range of iPod accessories.
To find the perfect iPod accessories, go to the All Categories section on the top left of the eBay home page. From there, find the Electronics section and click on MP3 Players on the left hand side of the page. It is here that you can narrow down your search in a number of ways.
If you know exactly what iPod accessory you are looking for, use the search function on eBay which allows you to search directly for the item. This function is located on the top of each page. Even a descriptive sentence may be enough to find the perfect item.
Be sure to find out as much information about the seller as possible. Also do this for the iPod accessory as well so there are no nasty surprises when the item is received. Details of how eBay and PayPal protect their customers can be found on the home page. As an eBay customer, it is important to feel good about the purchase you are making. So research the seller thoroughly by checking their Feedback rating, Feedback comments, Number of completed transaction and Positive response percentage.Most eBay sellers run their accounts like retail stores and have their own terms and conditions for returning items. Does the seller have this?
eBay will always cover the price of purchase and shipping charges with eBay Buyer protection in the unlikely event that an iPod accessory hasn't been delivered or isn't the item described in the listing. Always read the item listings carefully and be sure to factor delivery costs into the overall price and that the seller will insure the items when being shipped. If you need information about the product, ask by clicking the "Ask seller a question" link on the seller's profile.
Conclusion
There is a fantastic range of different iPod accessories to make sure the iPod is protected, can be transported safely and the music can be listened to at a high quality. Be sure to take the tips from this guide when looking for any iPod accessory and always factor in shipping costs when buying any item on eBay. All of the items discussed in this guide can be found in the Electronics: MP3 Player Accessories category on eBay.