always be weary about those sellers selling arcade rom boards that list them as untested , even more so if they are a regular seller of amusement games and parts.
it can be extremely difficult to know when a seller is being honest ,to the average joe wiring up a non jamma board can be a difficult task.
someone selling off one or two rom boards who states they dont have a machine for testing to likely to be legit , i hate it when people say they are too lazy and list items as , take it as it is , untested , cant be bothered etc etc.
more than likely its a non working board and they want to give you false hope.
check in the usa , yes shipping can be expensive , but there is plenty of sellers who list working boards on a almost daily basis , same goes with canada , i have personally been known to ship over boxes at a time.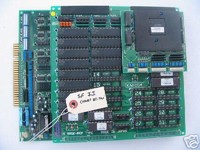 this is a jamma board , the universal pinout of the majority of rom boards after 1984.
this is a 1983 exerion board by jaleco , non jamma , notice the adapter at the connection ?
this adapter converts the wiring loom to jamma so it is a jamma standard.
jamma = japanese amusement machine manufactures association.
collecting these old arcade rom boards can be fun , but there is carefull messurements that needed to be put in place , here is some guides that i use myself to preseve these old boards.
* everytime i get a old arcade rom pcb , i test it ,assuming its working , i throw it in the bath tub and wash it with warm water , then dry it with a hair dryer ( becarefull when using the hair dryer as it gets hot )
As a general rule dont go rushing to plug it back in to test it , make sure its 100% dry or you could blow it up , i generally leave it for a day or 2.
Storage , always cover them seperatly in sealed type bags , this will stop dust and corrosion from happening.
And most importantly , never store your boards away for 20 years and expect them to work just like that.
from time to time pull them out and fire them up for a few hours , even if its once every 6 months , i cant stress this enough , leaving baords over long periods of time can result in caps and diodes failing and even possibly exploding , believe me i have seen this myself lol
happy ebaying
cheers baz