Safety Stitch:
Stitching seams can be the weakest part in motorcycle
suits as they can rip upon impact. This ripping of
seams can be prevented, however, through
safety-stitching technology.PortoGear uses
safety stitching on motorcycle suit areas.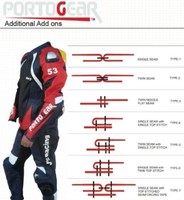 If you would like to see the movies that how we are making safety stitch contact us so we can send you the movies that how we are doing safety stitch.
for your selection of products please visit :
http://www.portogear.com
http://stores.ebay.com/portogear