Happy 2009 everyone!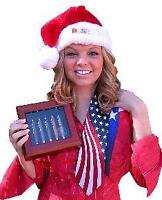 I've been watching eBay go down hill the last couple of years, I thought I put in my .02 cents!
It's not easy when a large company has growing pains that demand new changes. Since not every change is likely to be popular, things can get pretty dicey.
What eBay has done with Australia in 08' and now in 09' here in America has had many damaging effects, almost too many for sellers to overcome.
Higher fees, paypal "only", BS DSR's, and basically making everyone offer free shipping when buyers and you know who you are still resort to leave BS DSR's to make you miss the DSR powerseller discounts!
There's no discounts folks this is just another ploy for eBay to line their pockets even more.
Blame eBay management if they even have management!
Management can be perceived as being in bunker mode, workers can get weary and confused, customers can get critical, critics can get rabid. Those things happen under the best of circumstances, if you hit a few extra bumps, watch out!
Ebay, once the darling of the online auction industry has come under a lot of fire in the past couple of years for some dramatic changes it's made in it's fee structure and policy. Yours truly has been a pretty vocal, but fair critic of these changes.
Rather than re-hash the plethora of events that have inspired everything from countless eBay alternative startups to the calling for the resignation of it's CEO, I am going to offer one simple piece of advice to eBay.
We feel as a veteran eBay Powersellers with 13 years selling online, and as a licensed second generation professional auctioneer with over 35 years in the business, that we're well qualified to make a suggestion like this.
I've called for this several times going as far back as over a year ago, and of course, I'm not the only one who's made it. But there has never been a better time to institute this.
Ebay, split your selling platform, completely, clearly and definitively into 2 formats.
1) Fixed price, 2) Auctions.
The number of problems this will solve will be uncountable. It would satisfy sellers of all walks, and bring most of the anti-eBay sentiment to a screeching halt.
The bleeding of lost sellers and buyers will stop, your PR deptartment will have a chance to re-group, the moral of workers will balloon, management can relax. Why? Because eBay will be re-invented in the publics eye as a company who listened to it's customers. And because the auction model has worked so well, and really does define eBay.
It's a way of having your cake, and getting to eat it too.
Placing a few good experienced auctioneers in some position of power within such a new "auction only" branch, and shouting this to the community would allow eBay to take the focus off of the angst that's been aimed that the giant for the past 2 years. No one can bellow like a good auctioneer!
With that breathing space it could re-group and get a closer look at how to make its fixed price platform the dominant player they are hoping it will be. It could, get much more out of it's auction business, and have the best chance of bringing eBay stock to the stratosphere. It looks like a tri-fecta to me.
Take some advice from a big mouthed auctioneer on this one, not because I think I have all the answers, but because auctions online and off, are my life, I monitor the auction business the way Google does analytics, and all the information I have shows that your users want this.

Thanks for reading, and thanks for making us a