USB Drive Comparison Review

Out of hundreds of different models on the market we have brought together 20 of the more common USB drives for a comparison review. Apart from one exception, all USB drives have 4GB capacity.
Product Design
Flash drives come in sizes ranging of tiny to chunky. Many are made of coloured plastic, others have a painted surface which can look nice but may be more susceptible to scratches. Rubber coated USB drives won't scratch as much; last but not least there are also those with metal casing. The majority of USB drives have a cap to protect the USB connector which can be lost easily. Some SanDisk and Kingston products have a USB connector which slides out when needed instead.
Most flash drives have a key ring or a place to attach one. Using it, the drive can be attached to a lanyard, keys or a small chain. Just by itself, a USB drive is easily forgotten elsewhere. Every USB drive tested in this review had an activity light.

Capacity and Features
Currently 4GB USB drives offer best entry level value but larger ones are available. 8GB drives don't cost a lot more while power users work with 16GB and even 32GB.
Most flash drives come as empty storage units; however some come preloaded with applications to store settings and favourites or to encrypt files. USB drives can be smart notebook replacements as they are smaller, lighter and a lot cheaper yet do most things a notebook can. Simply plug in at home, work or uni and you have your desktop, applications and files right there.
Performance
Performance is one of the key aspects this review is going to look at. Support of USB 2.0 High-Speed transfers is now the standard but as our tests have shown, the speeds attained vary. High quality flash chips are able to provide sustained read speeds around 30MB/s but come at a cost. Write speed lack behind a bit.
The larger the USB drive and the more its full capacity is utilized, the faster it should be as otherwise a lot of time will be spent waiting. On the other hand, if the USB drive is used as backup and stores mostly small files which aren't accessed frequently, it may not be of great importance to have a fast USB drive.
What about ReadyBoost?
ReadyBoost is a new term that came up with Vista. Computers have a fast but small main memory and a large but slow hard drive to store data permanently. Windows Vista is able to utilize flash memory as a third medium in an attempt to improve performance. ReadyBoost pre-fetches data from the hard drive, encrypts it and temporarily stores it on the flash drive. If the pre-fetched data is needed, it is loaded from the flash memory rather than the hard drive.
So far the theory, however upon researching this topic, we found that a performance gain can only be achieved under very certain, unfavourable conditions. For example a notebook with fast CPU (encryption needs power) but only 768MB memory and slow hard drive would benefit. Upgrading the main memory instead has a much greater effect on performance. Using ReadyBoost on a powerful computer with large main memory is pointless as performance improvements would be too small to actually notice.
Warranty

In Australia, all new products come with at least one year warranty. Some manufacturers are confident enough to offer extended warranties up to Lifetime coverage. Of course this is great for peace of mind but there are some caveats. The purchase invoice must be kept and usually warranties cannot be transferred if the product is sold on. Last but not least, in five or ten years time, the warranty covered 4GB drive will have as much appeal as a 32MB USB 1.1 stick from 1999 has now.
Price

Brand, capacity, performance and extra features affect the price of a USB drive. With each new generation of memory chips, the production cost decreases whilst at the same time enabling larger USB drives. We deliberately did not list prices in this review as the market constantly moves. We feel ebay and the net provide a much better picture than a review which would be out of a date within a month. That said, we do mention if a product is cheaper or more expensive compared to the average price.

Unforunately we are unable to add pictures larger than 200 pixels or off ebay links to this ebay guide but we have created a page with diagrams, pictures and further details. Simply take a look at any USB drive listed in our shop and you will find the link to this page by clicking the large review picture on the product page.


SanDisk Cruzer Micro 4GB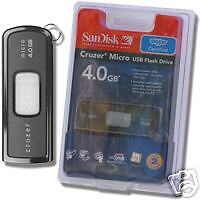 The flash memory market leader offers a large range of USB drives. The Cruzer Micro is probably the most widely used USB drive worldwide. Currently available in capacities ranging from 1GB to 8GB, the Cruzer Micro is a basic yet neat design. Its sliding USB connector means you won't have to worry about losing a cap. An orange activity light is located underneath the translucent white plastic slider. Earlier models do not support ReadyBoost – if this is important to you, make sure the model number on the packaging ends in RB.
The Cruzer Micro is preloaded with an U3 application kit including Skype, McAfee virus scanner, a password manager and more. Further applications can be downloaded from the U3 web page. Performance is good considering this is not a top end product. The Cruzer Micro works a bit faster under XP. Write speeds are in the midfield but don't suffer too much if writing many small files.

SanDisk Cruzer Titanium 4GB

The Cruzer Titanium has the same shape as the Micro model but is made of metal. It has a nice matte surface texture which gives it a classy look. The activity light underneath the slider is blue. It is available in 2GB, 4GB and soon 8GB capacity. The same U3 software package comes pre-loaded but a longer 5 year warranty applies to this product.
To our surprise, the tests have shown that the Titanium's performance lacks behind the Micro a bit despite the fact that it is more expensive however the looks, solid case and extended warranty make up for it.

SanDisk Cruzer Contour 4GB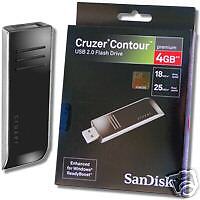 When opening the product packaging, it becomes apparent this is not the typical garden variety flash drive. In fact you may have a first inkling when paying for it. It is somewhat larger and features a unique sliding mechanism to reveal the USB connector. The casing is made of metal with the Cruzer logo backlit in blue – the result is an extremely classy looking drive. Unfortunately there is no key ring or hole to attach the Cruzer Contour to anything.
The Contour also features the previously mentioned U3 software and a Lifetime warranty. Its read performance equals that of the Cruzer Micro and it also works slightly faster under Windows XP. The write performance is nothing short of spectacular and beats the Micro hands down.
SanDisk Extreme Ducati Edition 4GB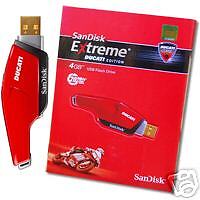 SanDisk uses the Ducati branding for their top of the range products. Without a doubt, motorbike fans will appreciate the Ducati inspired shape. The red activity light at the rear does its bit to underline the styling. The golden USB connector slides out when needed or remains protected inside.
The metal casing gives the Ducati USB drive a heavier, quality feel. The included lanyard can be attached at the rear. The product comes in an attractive red retail box including Rescue Pro file recovery software but without the U3 suite. The SanDisk Extreme Ducati is backed by SanDisk's Lifetime warranty.
The Ducati's read speed is just a bit faster than the Voyager GT's and the fastest USB drive to write the ISO file. Overall performance is very good and on the same level as the Cruzer Contour.
Kingston DataTraveler Mini (Migo Edition) 4GB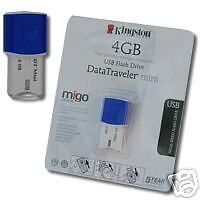 Kingston is a global memory giant and offers a large range of USB drives. Kingston differentiates the drive capacities via colours, however with different colours in each product line. The DataTraveler Mini is stands out by its small size yet features 4GB capacity. The connector is protected by the outer casing and can be pushed out to use. The activity LED is not particularly well visible.
Migo refers to Kingston's preloaded application suite which can synchronize Outlook Express and Mozilla Thunderbird content, save Internet Explorer and Firefox settings, favourites, cookies as well as customize your desktop. Both read and write speeds are solid midfield and unaffected by the choice of OS.
Kingston DataTraveler 4GB
The plain DataTraveler comes in sizes from 1GB to 8GB – the 4GB version being white with purple insets hiding a green activity light. The separate cap to protect the connector may be a bit of a worry. The performance under Vista is very good, less so under Windows XP but the DataTraveler (just like the DT100 and DT110) is priced competitively and comes with 5 years of warranty.
Kingston DataTraveler 100 4GB
With its matte black plastic casing, the DT100 model is probably the most inconspicuous flash drive in this comparison. The USB connector can be revealed via a sliding mechanism. A small key ring is included and can be attached at the rear. The DT100 shares the first place with the DT110 in the HDTune test under Vista but performance under XP was average and it came in third last in the second write speed test.

Kingston DataTraveler 110 4GB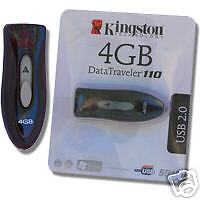 At first sight, the DT110 may look black but against the light it appears as dark translucent red. Available sizes range from 1GB to 8GB, each model having a different colour. The DT110 also has a sliding mechanism and includes a small key ring. Just like the plain DataTraveler and the DT100 model, no software is preloaded on the USB drive.
Of the three regular sized Kingston flash drives, the DT110 performed best, particularly under Vista this drive works extremely fast, adding the solid design, five year warranty and modest price, this is an easy recommendation!

Lexar JumpDrive Secure II+ 4GB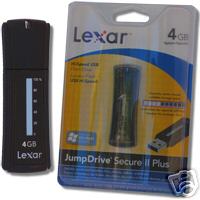 Lexar belongs to the Micron group - another large memory manufacturer. The JumpDrive Secure II+ comes with a software suite which lets you create encrypted partitions, encrypt single files and shred files – presumably a feature that repeatedly overwrites data to prevent deleted files from being recovered - exactly the opposite to SanDisk's RescuePro.
The JumpDrive Secure II+ also features an innovative capacity display showing the percentage of space filled and remaining. This even works while unplugged! The cap has a hole to attach a key ring or lanyard; hence the USB drive can be removed and plugged into a USB port without having a heavy set of keys hanging from it. So in this case you may not lose the cap but the USB drive instead.
Read speeds are actually not bad but write performance is a real letdown as this innovative product is otherwise quite likeable.

Lexar JumpDrive Lightning 4GB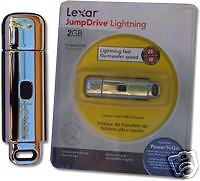 Lexar's JumpDrive Lightning is an absolute stunner. Its slightly larger, metal case is chrome coated and has a blue activity light. Worn on a lanyard, it becomes a fashion accessory – one with quite a performance punch. If no key ring is attached, the cap can be plugged onto the back which may help hold onto it.
The previously mentioned Secure II software is installed on this product as well as Ceedo – a suite similar to U3 and Migo. Further applications can be downloaded or purchased from the Ceedo web page.
On balance, this flash drive has the fastest read speed unaffected by the operating system. Performance in the first write test was very good, the second one less so.
Corsair Flash Voyager 4GB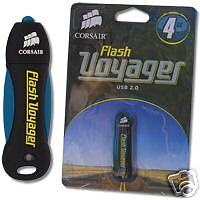 Corsair has an industry-wide reputation for quality and performance. Their approach to the flash drive market is somewhat different – both the Voyager and Survivor target customers who need a rugged storage solution.
The Voyager series features a water resistant rubber casing which will survive drops and rough handling. It is available in sizes from 2GB to an amazing 32GB – enough to store eight DVD images. All Corsair flash drives come with TrueCrypt – an open source encryption software which can also be downloaded for free. The bright, blue activity light may be a little bit too much, it certainly is hard to overlook.
The Voyager performed well in the read tests, just ahead of the Cruzer Micro and only beaten by the Lexar Lightning and the Apacer HT203. Write speeds are good as well.

Corsair Flash Voyager GT 8GB
Corsair also produces a GT model with red/black rubber casing. At the time of writing this review, it was only available in 8GB size but we included it nonetheless. Even the tested 8GB version is a runout model as Corsair just announced a replacement 16GB version. Just like the regular Voyager, the GT comes with an USB extension cable, a lanyard and equally bright blue activity LED.
To our great surprise, the GT read data slower than the regular Voyager. However the Voyager GT features blistering fast write speeds which did not take much of a hit when copying many files.

Corsair Flash Survivor 4GB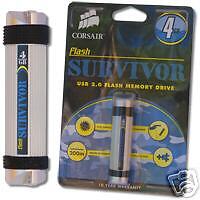 The Survivor is the largest USB drive in this review. Its CNC-milled, anodized aluminium casing unscrews to reveal the well protected USB drive. A rubber seal protects it from water and dust contamination - a James Bond worthy gadget!
Available in capacities from 4 to 32GB, this is the flash drive to protect extremely sensitive and important data or show off while climbing Mt Everest. The Corsair Flash Survivor comes with TrueCrypt installed and is backed by a 10 year warranty. The retail packaging contains an USB extension cable and dog tags. Performance is very good and equal to the Voyager. We put the Corsair products through some further tests to determine how rugged they are - neither driving a car over them, nor washing them for two hours did any damage. Visit the product page and click on the review link to see a video and more!

Sony Micro Tiny Vault 4GB
The Micro Tiny Vault is the smallest USB drive tested and not much larger than a fingernail. It comes with a purple rubber sleeve, presumably intended for female customers. It is doubtful how long the small rubber lanyard will last. The price has recently dropped but is still significantly higher than comparable products. Unfortunately the performance does not match the price. Sony's Micro Tiny Vault was the slowest of all USB drives.

Toshiba 4GB USB Flash Drive
Toshiba is actually one of the largest flash memory manufacturers worldwide; their chips are used in SanDisk products and many other brands. However sales of consumer flash drives doesn't seem to be their focus as there isn't anything special about the USB drive tested here. The glossy white Toshiba drive has a translucent plastic casing with white activity light on the inside. There is no software but a lanyard is included. Performance is average.

Transcend JetFlash V30 4GB
Transcend makes a range of different USB drives but only the V30 model was available when this review was written. Its glossy black casing with cap has no particularly remarkable features. A lanyard is included in the package. Owners of the V30 will need almost as much patience as Micro Tiny Vault owners.
Apacer Handy Steno AH160 4GB

Apacer has taken an interesting approach to the cap problem. Both flash drives tested have a cap which is attached via a small metal cable. At the same time they can be easily carried by the cable or attached to a key. The small AH160 is one of the basic models in Apacer's range. The installed ACE software can compress and password-protect files. Performance is humble but for occasional users it may suffice.
Apacer Handy Steno HT203 4GB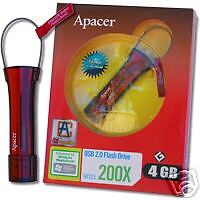 Apacer's fastest USB drive comes including a nice stand and extension cable. The transparent, red plastic casing is a bit larger and has an orange light. The HT203 comes with ACE installed and is backed by a 5 year warranty.
In terms of performance, it comes in a close second to Lexar's JumpDrive Lightning however the price is a sting – the HT203 is the most expensive of all tested USB drives. Using the extension cable and base station did not affect performance adversely.

Verbatim (Pretec) iDisk Tiny Luxury 4GB
Pretec's Tiny Luxury drive packs 4GB of storage into a very small case. The connector swivels out which means there is no cap to lose. Next to the slightly smaller Kingston DT Mini, this product is probably most suitable to keep on a set of keys. Read performance is in the lower midfield; write speeds are very, very modest.
The Pretec branding is being phased out with nearly identical products being released by Verbatim.
Verbatim Store 'n' Go 4GB
Verbatim's USB drive has a larger plastic case with a rubber feel to it. The initially purchased drive had issues but was swapped for a brand new one. Verbatim is the only manufacturer to offer a Lifetime warranty for a value flash drive. Performance was solid midfield.
Conclusion
Unforunately we are unable to add pictures larger than 200 pixels or off ebay links to this ebay guide but we have created a page with diagrams, pictures and further details. Simply take a look at any USB drive listed in our shop and you will find the link to this page by clicking the large review picture on the product page.
There was no flash drive that took the top spot in all tests but considering the test results, features and price, we decided to list the review winners by category as there isn't one solution that fits all. This does not necessarily mean all other flash drives are bad, for example if a rugged and fast USB drive is required, the Voyager GT may be the best option – it just didn't make it into the top three in the respective categories.
Best Value
1) SanDisk Cruzer Micro
2) Corsair Flash Voyager
3) Kingston DataTraveler 110
Performance
1) Lexar JumpDrive Lightning
2) SanDisk Cruzer Contour (tie) Extreme Ducati
3) Apacer Handy Steno HT203
Prestige
1) SanDisk Cruzer Contour
2) Lexar JumpDrive Lightning
3) SanDisk Cruzer Titanium
Rugged
1) Corsair Flash Survivor
2) Corsair Flash Voyager
3) SanDisk Cruzer Titanium

Innovative
1) Lexar JumpDrive Secure II+
2) Kingston DataTraveler Mini
3) Apacer Handy Steno HT203

If this guide was helpful, please vote for us. Also, we look forward to your feedback.